The nation is reeling after mass shootings over the weekend in El Paso, Texas, and Dayton, Ohio, left at least 31 dead, and dozens more injured in just a matter of hours.
In response to the attacks, noted astrophysicist Neil deGrasse Tyson opted to point out various statistics about death tolls from other more common killers like car accidents and medical errors.
---
He shared the data with the message:
"Often our emotions respond more to spectacle than to data."
In the past 48hrs, the USA horrifically lost 34 people to mass shootings. On average, across any 48hrs, we also lo… https://t.co/jJ55MrCGWd

— Neil deGrasse Tyson (@Neil deGrasse Tyson) 1564941516.0
Tyson's response was quickly met with criticism, as many pointed out that spouting out data points doesn't translate well with a tragedy of this magnitude.
@neiltyson 18 years ago we had a single shoe bomber who didn't kill anyone—and we completely altered airport screen… https://t.co/gZdC8BfrCG

— John Pavlovitz (@John Pavlovitz) 1564969281.0
@neiltyson "Yeah 9/11 sucked but what about the 20,000 people who died of cancer today?"

— Alice Vaughn (@Alice Vaughn) 1564983462.0
@neiltyson You thought this tweet was being whimsical while informative with the goal to make us think... But bro,… https://t.co/2MN96MO1Ya

— YS (@YS) 1564978551.0
@neiltyson No one in America needs to lose another life in mass shootings that background checks and common sense g… https://t.co/itIsQShBH6

— Jacopo della Quercia (@Jacopo della Quercia) 1565016959.0
Many pointed out that certain causes of death are bound to cause a greater emotional response.
@neiltyson I'm just gonna throw this out there - what if all of those were bad and preventing any of them is good?

— Mike Drucker (@Mike Drucker) 1564943651.0
@neiltyson i think motive, avoidability and culpability are all forms of data that have perfectly logical emotional… https://t.co/ruMGBK1sH9

— elizabeth bruenig (@elizabeth bruenig) 1564942360.0
Needless to say, Tyson lost a lot of respect with his tweet.
@neiltyson Imagine tweeting this and thinking it adds anything to intelligent discourse

— Shaena Montanari (@Shaena Montanari) 1564941560.0
@neiltyson Making a didactic if factually accurate point does not always equate to intelligent or productive discou… https://t.co/aiMhqo6wWZ

— Andrew Baggarly (@Andrew Baggarly) 1564941900.0
@neiltyson I know you're trying to math people here, but this is tasteless and disrespectful. Lost all respect for you.

— 𝕿𝖊𝖆 𝖋𝖔𝖗 𝕿𝖆𝖙 (@𝕿𝖊𝖆 𝖋𝖔𝖗 𝕿𝖆𝖙) 1564944932.0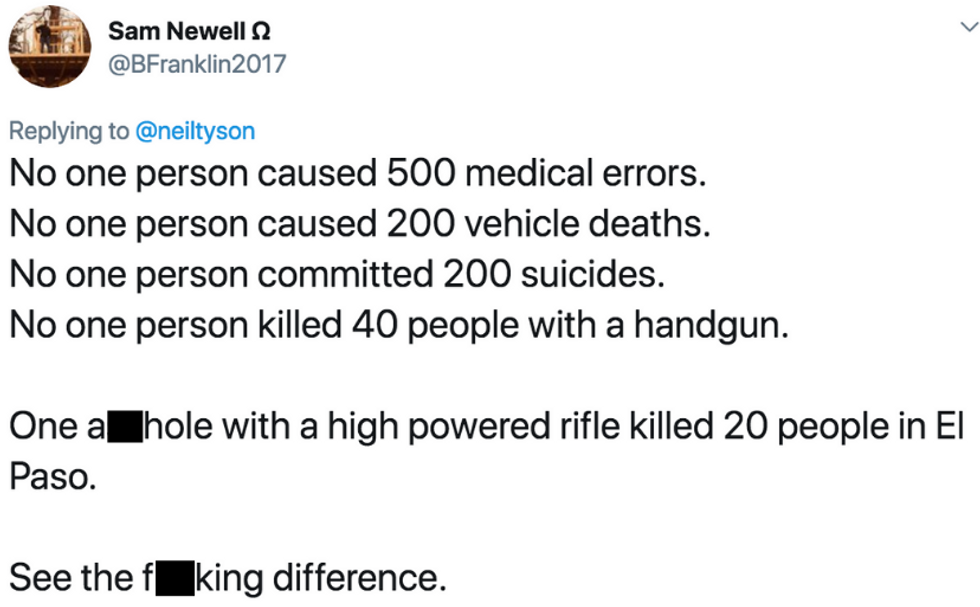 @BFranklin2017/Twitter
@neiltyson Undeniable proof that knowledge and wisdom do not always co-exist.

— Cassava Kid (@Cassava Kid) 1564995219.0
Following the backlash, Tyson took to Facebook to issue an apology, saying, in part:
"My intent was to offer objectively true information that might help shape conversations and reactions to preventable ways we die. Where I miscalculated was that I genuinely believed the Tweet would be helpful to anyone trying to save lives in America."
"What I learned from the range of reactions is that for many people, some information –-my Tweet in particular -- can be true but unhelpful, especially at a time when many people are either still in shock, or trying to heal – or both."
He added:
"So if you are one of those people, I apologize for not knowing in advance what effect my Tweet could have on you. I am therefore thankful for the candor and depth of critical reactions shared in my Twitter feed."
"As an educator, I personally value knowing with precision and accuracy what reaction anything that I say (or write) will instill in my audience, and I got this one wrong."
Not everyone was impressed with the apology, though.

Facebook
@neiltyson It was a very insensitive response to tragedy, as a great science communicator you have a responsibility… https://t.co/lQSOz0hS0F

— 💧 Ian Musgrave (@💧 Ian Musgrave) 1564994422.0
@neiltyson This was less about timing and more about misleading facts and incorrect correlations, both of which sho… https://t.co/18lAyJcUQs

— Trump's Ties (@Trump's Ties) 1565005124.0
@neiltyson Everybody: "Mass shootings are bad" Neil deGrasse Tyson: https://t.co/U8dEyz8mJ9

— lux (@lux) 1564994497.0
Whether or not he was technically correct regarding his facts, Tyson will undoubtedly think twice before responding to tragedies of this nature in the future.
Because, as we all know, the internet never forgets.
Need to work on your empathy? The book The Art of Empathy: A Complete Guide to Life's Most Essential Skill is available here.