Doctor Anthony Fauci is an internist specializing in immunology with 51 years of experience in public health with the National Institutes of Health (NIH) at the National Institute of Allergy and Infectious Diseases (NIAID) where he has served as the Director since 1984.
Republican Senator Rand Paul is an ophthalmologist specializing in lucrative cataract and LASIK surgery who created his own certification board with himself, his wife and his father-in-law as the board after failing to get what he wanted from the nationally recognized American Board of Ophthalmology with a couple malpractice lawsuits and a paid settlement on his record.
---
Rand Paul serves with Mitch McConnell as a GOP Senator for the state of Kentucky. Paul's medical certification lapsed in 2005, but he still practices in Kentucky where ophthalmologists don't have to be board certified.
Given their respective histories, very few people are confused about which person they should get medical advice from during a global pandemic. But that doesn't stop Paul from offering his unqualified advice anyway.
During a Senate committee hearing Tuesday, Paul gave a somewhat disjointed commentary intended to be a series of questions. He began by asking why those who tested positive for the viral pathogen aren't declared immune if they survive.
Paul is apparently unaware there is no proof to back his immunity claim. Those familiar with science and medicine know nothing is declared a certainty until it can be proven.
You can see his remarks here:
Paul—who thinks New York and New Jersey are part of New England—then claimed the rest of the United States was relatively unaffected by the pandemic that first began in Washington state—which is also not part of New England.

The Kentucky Republican said:
"We're opening up a lot of economies around the US, and I hope that people who are predicting doom and gloom, and saying, 'Oh, we can't do this, there's going to be a surge,' will admit that they were wrong if there isn't a surge. Because I think that's what's going to happen."
He continued:
"We have less deaths in Kentucky than we have in an average flu season. That's not to say this isn't deadly, but really outside of New England we've had a relatively benign course for this virus nationwide. And I think a national strategy, a one-size-fits-all where nobody's going to go to school, is kind of ridiculous."
The GOP Senator then brought up the death rate of children in New York:

"Shouldn't we at least be discussing what the mortality of children is?"
Paul claimed it "approaches zero." While many would say any preventable deaths of children are unacceptable, the GOP legislator felt close enough was good enough.
He also urged Fauci to "observe with an open mind what happened in Sweden, where the kids kept going to school."
Unlike other countries around them, Sweden decided not to implement shelter at home orders. In April, the country recorded higher death rates per capita than anywhere else in Scandinavia.
He goes on to say that "we ought to have a little bit of humility."

"As much as I respect you, Dr. Fauci, I don't think you're the end-all. I don't think you're the one person who gets to make a decision."
"We can listen to your advice, but there are people on the other side saying there is not going to be a surge and that we can safely open the economy, and the facts will bear this out."
Paul ended by making an appeal for "poor and underprivileged kids" while implying Fauci would close schools in the fall if children were not sent back to school now for the last 2-3 weeks of the regular school year.

"If we keep kids out of school for another year, what's going to happen is that the poor and underprivileged kids who don't have a parent that say 'we're gonna teach them at home' are not going to learn for a full year."
Paul has a history of voting against programs like food assistance and medical care for the poor and underprivileged.
It was then time for Dr. Fauci to respond, despite Paul taking up most of the allotted time of his question and answer period with his own rambling diatribe.
Fauci responded:
"Senator Paul, thank you for your comments. I have never made myself out to be the end-all and only voice of this."
"I'm a scientist, a physician, and a public-health official. I give advice according to the best scientific evidence. I don't give advice about economic things. I don't give advice about anything other than public health."
He addressed to several of the buzz words Paul used.
"[Y]ou used the word we should be 'humble' about what we don't know. I think that falls under the fact that we don't know everything about this virus and we really better be very careful, particularly when it comes to children."
"Because more and more we learn, we're seeing things about what this virus can do that we didn't see from the studies in China or in Europe. For example, right now children presenting with [the virus] who actually have a very strange inflammatory syndrome very similar to Kawasaki syndrome."
Fauci also stated:
"I think we better be careful we are not cavalier in thinking that children are completely immune to the deleterious effects.
"You're right in the numbers that children, in general, do much, much better than adults and the elderly and particularly those with underlying conditions. But I am very careful, and hopefully, humble in knowing that I don't know everything about this disease."
"And that's why I'm very reserved in making broad predictions."
Twitter wasted no time giving their opinions.
Many also pointed out that Paul's call to reopen schools "for the economy" for just a few weeks involves more than just children.

Does he think the children will be there alone?
People wondered what it was that created Kentucky Senators.
The majority felt Fauci came off looking intelligent, well informed and compassionate.
Paul... not so much.
Many brought up an episode from Rand Paul's past...

You can watch the full remarks of both men here.
Most observers thought Senator Paul shouldn't enter a battle of wits with Dr. Fauci again any time soon.

This (uncensored) mug is available here.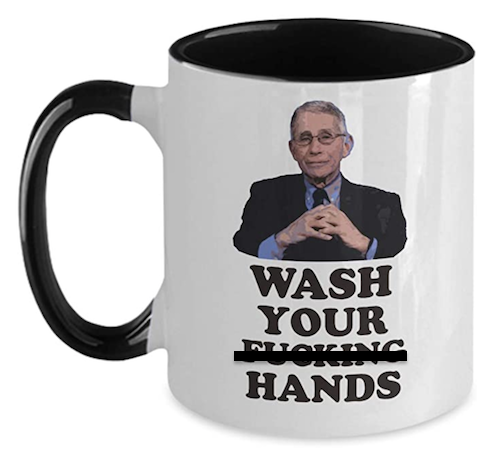 Amazon
The audio book A Goal of Service to Humankind: A 'This I Believe' Essay featuring Dr. Fauci is available here.

The audio book Soldiers of Science: An Interview with Dr. Anthony Fauci featuring actor and director Alan Alda is available here.