A pair of TikTok videos showcasing the massive campus of Carmel High School in Carmel, Indianapolis amassed a combined total of of 8.5 million views.
In the clips posted to social media by the Carmel chapter of DECA Inc.—a business careers interest organization for high school and college students—the students introduced the school's swanky campus.
It featured areas such as one of many spacious gyms, a professional state-of-the-art TV and Radio center, a 10,000-seat football stadium, and other elaborate and sleek furnishings seen throughout the hallways and common rooms on the sprawling campus.
Must be nice.

But in the process of giving outsiders a sneak peek of their fancy academic home away from home, the videos exposed the glaring issue of wealth inequality within the US public school system.
"Take a tour of the school where champions are made!" read the caption in the first video, which showed various students introducing the school's planetarium, the Carmel Cafe and Market, auditorium, respective varsity and freshman gyms, and a natatorium–a fancy word for indoor swimming pool–among many other areas on campus.
In a follow-up video, the school's TikTok account wrote:
"Did someone say part 2?"
Apparently.
And if not, the school posted another clip anyway.

The second clip showed TikTokers all the other parts of the campus that weren't covered in the previous video.
There was a whole lot more to uncover–including Carmel High's symphony orchestra, football and soccer stadiums, high-ceiling cafeterias, a fashion room, a jewelry-making room, one of a number of ceramics rooms, and a brand-spanking new nurse's office.
Take a look.

While Carmel High's ginormous campus is inarguably impressive and sleek, many pointed out the school benefitted from a privileged location populated with high-income earners.
According to Niche, roughly 5,400 students in grades 9 through 12 attend Carmel High, and the top-rated public school has a teacher-student ratio of 19 to 1.

TikToker @saniarena posted a duet video stitched with Carmel High's clip to demonstrate the disparity between American high schools in wealthy areas compared to those in the rest of the country.
The TikToker wrote in the text overlay:
"Carmel High School really demonstrates the problem with U.S. public school being funded by property tax."
During Carmel High's clip playback, @sanilarean was seen in the foreground non-verbally expressing her increasing shock with each introduction to a new area on campus.
Her clip was captioned with the hashtags: #carmelhighschook #propertytax #schoolfunding #equalfunding.

@sanilarena/TikTok

@sanilarena/TikTok

@sanilarena/TikTok

@sanilarena/TikTok
However, Carlotta Berry–a.k.a. TikToker @drcaberry–was more vocal about Carmel High boasting about its well-funded environment for students.

Berry lives in Avon, a less affluent suburb west of Indianapolis located 30-minutes from Carmel.
"Many things bother me about the video," said Berry before commenting about the lack of diversity at this particular school.
"Probably the most is most high schools in Indianapolis and the suburbs of Indianapolis don't look like this."
"It also bothers me that there's not that many Black or Brown kids in the video which means they're not giving the benefits or maybe there are."

@drcaberry/TikTok
Berry noted how her husband works at a high school and said that it didn't look like the one in the viral videos, and neither did the high school her daughter goes to.
"Everyone deserves the benefit of this type of education," she continued while observing the stitched clip posted by @sanilareana.
"Nothing from them but can everyone have it?" she commented of all the school's amenities.

@drcaberry/TikTok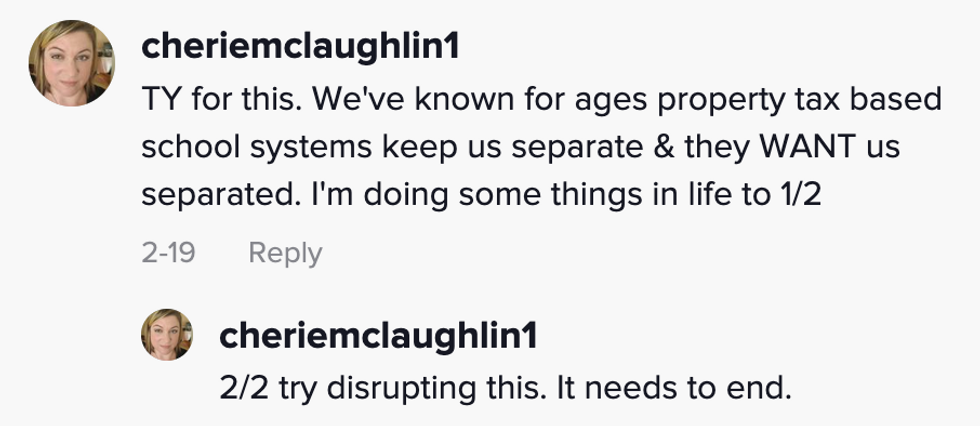 @drcaberry/TikTok

@drcaberry/TikTok
Berry told NBC News:

"I think that was the most appalling part to me. … At what point do you say, 'Let me stop throwing money at this high school and consider the other schools in the area."
"If you've got a natatorium and three cafeterias, can we get all the schools within a 20-mile radius of the school to have one cafeteria? One gym?"
The news outlet pointed out that according to the U.S. Census data, the median household income in Avon where Berry lives is $92,684 compared with Carmel, where the average is $119,772.
Berry's observation about diversity was reinforced by the following statistic.
According to U.S. News, approximately 17 percent of students at Avon High School are Black, and 62 percent are White at Avon High School, whereas at Carmel High School, more than 70 percent of students are White and 3.6 percent are Black.
Update: The article corrected a previous error stating that Carmel High School had 54,000 students. It has been updated to indicate about 5,400 students attend the school as part of the 2020-2021 school year.