In an interview with Fox News commentator Sean Hannity, Eric Trump made false claims against former President Barack Obama.
During a five minute tangent full of unfounded accusations against the Democrats, Eric Trump blamed everything from Black Lives Matter protests to burning down churches on the party that hasn't been in the White House for four years.
You can see an excerpt here:
The POTUS' third child stated:
"My father is the exact opposite. My father is...you know...tremendous action. I mean Chicago, you reported on this better than anybody, Obama didn't even go back to Chicago."
"He was literally never there. He never mentioned the violence."
Eric continued:
"He never tried to help. He never offered federal assistance. He never offered to send in the feds or the military."
"The guy wasn't present anymore. He literally abandoned his city."
One of the facts Eric seemed to miss was that Barack Obama visited Chicago many times after his inauguration and is still well respected by his community.
The internet quickly fact-checked Trump though.
Obama had lived in the Windy City since the 1980s.
He returned there a total of 19 times—including for his famous Presidential victory speech at Chicago's Grant Park. The former President averaged 2-3 trips to the city each year while in office.

Some of the visits were to show support for politicians, for fundraising or to address violence within the city and to speak out about gun control, such as his speech at the 2015 International Association of Police Chiefs meeting.
Eric Trump completely missed the mark with his easily disproven statement. Especially given that his own father officially left New York in 2019 filing a "declaration of domicile" to become a resident of Florida.
New "Florida man" memes coming perhaps?
Twitter users hinted at possible daddy issues to explain why the younger Trump made so many incorrect statements for his father's benefit.
Others found Eric's vocabulary to be "literally" irksome.
This situation literally demonstrated the need for fact-checking. Maybe Eric can now literally learn that lesson.

But no one is holding their breath.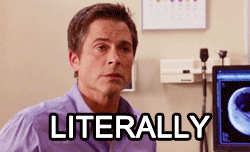 Giphy