On Sunday, beloved comedian and actor Paul Reubens—who was best known for his character, Pee-wee Herman—lost his battle with cancer.
Reubens was diagnosed six years ago but did not disclose his diagnosis to the public.
He was 70.
Before his death, Reubens penned a statement about his illness that was later posted to his social media pages.
It read:
"Please accept my apology for not going public with what I've been facing the last six years."
"I have always felt a huge amount of love and respect from my friends, fans and supporters."
"I have loved you all so much and enjoyed making art for you."
Many of his Hollywood colleagues and friends were devastated by the loss of such an icon, and they wrote poignant tributes on social media.
Cassandra Peterson, who is famous for playing horror hostess Elvira, Mistress of the Dark, was particularly devastated.
Following news of Reuben's passing, Peterson honored her friend by posting a series of photos of them together throughout their careers—in and out of their respective characters.
"Goodbye to my dear longtime friend, Paul Reubens," the 71-year-old wrote on her official Elvira social media pages, adding:

"I am crushed. The world has lost one of the funniest human beings who ever lived."
"Paul, I hope wherever you are, you have reunited with John and Phil and are laughing your asses off - together again."
"I love you so much Paul. I will miss you and all the wonderful times we spent together more than you'll ever know."
Fans and industry colleagues commiserated over Hollywood's tragic loss.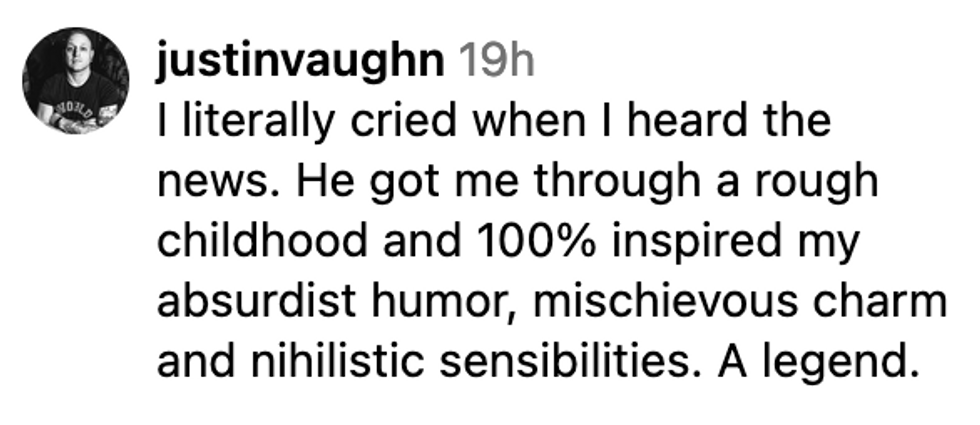 @therealelvira/Instagram
@therealelvira/Instagram
@therealelvira/Instagram

@therealelvira/Instagram

@therealelvira/Instagram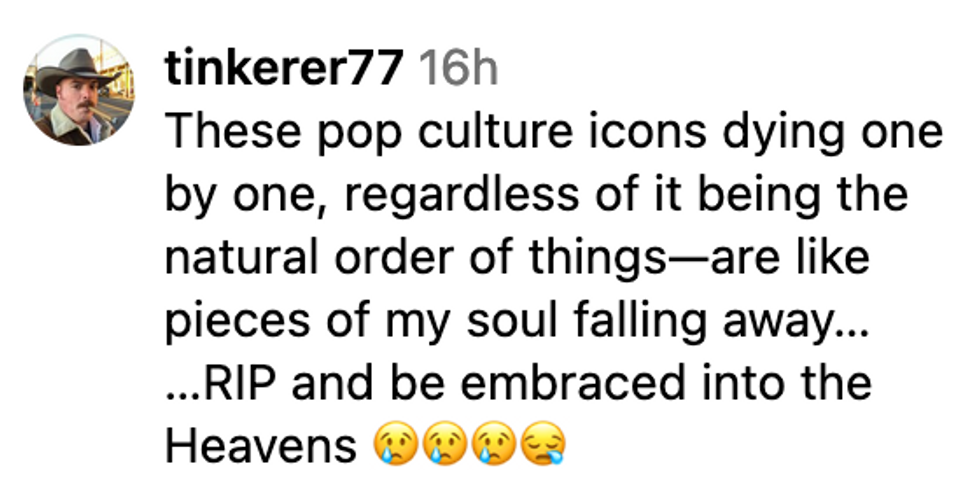 @therealelvira/Instagram
@therealelvira/Instagram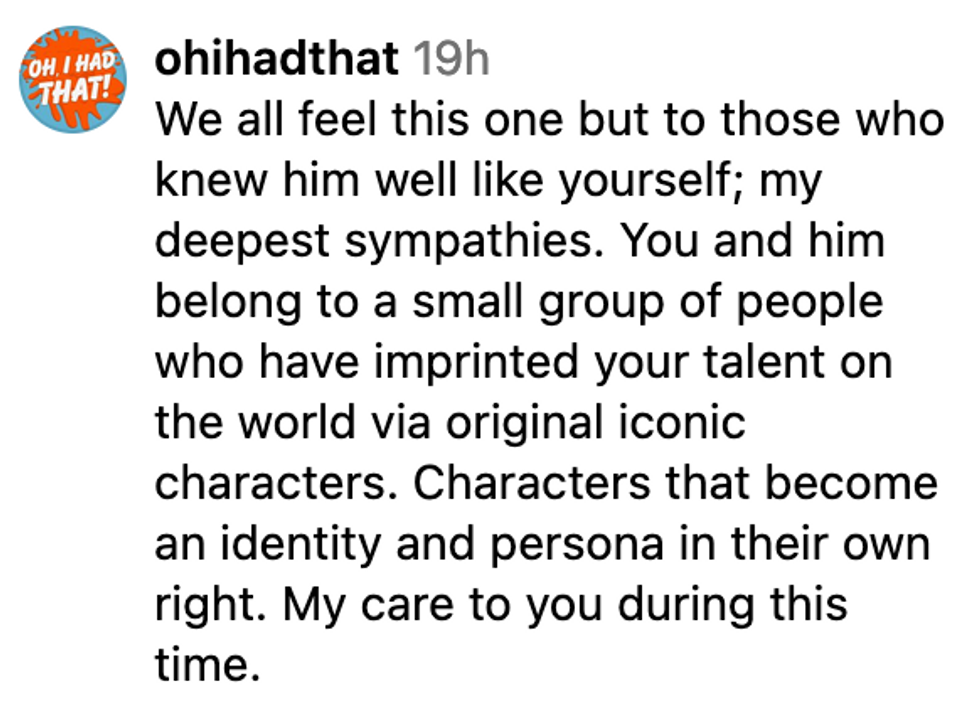 @therealelvira/Instagram
@therealelvira/Instagram
Pee-wee Herman was based on the whacky character featured in the breakout 1981 stage show, The Pee-wee Herman Show, which eventually spawned the successful Saturday morning children's series, Pee-wee's Playhouse—which ran between 1986 and 1990.

Reubens created the character in the 1970s while performing with the LA-based improv group The Groundlings—which boasts an incredible roster of alums like Jon Lovitz, Adrienne Barbeau, Conan O'Brien, Phil Hartman, Lisa Kudrow, Jennifer Coolidge, Will Ferrell, Kristen Wiig, Maya Rudolph, Melissa McCarthy and Will Forte.
Peterson was also a member of The Groundlings, where she developed her Valley Girl persona into the sardonic, spastic goth character of Elvira.
She and Reubens had a close friendship that spanned decades.
In a 2021 interview with the Behind the Velvet Rope podcast, Peterson said of Reubens:

"We hang out a lot, probably because he and I are in a very, very exclusive club together."
"We're two completely different characters who—we own the brands—and we're normal ... I don't know if we're normal, but we're regular people who play these wacky characters."
"Paul and I have a lot in common, and we see a lot of each other."
Here is the segment from the interview here.
Elvira's BFF is Pee Wee Herman. No really...youtu.be
The two even appeared in each other's work on a number of occasions—one of which included the time Peterson played "Biker Mama" in Reubens' feature filmPee-wee's Big Adventure.

She also had a Pee-wee doll hanging in her dressing room for Elvira: Mistress of the Dark.

In 1985, the pair performed together on a special Halloween episode of The Tonight Show with Johnny Carson, guest-hosted by Joan Rivers, and joined by the likes of rock star David Lee Roth and comic legend Phyllis Diller.
At one point in the show, Rivers asked Elvira what kind of men she liked dating and suggested that Pee-wee was single.
"I can tell you from first-hand experience, Pee-wee is such a stud," said Elvira with a wink.
"He's my idea of a hunky guy."
"Any guy that wears more make-up than me is alright in my book."
You can watch the moment, here.

The Tonight Show Starring Johnny Carson Guest Host Joan Rivers 10/31/1985 (Complete)youtu.be
On Monday, Reubens' representative confirmed to People magazine:

"Last night we said farewell to Paul Reubens, an iconic American actor, comedian, writer and producer whose beloved character Pee-wee Herman delighted generations of children and adults with his positivity, whimsy and belief in the importance of kindness."
The statement continued:

"Paul bravely and privately fought cancer for years with his trademark tenacity and wit."
"A gifted and prolific talent, he will forever live in the comedy pantheon and in our hearts as a treasured friend and man of remarkable character and generosity of spirit."
Rest in peace, Mr. Reubens. And thank you for all the laughs.