Ellie Kemper, known for her roles on The Office and The Unbreakable Kimmy Schmidt, shared an apology on Instagram as it was revealed she was once the winner of the Veiled Prophet Ball Pageant in St. Louis, Missouri.
The Veiled Prophet Organization's racist, White Supremacist and antisemitic history is well known by Missourians.
Kemper's apology came after the internet circulated old photographs of an archived news paper article about a young Ellie winning the beauty pageant in 1999. She was dubbed the "Veiled Prophet Queen of Love and Beauty."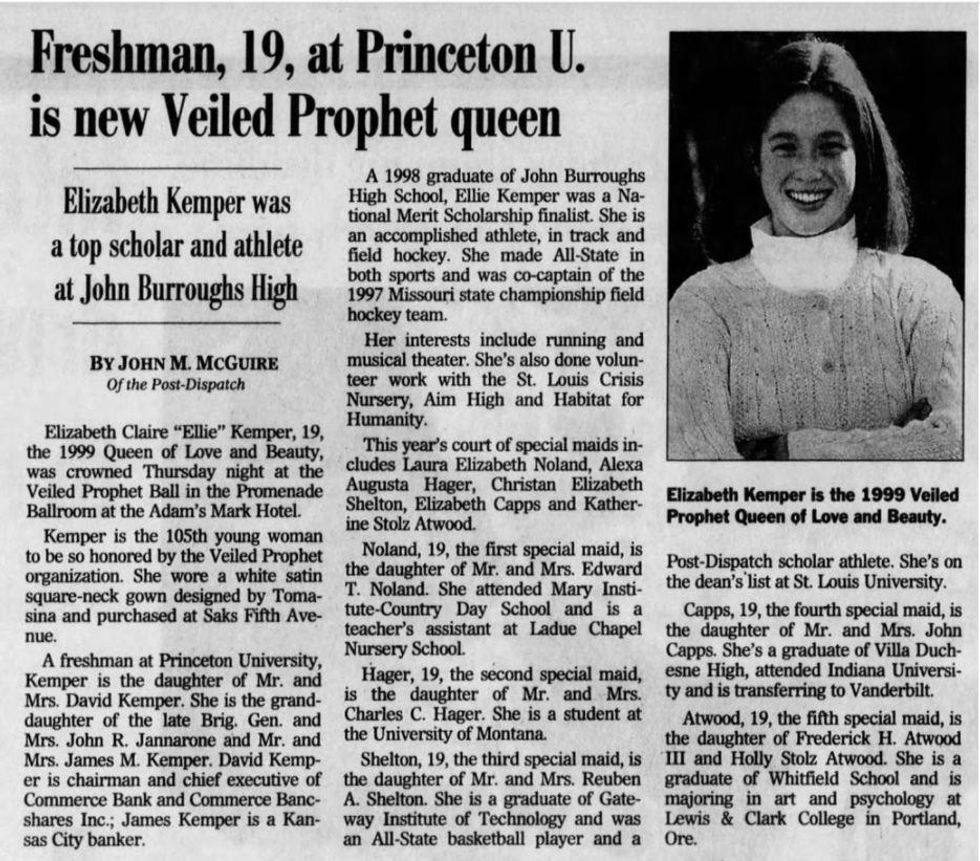 St. Louis Post Dispatch
People online called her the KKK princess in response.

The Veiled Prophet Organization was initially created in an attempt to double down on the White elite's values over the working class. Keeping the figure of the Veiled Prophet was key to keeping the mystery and elitism they emulated.
The Atlantic reported on this back in 2014.
"To underline the message of class and race hegemony, the image of the first Veiled Prophet is armed with a shotgun and pistol and is strikingly similar in appearance to a Klansman."
Throughout the last 100 plus years, the Organization has seen protest, after protest, after protest, but still didn't make any significant changes or even allow Black or Jewish members to join until 1979. Even then there was pushback.
In 2021, the organization gave Buzzfeed this statement:
"[The Veiled Prophet Organization is] dedicated to civil progress, economic contributions and charitable causes in St. Louis."
"Our organization believes in and promotes inclusion, diversity and equality for this region."
"We absolutely reject racism and have never partnered or associated with any organization that harbors these beliefs."
Though the organization has attempted to distance themselves from their racist past, Kemper's post took accountability for her part in the organization, acknowledged her privileges and apologized.
Her post read:
"When I was 19 years old, I decided to participate in a debutante ball in my hometown."
"The century-old organization that hosted the debutante ball had an unquestionably racist, sexist, and elitist past."
"I was not aware of this history at the time, but ignorance is not an excuse."
"I was old enough to gave educated myself before getting involved."
"I unequivocally deplore, denounce and reject white supremacy."
"At the same time, I acknowledge that because of my face and my privilege, I am the beneficiary of a system that has dispensed unequal justice and unequal rewards."
Kemper ended by stating her beliefs based in kindness, integrity and inclusiveness. She promised to do better and listen going forward.
Mixed reviews for the apology left many wondering if it was necessary or effective.

@shnzoeP/Twitter
Ultimately the acknowledgement of her privilege was appreciated. It brought awareness to a side of history associated with debutante balls many didn't know about.