A White student from the University of Kentucky was arrested for verbally and physically assaulting a Black student who was working a desk clerk shift at the school's dormitory.
The intoxicated suspect–a 22-year-old identified by local station WLKY as Sophia Rosing–was initially booked into the Fayette County Jail under the name "Jane Doe."
She was charged with assault, public intoxication, disorderly conduct and assault of a police officer in Sunday's early-morning racist incident.
Rosing was caught on film wrestling the Black student and repeatedly calling her the n-word.
The assaulted student—a freshman identified as Kylah Spring—explained she initially didn't allow Rosing to enter the dorm because she "did not look like she was a resident" and did not have proper identification.
Rosing, who did not provide the required identification and was very intoxicated, managed to enter the building and stumbled her way to the elevator.
Things escalated from there.

WARNING: racial slurs, violence

Spring contacted her resident advisor as part of a safety protocol after trying to prevent Rosing from entering an elevator.
Rosing started verbally abusing Spring by using the racial slur and ordering her to "do her chores." According to the charges against her, Rosing also punched Spring in the face, kicked her in the stomach, bit her arm and tried to run her over using a nearby shopping cart in the lobby of the building.
When other students intervened to deescalate the situation, they too were attacked.
Spring recorded a video explaining what happened.

Twitter predicted what would happen next.

Rosing would apologize with qualifiers, blame alcohol, proclaim she's not racist then cry victim.
According to the arrest citation, Rosing told officers she "has lots of money and gets special treatment."

The citation also reported she kicked and bit a police officer during her arrest part of which can be seen below.
WARNING: racial slur
The university launched an investigation after the video went viral.

University of Kentucky President Eli Capilouto issued a statement saying the actions seen in the viral clip were:
"Deeply antithetical to what we are and what we always want to be as a community."

People noticed a glaring omission from her charges of assault: hate crime.
This was not the first time Rosing caused a scene.

According to Rosing's now private social media accounts she was a student influencer for Dillard's.
The chain has since cut ties with Rosing.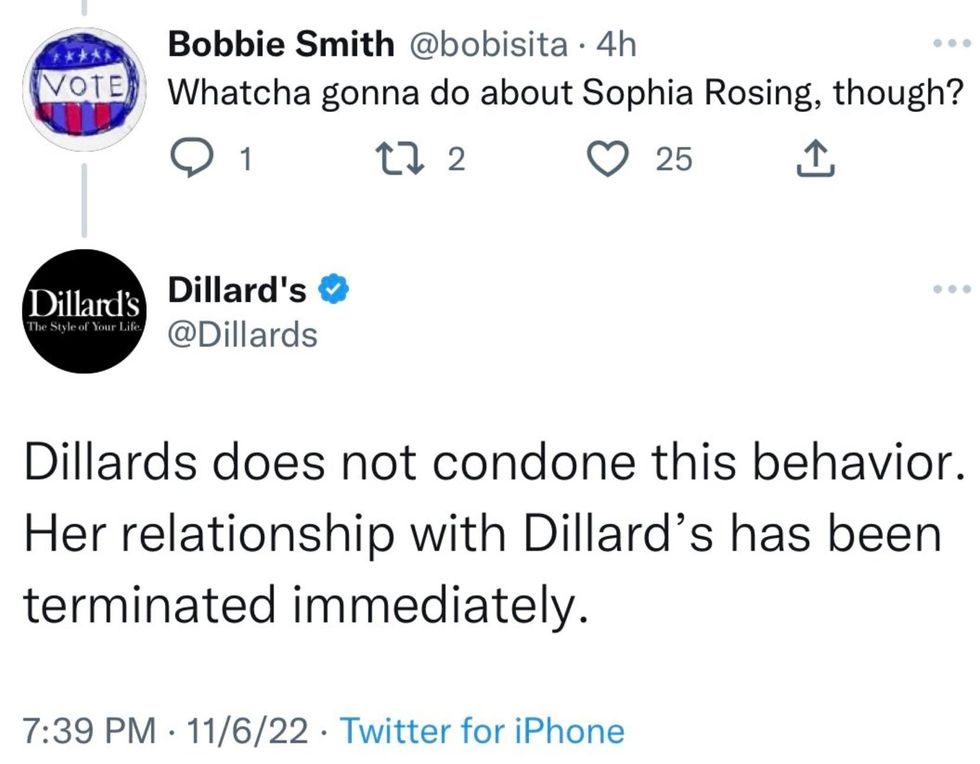 @Dillards/Twitter
Rosing was scheduled to appear in court on November 7 for her arraignment.

On Monday night, Spring—the young woman Rosing assaulted—spoke at a March Against Racism rally at the University of Kentucky's library.
The college freshman told the gathered crowd:
"My name is Kylah Spring."
"This is a recurring issue in and around American school systems no matter what age."
"I am deeply saddened by the events that took place, but I am most grateful for justice that is to come.
"And to Miss Rosing, you will not break my spirit."
You can watch Spring's speech here:
Kentucky student Kylah Spring's speech after encountering racist incident on campusyoutu.be