It's hard to separate Dolly Parton's voice from her hit song "Jolene."
But the country music legend has given a standing ovation to a new cover of the song by Grammy winner Lil Nas X.
The singer and rapper performed the song on BBC Radio One's Live Radio Lounge.
The cover has received over 1.5 million views on YouTube, planting the potential for the multi-genre artists' cover to become as iconic as Whitney Houston's cover of Parton's "And I Will Always Love You."
Parton certainly seems to think so, expressing her delight and approval of Lil Nas X's performance on all her social media accounts.
The legendary singer songwriter posted a picture of herself and Lil Nas X on her Instagram page, praising his performance, and expressing how moved she was the Billboard topping singer and rapper chose to cover one of her songs.
"I was so excited when someone told me that Lil Nas X had done my song 'Jolene'
"I had to find it and listen to it immediately... and it's really, really good."
"Of course, I love him anyway. I was surprised, and I'm honored and flattered. I hope he does good for both of us. Thank you @lilnasx."
When Lil Nas X, the first musician to publicly come out as gay while having a number one record on the charts, became aware of Parton's affectionate words, he returned to Twitter to express his amazement, which he summed up in two words- "Holy Sh*t."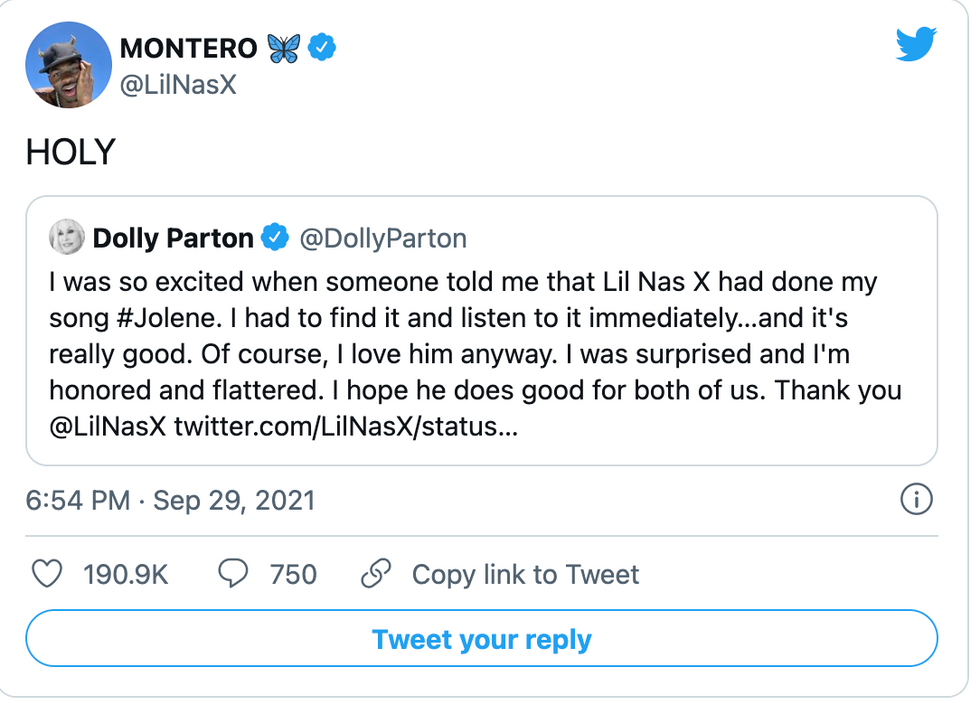 @LilNasX/Twitter
Fans of both Parton and Lil Nas X were also beside themselves on Twitter following Parton's sweet and touching words to the burgeoning fashion and music icon.
As one could only expect, several fans were hoping Parton's rave review might lead to a duet alongside Lil Nas X.
Lil Nas X has been eager to duet with Parton for years already.
Upon the release of the remix of his Grammy winning "Old Town Road" in 2019 alongside Billy Ray Cyrus, he posed the
question
:
"Y'all think i can get Dolly Parton and Megan Thee Stallion on an 'Old Town road Remix?'"
Parton responded by tweeting a picture of three horses, one pink, one brown, one black, supposedly representing the prospective trio, to a giddy reply from Lil Nas X- "Yee Yee Gang."
While that tantalizing trio never materialized, the heartwarming adoration shared between Parton and Lil Nas X makes it hard to imagine a duet won't happen in the not-so-distant future.
A new cover of "Islands In The Stream" anyone?