A Detroit bus driver whose concerns about the pandemic went viral has tragically succumbed to the virus.
Jason Hargrove passed away on April 1st at the age of 50.
---
Hargrove's video about a coughing passenger went viral at the start of the pandemic.
The virus spreads via air droplets from coughing, sneezing and possibly even just from speaking according to the CDC. When a woman riding the bus that Hargrove was driving continuously coughed without covering her mouth, the driver became furious about her carelessness, and fearful of the virus spreading.
Hargrove posted a video on Facebook, lamenting passengers' lack of concern for others and the city's failure to protect public workers.
Hargrove said in the video:
"For you to get on the bus, and stand on the bus, and cough several times without covering up your mouth, and you know that we're in the middle of a pandemic, that lets me know that some folks don't care."
He described feeling unsafe and disrespected during the pandemic:
"At some point in time, we've got to draw the line and say enough is enough. I feel violated"
Soon after, the city of Detroit enforced measures to protect essential bus drivers.
By eliminating fares, requiring passengers to enter and exit from back doors, and by providing more cleaning on busses, city officials hoped to protect drivers from coming into contact with sick passengers.
But the efforts came too late for Hargrove.

Just eleven days after his rant went viral, the father of six died due to complications from the virus.
Detroit mayor Mike Duggan acknowledged Hargrove's death:
"He was infected before we closed the front doors. Some of his language is graphic, but I don't know how you can watch it and not tear up."
Duggan said that Hargrove's story is proof that people need to take the health crisis seriously:
"He knew his life was being put in jeopardy … by someone who didn't take this seriously and now he's gone."
Upon the news of his sudden death, people began to comment on Hargrove's Facebook post.

@Jo Robinson/Facebook

@Tammy Bryant Lehner/Facebook

@Felicia Greene Moody/Facebook
The fact that the passenger wasn't doing something as simple as covering their mouth was infuriating.

@Sarah Logan/Facebook

@Mike Casey/Facebook

@Tommy Levesque/Facebook
Other's noted how quickly the healthy man deteriorated due to the virus.


@William Clark//Facebook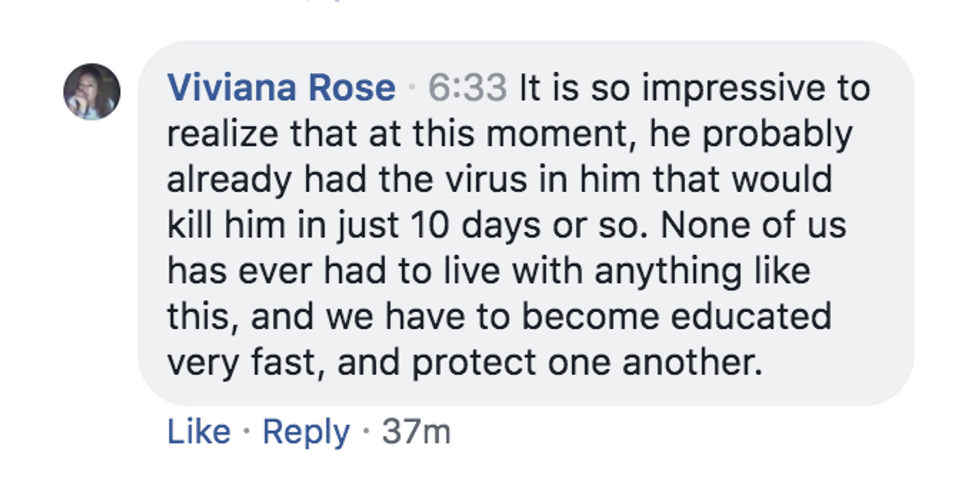 @Viviana Rose/Facebook

Mayor Duggan agreed that Hargrove's video should serve as a warning:
"I hope the people in this city and in this country will watch his video and listen to his words, because it's a message this country needs to hear."
Detroit is currently considered a virus hotspot, with almost 4,000 cases and over 130 deaths.