Texas Republican Senator Ted Cruz—who is speaking Friday at the National Rifle Association Institute for Legislative Action Leadership Forum— again accused Democrats of politicizing mass shootings in his response to the murders of 19 children and two teachers at Robb Elementary School in Uvalde, Texas.
As reported by CNN, the Texas Republican said:
"Inevitably when there's a murderer of this kind, you see politicians try to politicize it, you see Democrats and a lot of folks in the media whose immediate solution is to try to restrict the constitutional rights of law abiding citizens."
Disgusted the GOP Senator's first instinct after the murders of school children in his own state was to defend guns, Democratic Representative Ruben Gallego of Arizona pulled no punches in his response to Cruz.
Gallego tweeted:
"F'k you , you care about a fetus but you will let our children get slaughtered."
"Just get your a** to Cancun."
"You are useless."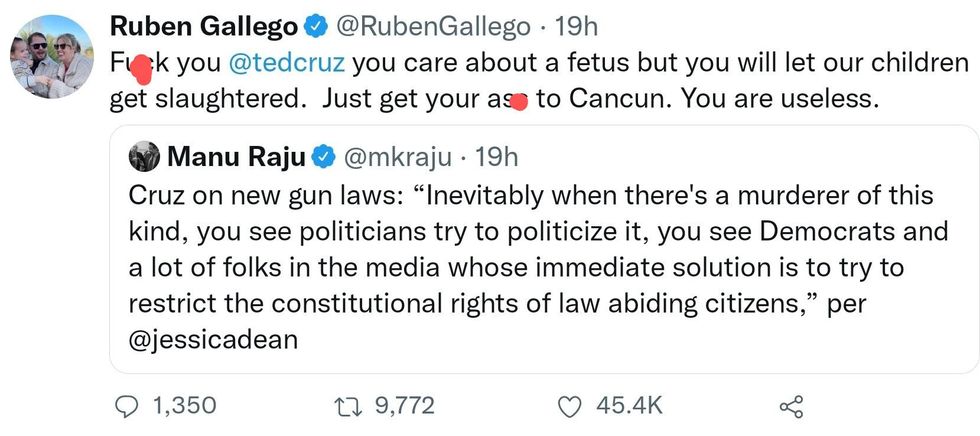 @RubenGallego/Twitter
Less than half an hour later, Gallego—a United States Marine Corps combat veteran—clarified his message to Cruz.
The Arizona Democrat tweeted:
"Just to be clear f'k you you f'king baby killer."

@RubenGallego/Twitter
When Cruz suggested the usual NRA solution to mass shootings—adding more guns—Gallego let Cruz know he was living in the past.
People were on board with Gallego's message.
Cruz was not the only one Gallego had a message for.
He also addressed California Republican Darrell Issa...

@RubenGallego/Twitter
...and Arizona Democratic Senator Krysten Sinema...
...and former New Jersey Republican Governor Chris Christie...
...and Colorado Republican gun rights advocate Lauren Boebert...
...and Texas' lax gun laws.
Gallego expressed the frustration many in the United States are feeling.
Whether anyone in the GOP will listen is unknown.