A New Jersey food blogger realized he doesn't have to own a vineyard in Napa or under the Tuscan sun to make his own wine. All he needed was an Instant Pot.
The pressure cooker and crock pot hybrid became a sensation revered by culinary enthusiasts in recent years, but now thanks to Murphy's ingenious discovery, the Instant Pot is sure to be flying off shelves indefinitely by budding wine enthusiasts.
---
I know what you're thinking. Homemade wine probably won't tantalize your well-developed taste-buds like anything close to award-winning bottle, but the convenience and cost of producing your own wine at home will make you look at your glass as being half full.

Murphy's inspiration came from a meme he across online: "Why hasn't someone figured out how to put grapes in the crockpot and have it turn to wine? It's like no one tries anymore."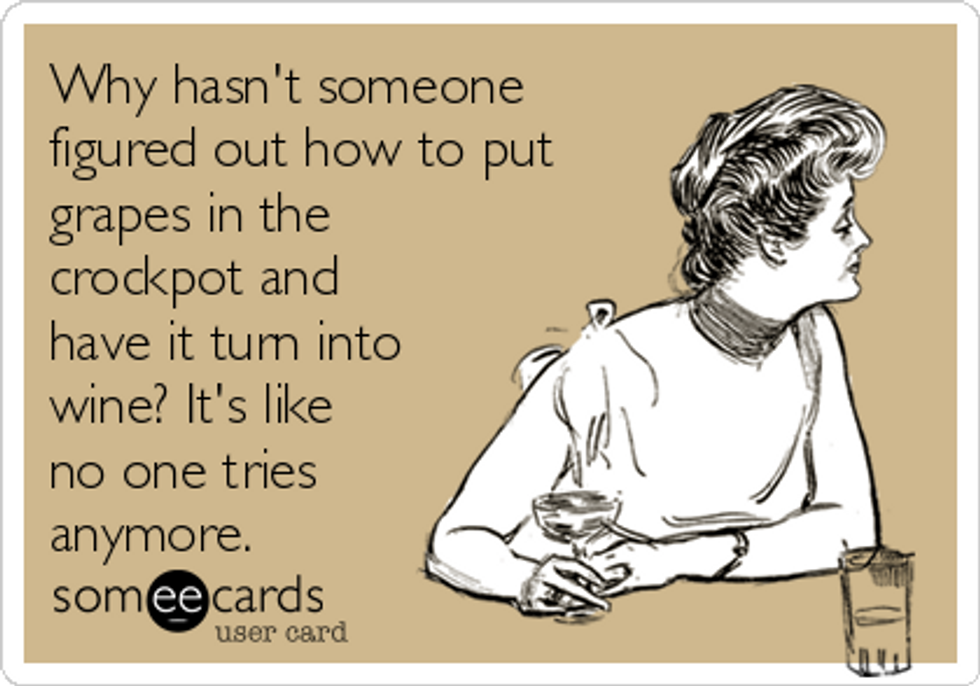 It's pretty darn close.(Someecards)
But what started out as a joke became an inspiring challenge.

I used to laugh every time I saw this because I wanted it to be so true. Well, I kind of figured out how to make instant pot wine, but out of grape juice…not grapes. So I'm pretty close enough lol!
He told Munchies about his epiphany:
The Instant Pot has a Yogurt function, and you can use less heat. Before you knew it, I was shopping on Amazon and running to the store to grab juice and to test out my theory... and it worked!
We'll take it! The food blogger shared the recipe that includes a 64 oz bottle of grape juice, 1 cup of sugar, 1 packet of red wine yeast, and a funnel. Even though it seems simple to make, Murphy did warn that the process will require some patience for your instant pot wine.
Below is the recipe from his blog that was shared over 54 thousand times.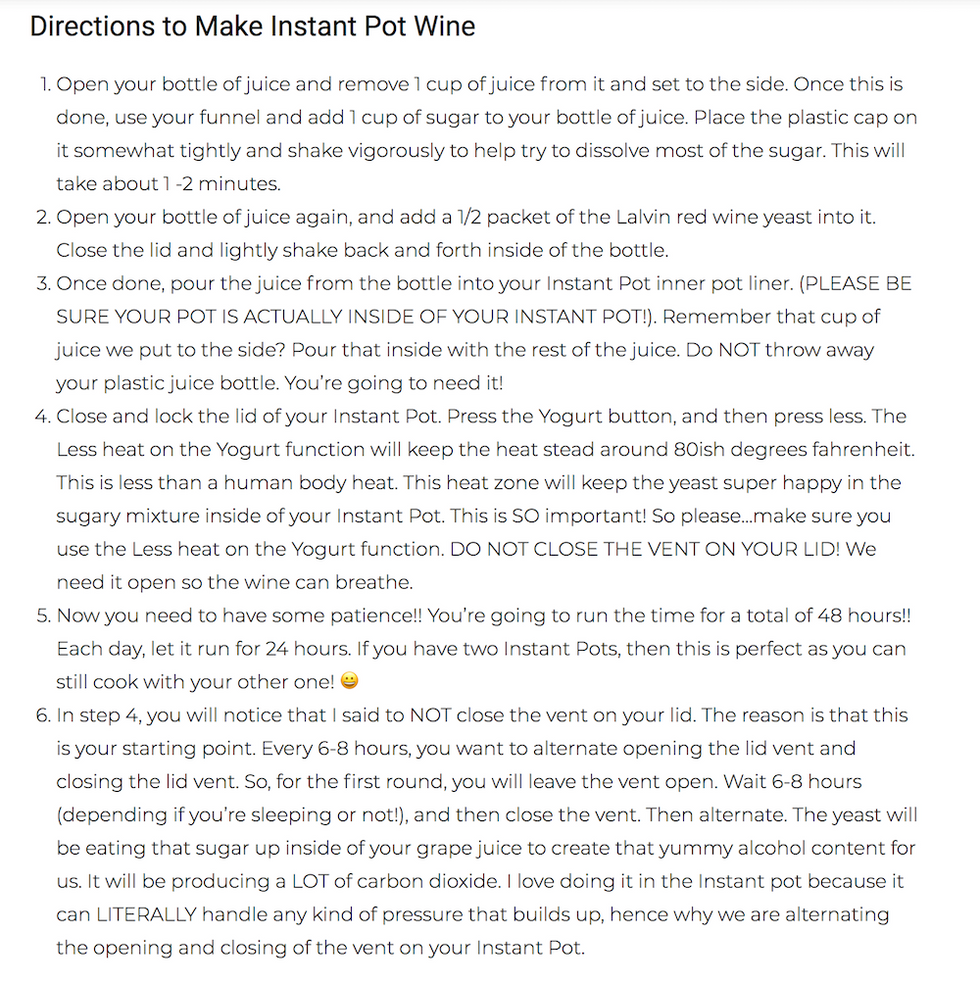 Required reading.(Foodnservice)
When he first tested the concoction after 20 hours, he said the homemade wine wasn't very good. It had a cloudy residue from the yeast and a lot of fizz due to the yeast producing carbon dioxide.
It takes about 48 hours – followed by 8 days of bottling stored in a dry, cool place – to have that acceptable glass of wine that he described as "an extremely pleasant table wine" that's in the neighborhood of an $8 bottle.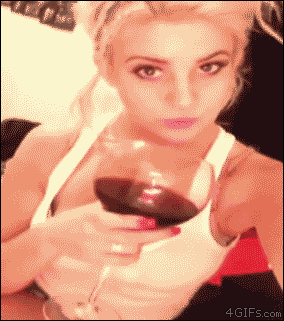 Just don't drink it like it's an $8 bottle.media.giphy.com
I seriously didn't think this was going to work at all. I was expecting a failure, but I was patient and played that annoying waiting game. Honestly, it was so much better than some of those cheap bottles of wine that I've bought. Dare I say, even better than the 2 buck Chuck from Trader Joe's!
He encouraged those at home willing to give this a spin to try different variations of grape juice, as it would "create different flavor profiles."
Fans of the recipe were happy to try it out at home.

Demetria(Foodnservice)
He was happy to address concerns.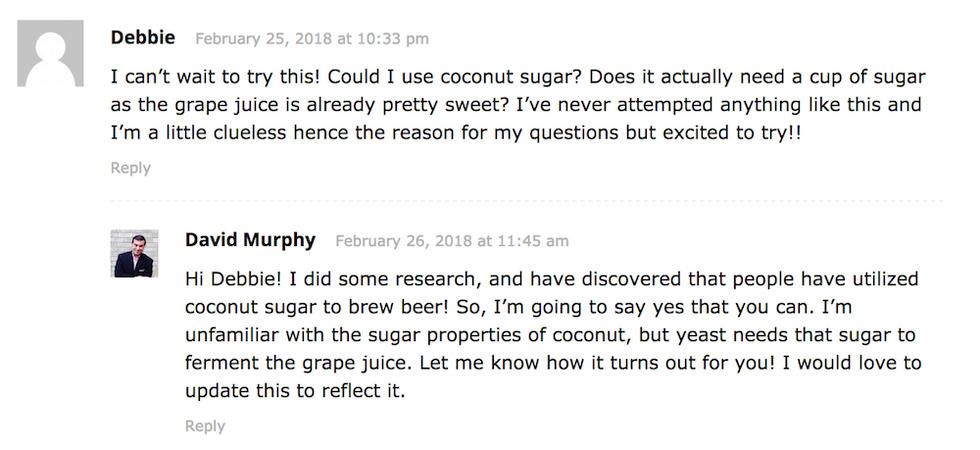 Debbie(Foodnservice)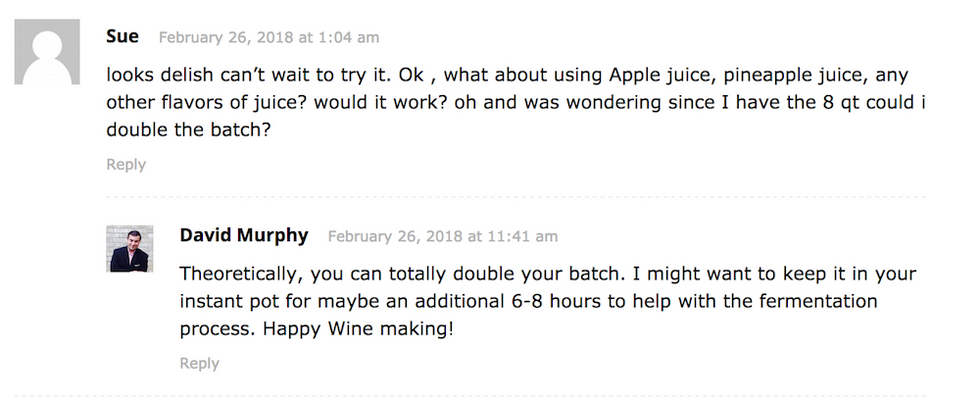 Sue(Foodnservice)

Lori(Foodnservice)
This guy is already anxious for the next development.

Edward(Foodnservice)
H/T - Foodnservice, Twitter, DailyMail, Muchies