We've all experienced or witnessed someone getting creeped on by a stranger before.
It is always uncomfortable and sometimes unsettling.
---
One woman met a stranger on a train who took "creeper" to a whole new level.
Lynda is a 20-year-old student from Bromsgrove, England. Last week she met a man on the train.
They had a brief conversation but didn't exchange contact information.
Regarding their interaction, Lynda said:
"It was general small talk about the weather and stuff. I initially didn't notice him, and I can't say I'd ever seen him before either."

However, the man tracked her down and sent her a series of texts.
Lynda took to her Twitter feed to seek advice about how she should react.

@Lyndahx (Twitter)
Lynda also spoke with BuzzFeed News about the interaction and shared screenshots of the texts.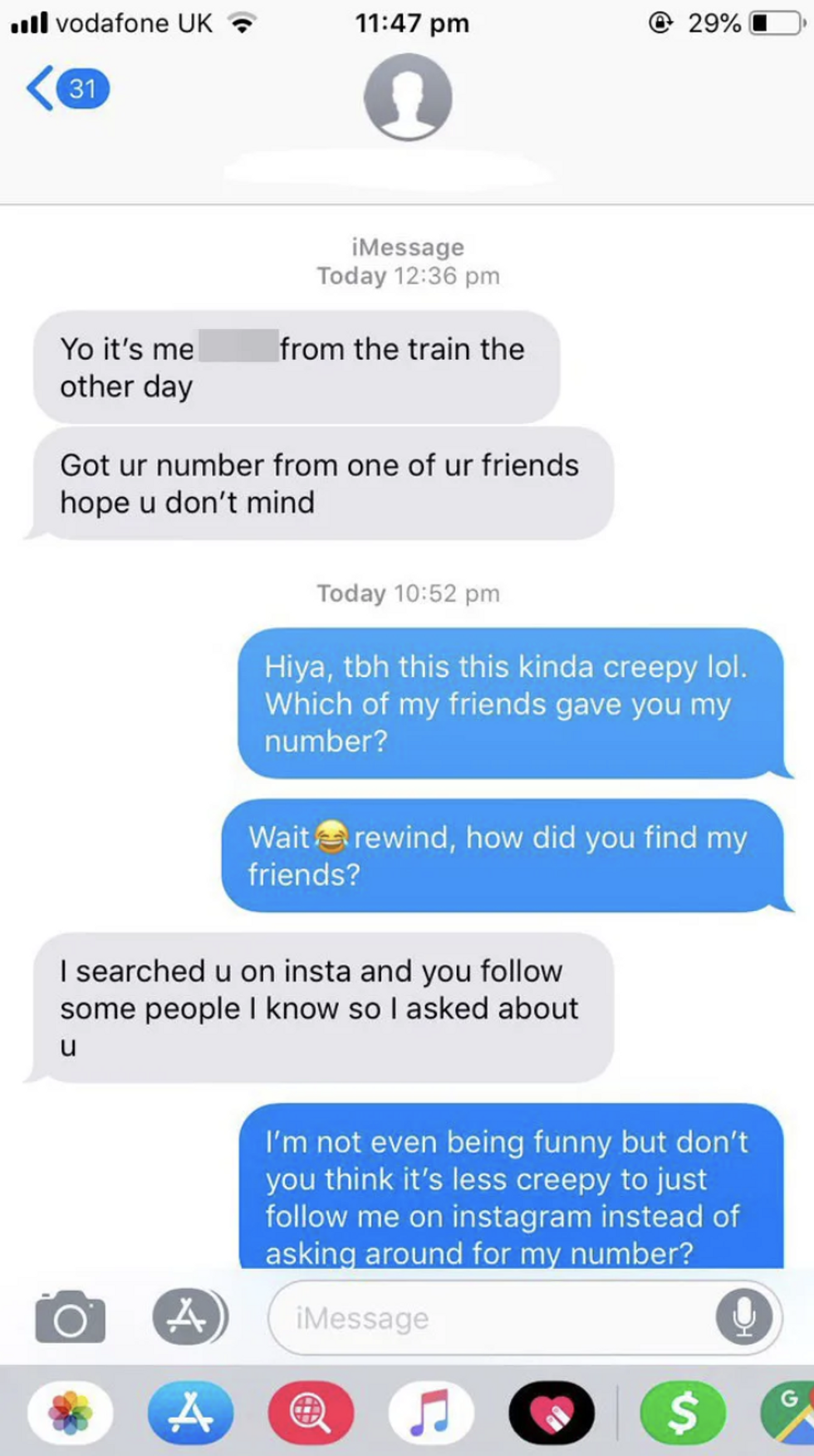 @Lyndahx (Twitter)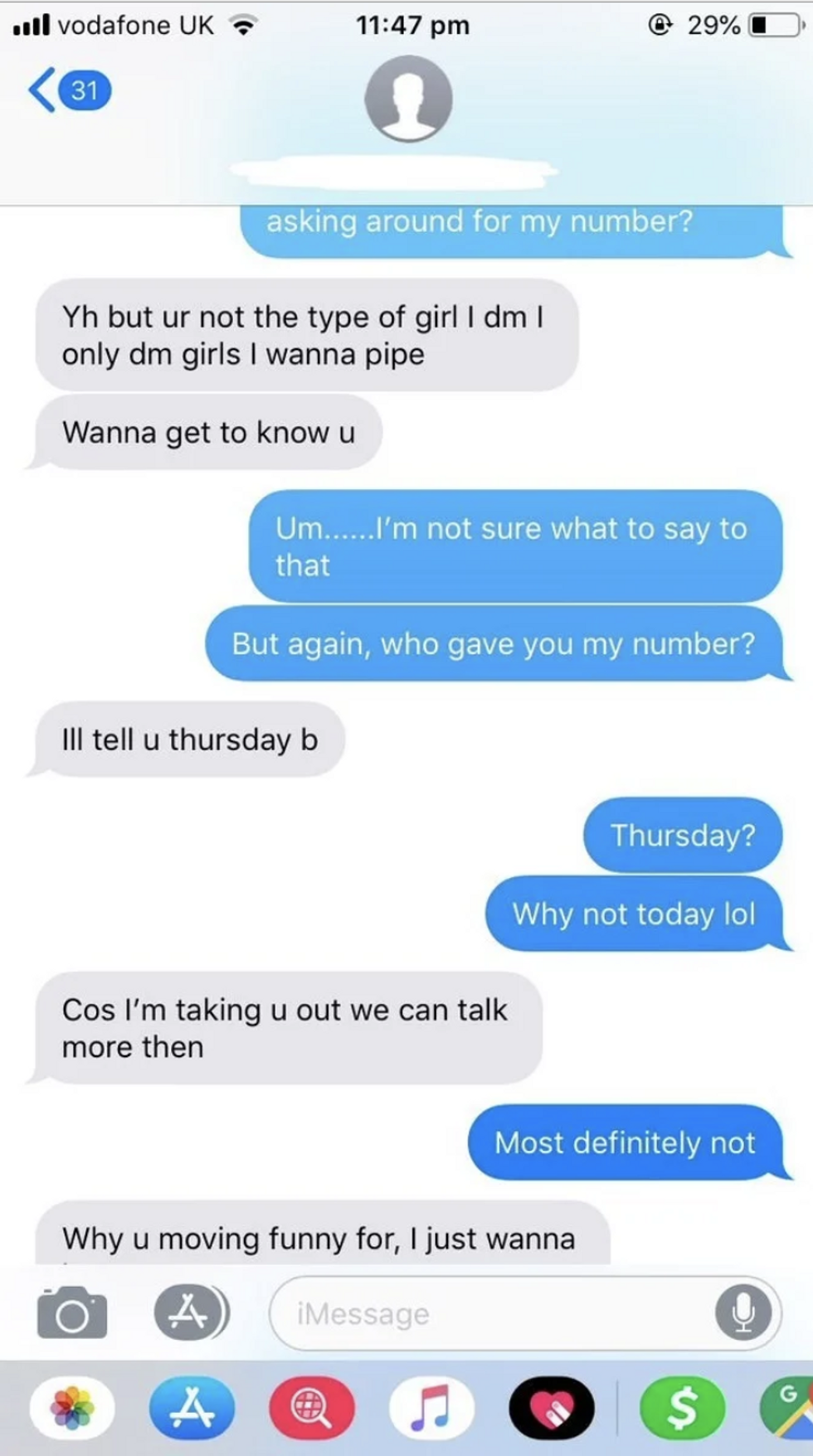 @Lyndahx (Twitter)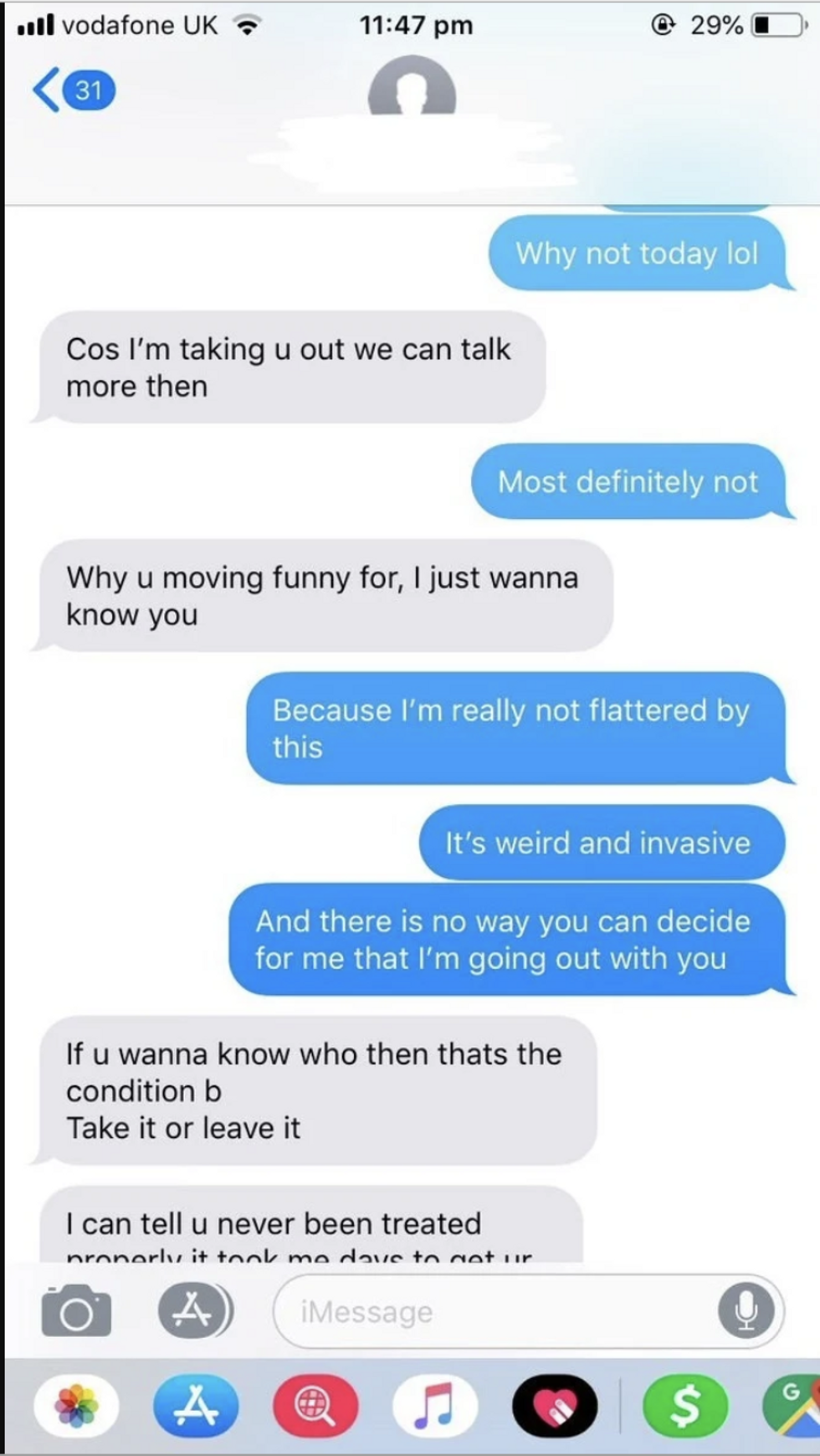 @Lyndahx (Twitter)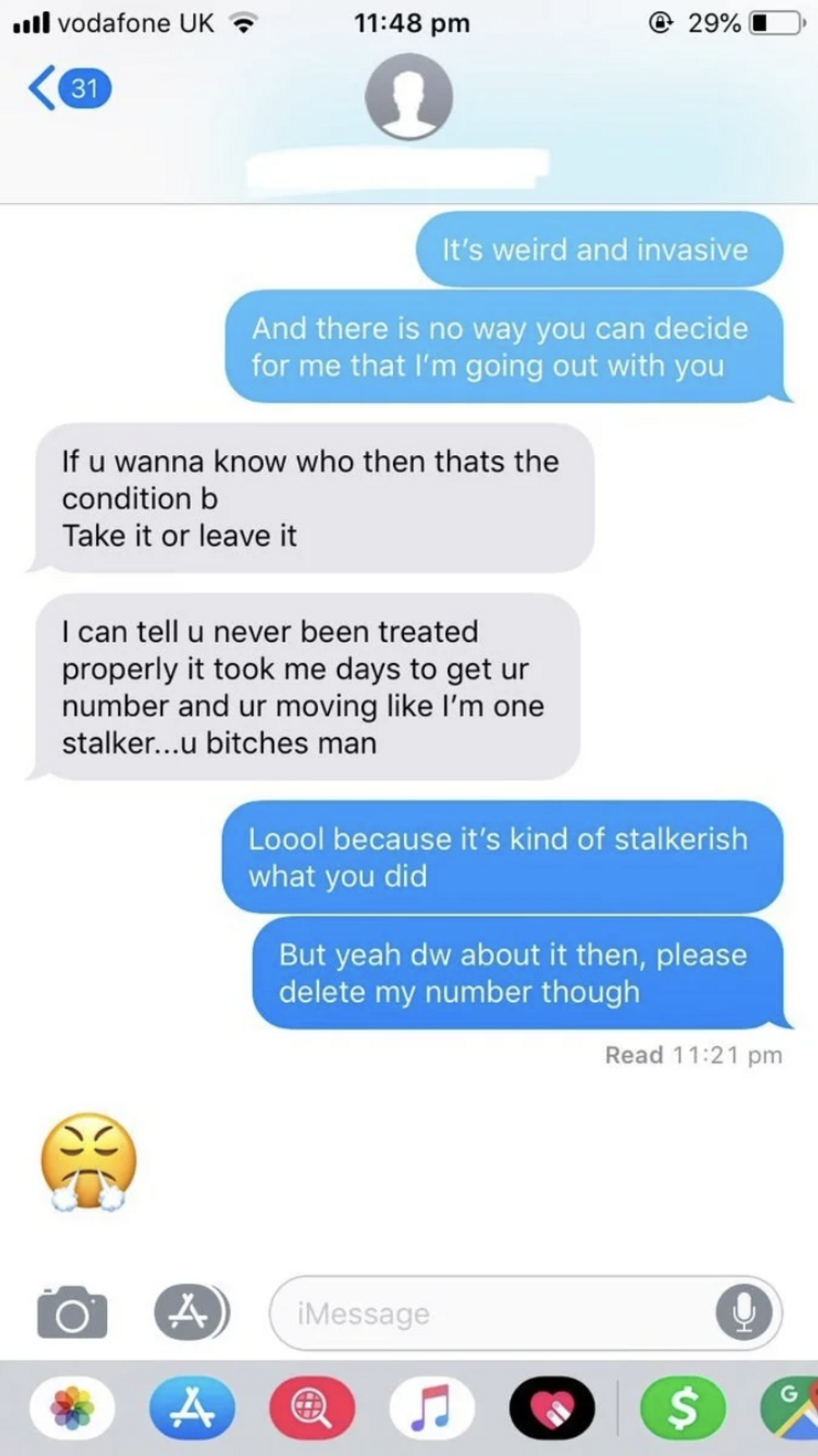 @Lyndahx (Twitter)
Numerous people encouraged her to go to the authorities, but after ruminating for a bit, Lynda made her decision.

"For now I don't think I will. Although it has made me slightly paranoid, it is just a one-off occurrence and he hasn't tried to speak to me again."
People are totally freaked out by this guy's actions.
Uh.. Yeah, no. Creepy. If you want someone's number and don't know them well enough to ask, then probably shouldn't… https://t.co/y6G6soCQFc

— Lia (@Lia)1547709795.0
FYI Stalking a cordial stranger, demanding she go out w/you then calling her names because the invasion of her priv… https://t.co/gbNRbp91xW

— Dorothy Nelson (@Dorothy Nelson)1547572122.0
Don't do this! https://t.co/OIboiNVNGQ

— Cocoa Butter (@Cocoa Butter)1547571443.0
"it took me days to get ur number and ur [acting] like im a stalker" OK BRO https://t.co/t1Kmp0Z1bq

— #1 Rachel (@#1 Rachel)1547665965.0
Parents, raise your boys better. Raise them to be men, not abusers, not stalkers. The fear is real. > This Girl Spo… https://t.co/jnUkmJKVdA

— Lisa Nesbit Reuss (@Lisa Nesbit Reuss)1547578831.0
Others were appalled by the behavior of her still unidentified friend who shared her number.

Don't be the person asking for numbers; if you come across someone on insta message them on there. Don't be the p… https://t.co/SpaBUhoM4A

— Angel ♿🇬🇧🇮🇹 (@Angel ♿🇬🇧🇮🇹)1547466457.0
https://t.co/B95NnzHo6r oh come on, who gives out their friends numbers without checking first?! #ByeFelicia

— Sophie Pearse (@Sophie Pearse)1547843368.0
And others find the story to be eerily reminiscent of the Netflix series You.
Men. Don't do this. #You #NetflixYou #YouNetflix This Woman Got An iMessage From A Man She Met Once And It's Bein… https://t.co/5NQxKk6Ay3

— Author: Own Misfortune (@Author: Own Misfortune)1547572823.0
@Lyndahx Make sure your curtains are closed sis! And have your security on lock 🤣 I have a feeling he didn't get th… https://t.co/8v6nlfo3lI

— Safiyah (@Safiyah)1547466204.0
@Lyndahx "delete my number" https://t.co/QfmQ28PR63

— D'ussé Papi (@D'ussé Papi)1547466190.0
Men, please don't do this sh*t.