A Scottish husband and wife duo are entertaining the nation from their kitchen table with a magazine-style TV show, featuring acts including a world record breaker who bathes in baked beans, a ventriloquist and a rap star.
Calling their homegrown production Moreish TV, as they "give a little bit more," Edinburgh couple Craig and Debbie Stephens—veterans of the entertainment industry, who normally run a recording studio—started their now weekly show in April to help struggling performers during the Covid-19 pandemic.
The variety-style broadcast—which Craig, 51, and Debbie, 56, present, film and edit at their kitchen table, then post to YouTube, where it attracts thousands of viewers—comes as the National Campaign for the Arts has painted a bleak picture for the future and venues like London's Southbank Centre look set to stay closed until April 2021.
Now the Stephens want their show to provide a platform where entertainers can perform and build their fanbase while venues are closed—featuring diverse guests from around the world, including singers from X Factor, America's Got Talent and The Voice Indonesia.
Craig said:
"Moreish TV is our way of entertaining the nation and giving artists who might be struggling with lockdown a platform and a chance to keep performing."
"I really feel for them – especially the youngsters. They're hugely talented and may not be able to perform on a proper stage for a long while."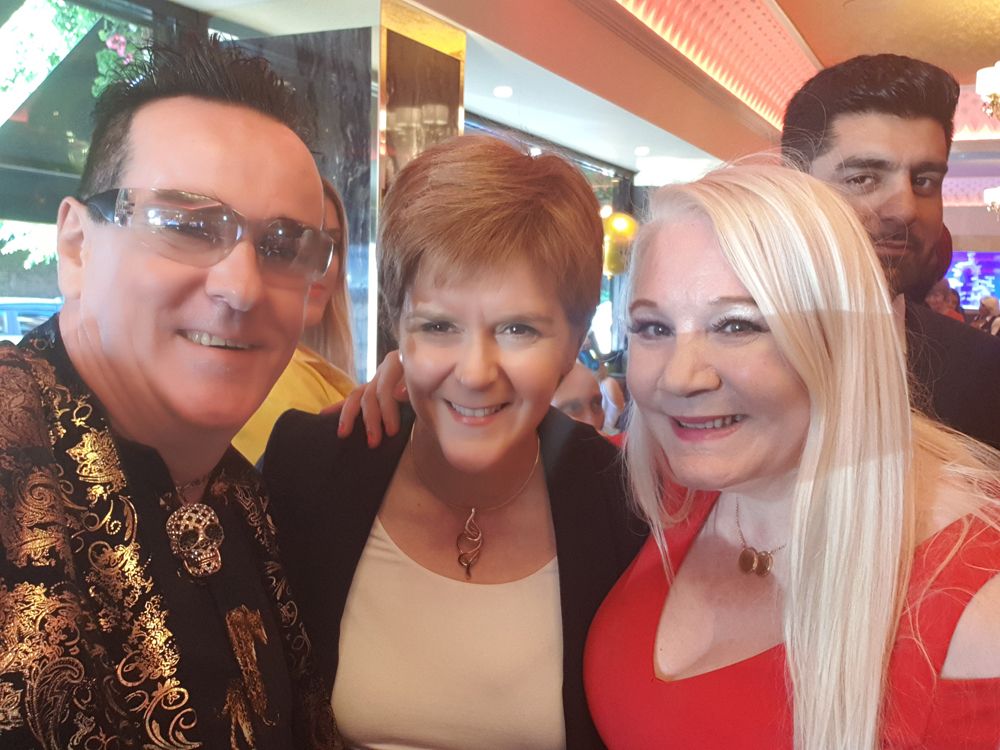 Debbie and Craig with the First Minister of Scotland, Nicola Sturgeon (PA Real Life/Collect)
Craig explained:
"We weren't expecting much of a reaction, but people are loving what we're doing. We've gone from not even knowing if we'd have enough to make more than one show to being booked up three weeks in advance."
"We're getting calls and emails through the night from artists around the world who want to come on the show."
Furloughed as their own studio is closed, at the end of March Craig and Debbie cooked up a winning formula for their very own show, in the style of classic programs like The Word and TFI Friday.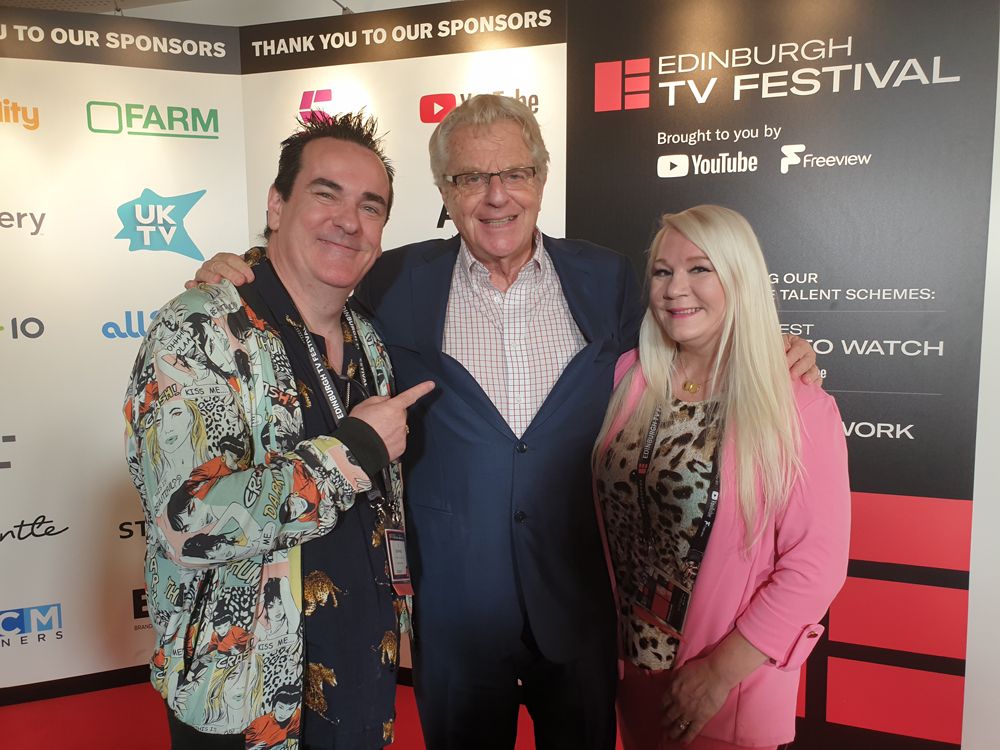 Debbie and Craig with TV host Jerry Springer (PA Real Life/Collect)
The couple, who also sing, quickly realized there would be no gigs during lockdown and started seeing artists performing on Facebook Live and over social media, to maintain their fanbase.
Then, they had their own '"lightbulb moment," according to Debbie, who said:
"We thought outside the box and came up with the idea to do our very own magazine-style show."
"We wanted to be a voice for artists out there struggling with the pandemic—not just musicians but entertainers of all kinds."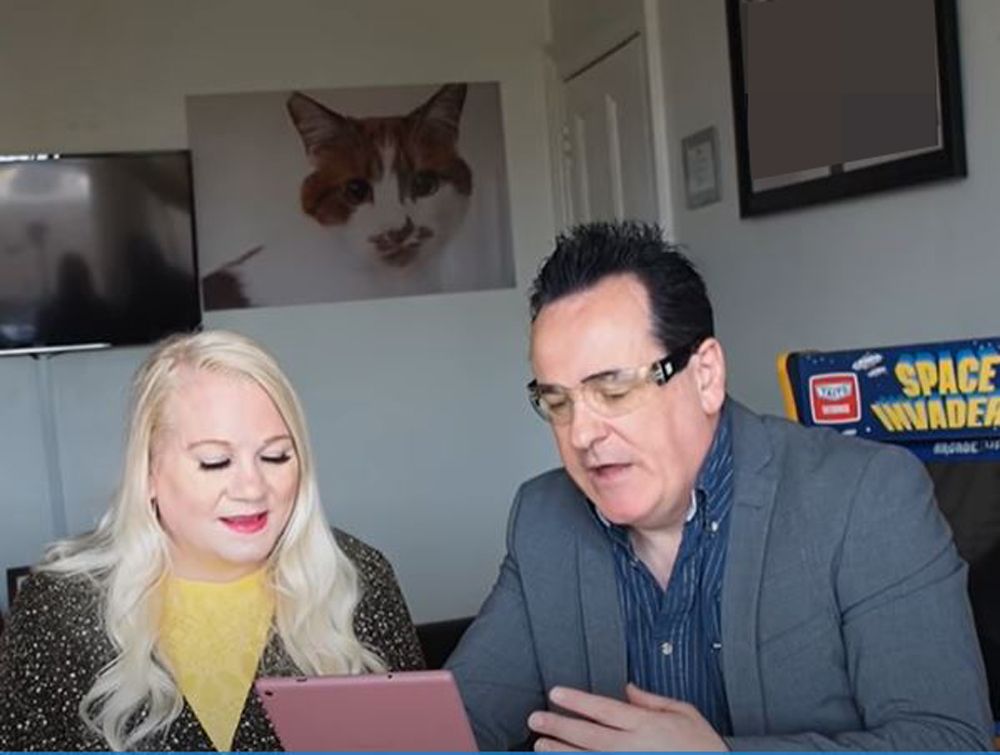 Debbie and Craig presenting their show (PA Real Life/Collect)
And a week later, Moreish TV was born, with the couple recording their first 38-minute show, which went down a storm when they uploaded it to YouTube.
By the time of their second show at the end of April, they had a string of special guests to feature, including Captain Beany, a Welsh charity fundraiser who set a world record for the longest time—over 100 hours—sitting in a bath of baked beans, as well as psychic mediums, magicians and musicians.
Craig said:
"Our shows have got longer and longer since we've had more artists getting in touch. They mostly find us via social media, though we knew a couple, like Captain Beany, through the industry anyway."
Craig added:
"We can't believe how much it's progressed."
Now recording a show a week, they air the broadcasts—which are now just under two hours—every Saturday at 5pm on YouTube.
Craig continued:
"Rather than going live to the people we feature, we get them to prerecord segments introducing themselves and performing, which I then edit together to make it look like we're speaking in real life."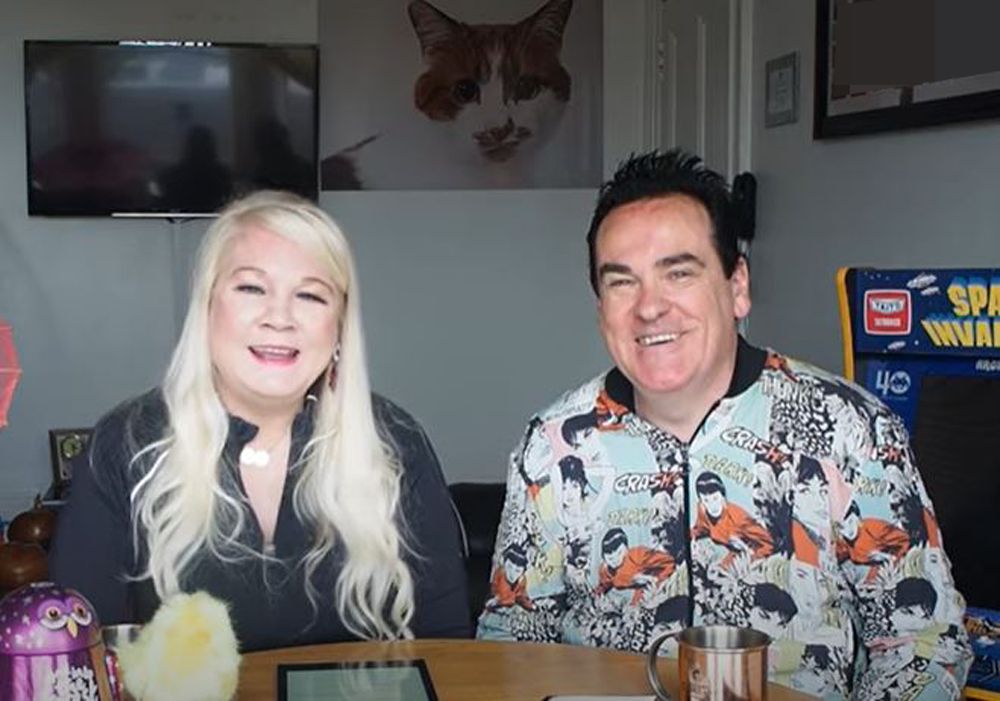 Debbie and Craig presenting their show (PA Real Life/Collect)
"It's our little way of getting around any technical hitches."
Recording the bulk of the show, which they compere, only takes the accomplished pair around an hour, but editing takes Craig—who wants everything to look as slick as possible—a few days.
Similarly to shows like This Morning, they also have regular segments—such as one featuring VIP private chef John Quill as their resident cook.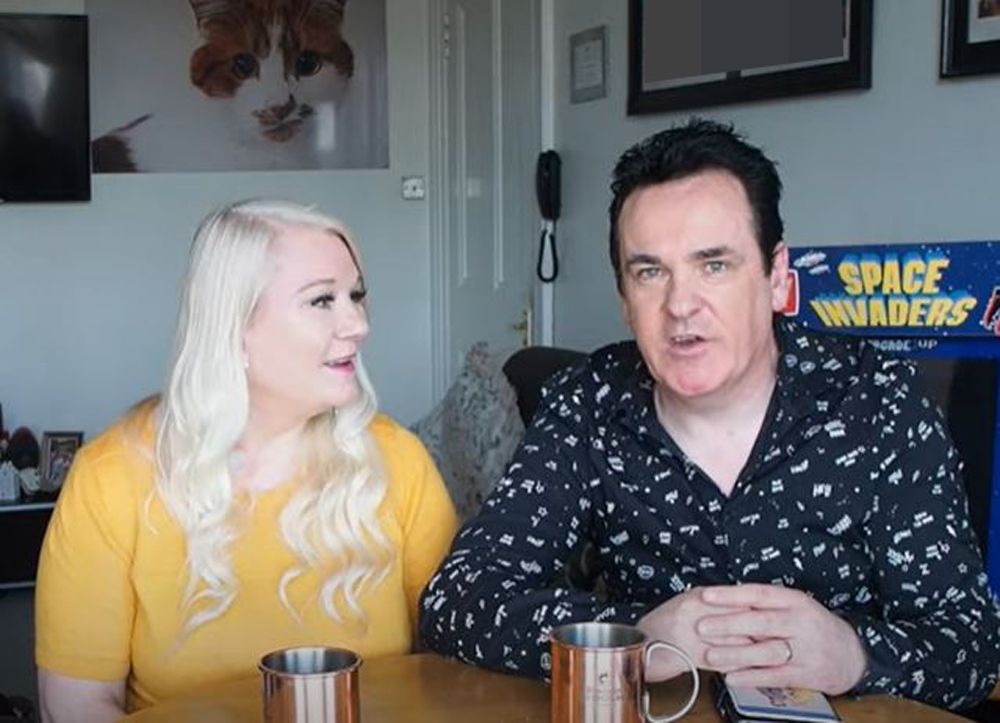 Debbie and Craig presenting their show (PA Real Life/Collect)
Craig said:
"John will record himself making quick 10-minute dishes, so people can cook along or learn a new recipe."
"It's only YouTube, but we've done our best to build it like a real show. We even have a credits reel at the end—although we do everything ourselves, so it's pretty short!"
Since launching, Craig and Debbie have had guests from across the globe on Moreish TV, including a Kenyan rapper, a singer from New Zealand, a finalist on The Voice from Indonesia and acts from both America and Britain's Got Talent.
Debbie said:
"It gives us such a glow inside to know we're helping people. We see it as a sort of variety show, and it gives all sorts of performers, from impressionists to ventriloquists, a chance to showcase their skills."
"We get great feedback from the artists, and they go on to watch future episodes, so in turn find out about other acts that they could even one day work with."
Aside from the price of their internet and electricity, which they would be paying anyway, the show does not cost the pair a penny.
Debbie and Craig (PA Real Life/Collect)
And while it does not make them any money, helping struggling artists is a cause close to their heart, making that payment enough.
Filming at home does come with some technical hitches, though.
Debbie added:
"We've had all sorts happen—mainly our two pet cats getting in the way of the camera, or hissing while we're trying to introduce the next act."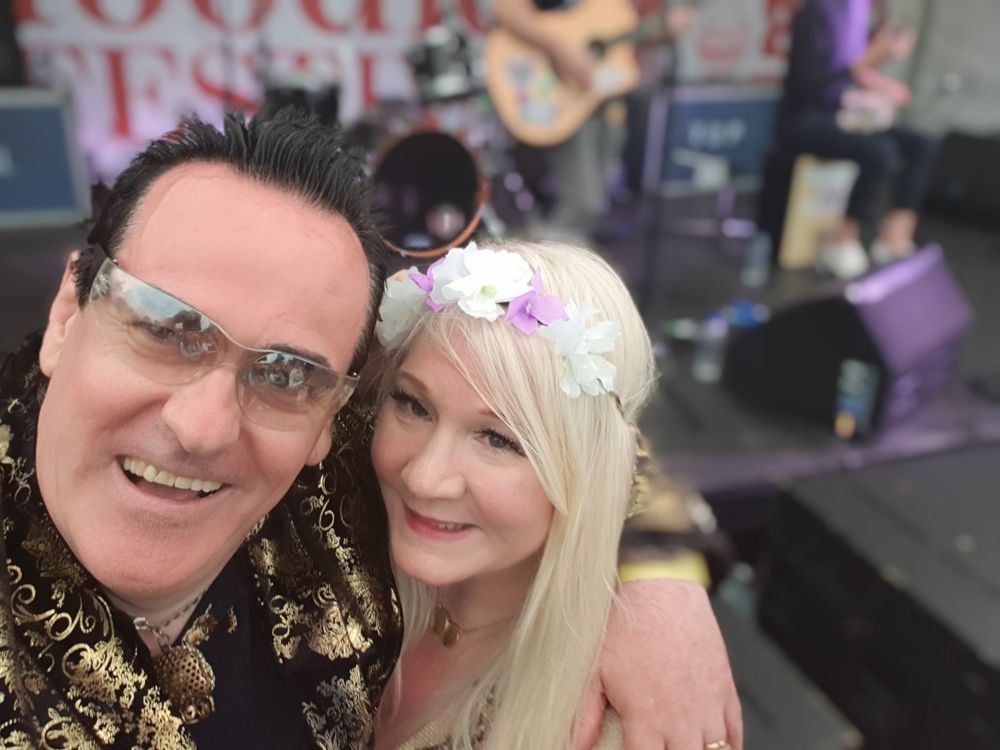 Debbie and Craig (PA Real Life/Collect)
"We want to keep all that footage though to put out a blooper reel. People love that sort of thing."
As lockdown restrictions begin to ease across the nation, Craig and Debbie are wondering whether to continue with Moreish TV once life returns to normal.
Craig said:
"I know people are itching to get out—we are too—but when viewers tell us how much they love what we do, it makes us think that we should carry on."
He added:
"Artists who may not otherwise get heard have a platform with us, and we don't want to take that away.
"The feeling of pride we get when we put our feet up with a glass of wine and watch our show on Saturday evenings is immense, too. It's been so enjoyable, and who knows where we could go next?"
"Maybe one day we could even do Moreish TV live, bringing together all the artists we've featured during lockdown for one mammoth gig."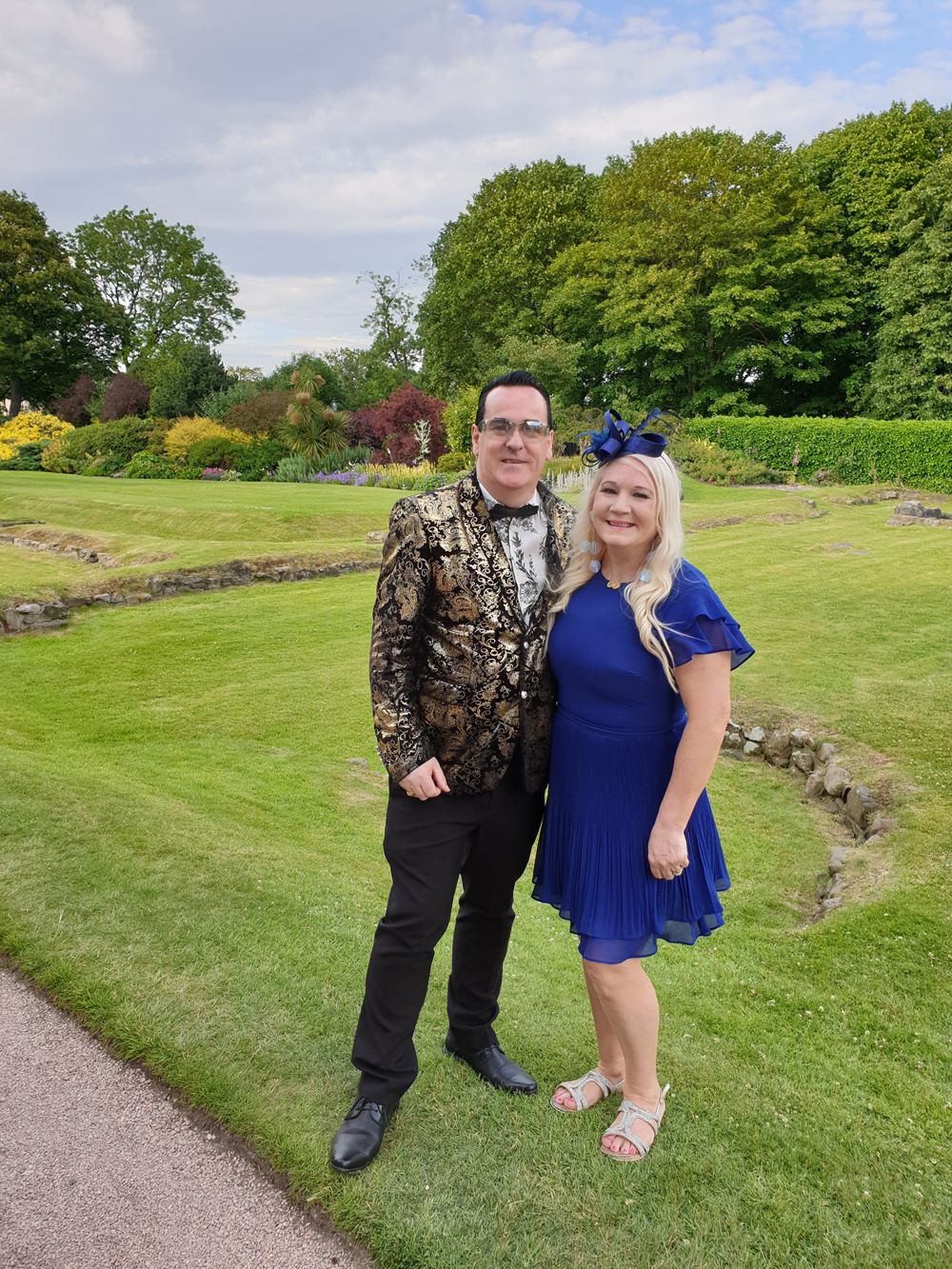 Debbie and Craig (PA Real Life/Collect)
Debbie agrees that their show is hugely satisfying to produce and is providing a valuable service.
She said:
"People tell us there's nobody else out there doing what we are. We're called Moreish TV as we give that little bit more, and we want to carry on helping for as long as we can."
Watch Moreish TV on Youtube here