A 21-year-old college student arrived to class completely bombed and put on an EXTREMELY problematic, hateful show under the fluorescent lights.
For that guy, day-drinking has a knack for making the hate spew.
Strangely, though, class participation does still remain a priority.
---
Until the incident and his subsequent arrest, Dayton Kingery was a student at Chapman University, a mid-sized private college in Orange County, California where the incident took place.
Following Kingery's drunken, racist, homophobic rant in a classroom, he's been arrested and charged with multiple crimes. He no longer attends the college, though according to statements made by Chapman University officials, it is still unclear if he was expelled or left on his own accord.
As a video recording of the incident shows, the trouble began with Kingery boasting that he was intoxicated while he sat at a desk in a Chapman classroom. At that point, Kingery was still arousing laughter from the room.
But things got real racist, real quick after that.
The person in the chair next to him recorded the video and passed it along to a friend, who posted it to Twitter.
This was recorded this morning during a lecture at Chapman. I'm posting this as a reminder as to why celebrating bl… https://t.co/HUWYPFondH

— T-Pain $tan Account (@T-Pain $tan Account)1580861649.0
Kingery quickly launched into seemingly unprompted hate speech, invoking the N-word before eventually moving on to his attack on homosexuals.

"I fu**ing hate ni**ers. I fu**ing hate ni**ers. Let it be known. I fu**ing hate fa**ots too, how's that?"
This, of course, did not arouse laughter.

A collective groan and unanimous directive to shut up can be heard from the room. A couple classmates demanded he leave the room.
A second video, also posted to Twitter, shows Kingery's exit maneuver. As expected, it's cocky, explicit and relies on escalation.
In this part two segment, Kingery threatened a classmate.
"You don't know who I am, guy. I'm not kidding. I'll fu**ing bury you, I'm worth like 50 million dollars."

As multiple classmates escorted Kingery out of the room, someone mistakenly handed him a backpack that wasn't his.
He then launched it across the room, ran and jumped on it and slipped as if it were a banana peel.
I can't believe nobody beat this kids ass 😂 https://t.co/vhtVc42NdZ

— T-Pain $tan Account (@T-Pain $tan Account)1580862705.0
Shortly after that, a mixture of police and campus public safety officers literally dragged Kingery out of the building.
The boys definitely had to come get him outta here https://t.co/qC5tYdN8va

— T-Pain $tan Account (@T-Pain $tan Account)1580865967.0
The Los Angeles Times reports that Kingery was taken into custody at Orange County Jail and charged with suspicion of making criminal threats and felony vandalism. Turns out that banana peel was actually a backpack with a laptop inside.
Kingery was also charged with elderly abuse because one of the campus public safety officers was over the age of 65.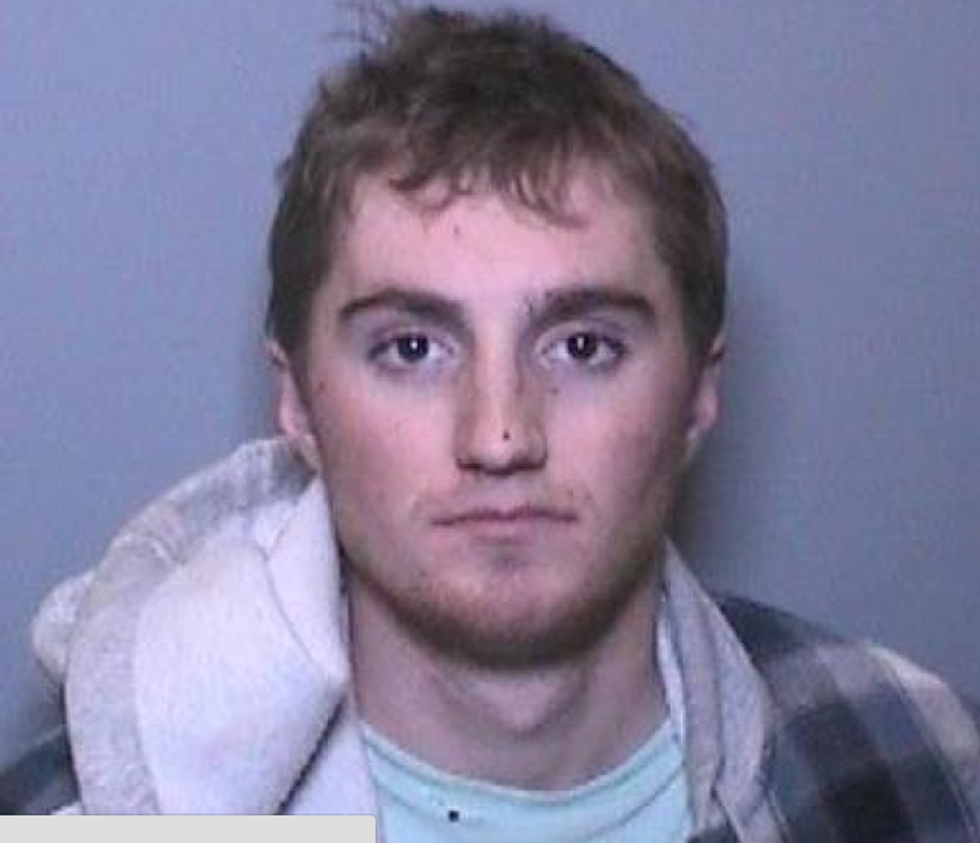 Orange, California Police Department
Kingery has already posted bail, according to public police records. Yes, these were also posted by the same Twitter account who conducted all the DIY reporting of the entire episode.
He's already free y'all. Be safe out here. https://t.co/VdbsKtZtAn

— T-Pain $tan Account (@T-Pain $tan Account)1580923591.0
Big surprise, nobody was on team Dayton Kingery.
@thereal_mowens this is DISGUSTING. He better be expelled and forbidden from @ChapmanU

— breezus (@breezus)1580876108.0
@thereal_mowens @ChapmanU @ChapmanAlum another alum chiming in that I would like to know how this is dealt with an… https://t.co/RzEGXebS8X

— Morgan Green (@Morgan Green)1580887537.0
@thereal_mowens yo WHAT. Im about to go full-on white woman and call his employers, dean of his college, mom, grandma, everything.

— it's like sarah but with a Z (@it's like sarah but with a Z)1580863787.0
@thereal_mowens @AlishaNGreene Disgusting individual. I'm glad I wasn't there because he would've been carted out.

— Alex Sanchez (@Alex Sanchez)1580880183.0
Chapman University President Daniele Struppa expressed no tolerance for Kingery's actions.
While I cannot go into detail on a student matter, I want to be clear that appropriate legal and disciplinary proce… https://t.co/E3UEBgQG3T

— Chapman University (@Chapman University)1580875816.0
Struppa followed up with additional tweets ensuring that Kingery no longer attends Chapman University.
Again, though, it is unclear who's decision that was.
(1/2) An update from President Daniele Struppa - "Racist and homophobic conduct will not be tolerated on this campu… https://t.co/uMPFahZ1kl

— Chapman University (@Chapman University)1581021884.0
It's worth noting that the person who captured the original video of Kingery regrets the way the video exploded. She brings up a good point, noting that the hateful rant becomes a spectacle in the process, rather than behavior to be utterly discarded.
She hastily turned down a news website's request to air the video.
@LaurieBossi @thereal_mowens My video. No you do not have permission to use it. We will not be propagating the medi… https://t.co/XwbRvNxcS6

— Sheldan Christensen (@Sheldan Christensen)1580888065.0
This video won't be the last of its kind. It stands as a keen reminder that hate abounds and plenty of people have no interest in creating a safe space.