After facing major criticism for a recent dinner with musical artist and fashion designer Ye and known White supremacist Nick Fuentes, former Republican President Donald Trump posted a baffling excuse to Truth Social—in which he called Ye "a seriously troubled man" and claimed Ye was the only one he was planning to have dinner with.
"So I help a seriously troubled man, who just happens to be black, Ye (Kanye West), who has been decimated in his business and virtually everything else, and who has always been good to me, by allowing his request for a meeting at Mar-a-Lago, alone, so that I can give him very much needed 'advice'."
"He shows up with 3 people, two of which I didn't know, the other a political person who I haven't seen in years. I told him don't run for office, a total waste of time, can't win."
"Fake News went CRAZY!"
You can see Trump's post below: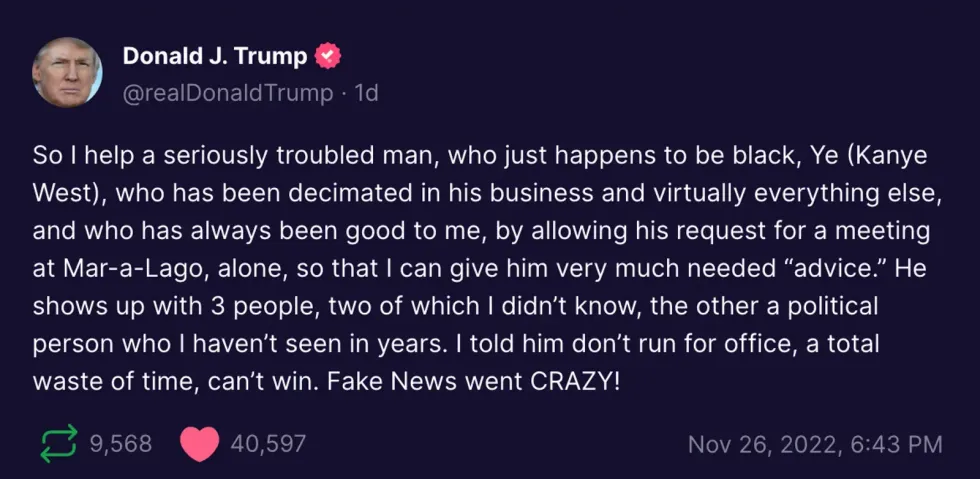 @realDonaldTrump/Truth Social
He also said in a statement:
"Kanye West very much wanted to visit Mar-a-Lago. Our dinner meeting was intended to be Kanye and me only, but he arrived with a guest whom I had never met and knew nothing about."
Steven Colbert wasn't buying the excuse though, and commented on it during his monologue on Monday's episode of The Late Show With Stephen Colbert.
You can see it here:
Presidents Know Who Is Coming To Dinneryoutu.be
Colbert said of Trump's excuse:
"Okay...I'm not sure 'I was only scheduled to have dinner with one famous antisemite' is the defense he thinks it is."
"That's like a husband saying 'Sweetheart, it's all a big misunderstanding. I was only supposed to be sharing that hotel room with my yoga teacher—she brought your sister."
He then pointed out former Presidents don't exactly just let whoever show up to dinner.
"Also, as somebody who has had the privilege of meeting with former Presidents, they know who is coming to dinner. You don't get to just drag along some rando."
"There are extensive background checks. I'm pretty sure Barack Obama's team has a Blu-ray of my colonoscopy...with director's commentary."
Colbert is far from the only one doubting Trump's words.
Some had words for Trump supporters as well:
While it seems like Trump is definitely trying to completely dodge blame for hosting someone like Fuentes for dinner, it doesn't look like the internet is going to let him.