In the beginning, Coca Cola was marketed as a health tonic. Legend has it, and most historians agree, that the original formula contained small amounts of cocaine. This wouldn't have been illegal in the late 1800's - in fact it would have been quite common. In a move that can be seen as a "return to the original mission", the brand is considering releasing a CBD-infused drink.
---
Until 1903, Coca Cola contained small amounts of cocaine (or "nerve stimulant properties of the coca plant," if you want to go with the company's official explanation) and was marketed as something in between a health beverage and a treat. Think of it kind of like the way we treat things like kava, kombucha, and some types of teas.
Nope, not kidding about that official wording.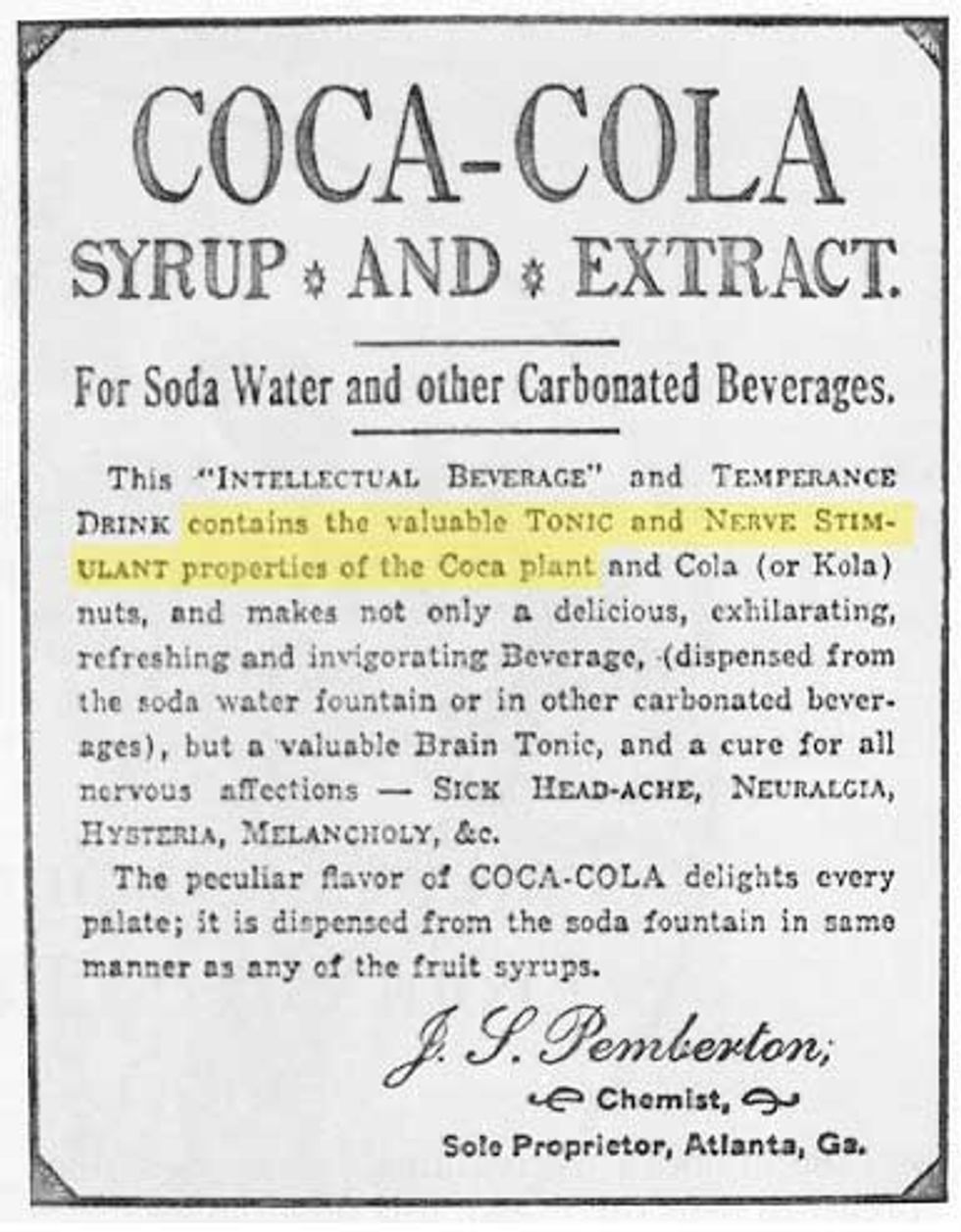 Coca Cola ad via Forgotten History
Since then, the public's perception of the drink has shifted from seeing it as a helpful healthy tonic to a sugary sippable junk-drink. Most people agree that even if it's delicious, it's bad for you and should really be enjoyed in moderation - if at all. That's a huge shift, but recently Bloomberg broke news that could change that. The company reported that Coca Cola has been in talks with Canadian company, Aurora Cannabis, to develop a drink aimed at the health market.
CBD is an increasingly-popular component of the cannabis plant that has been making serious waves lately. The extract has several medically confirmed health benefits and can be used to treat things like pain, inflammation, appetite issues, nausea and even seizures. CBD can't get you high, so it's a wonderful option for people who aren't interested in the "buzz" of cannabis, but could use some of those medicinal benefits.
Coca Cola spokesman, Kent Landers released an email statement where he explained:
We are closely watching the growth of non-psychoactive CBD as an ingredient in functional wellness beverages around the world. The space is evolving quickly. No decisions have been made at this time.
CBD is illegal on a federal level in the United States, but a quick search online proves just how little those laws are enforced. You can buy CBD easily and openly online, there are entire companies devoted to CBD products for your pets, and there are even multi-level marketing companies that deal in CBD. Like the Avon lady, but with a technically-illegal cannabis extract.
As news of the potential partnership hit Twitter, reactions were mixed.
@cbdoil This is just a bad idea...why take such an awesome product like CBD oil and add it to something bad?

— Michael Whited (@Michael Whited) 1537299558.0
@cnni Please do! As a chronic pain sufferer, I dream for this. Just put it in diet too!

— Deborah Harris (@Deborah Harris) 1537196648.0
@cnni A desperate attempt to regain customers as people drink less soda now that dangers of sugar are clear. This i… https://t.co/POofL9zAhT

— missmycountry (@missmycountry) 1537200342.0
@HIGH_TIMES_Mag CBD - good Coke - bad

— JOTI SANDEEP (@JOTI SANDEEP) 1537213156.0
@cbdoil more people might be open to try CBD products due to Coca Cola is planning to put it into their products. I… https://t.co/56j0H3vUue

— Vapersukreview (@Vapersukreview) 1537263671.0
@Victhepredictor @HIGH_TIMES_Mag Don't want to ! Ban coke

— Bottom Chicken (@Bottom Chicken) 1537213687.0
@cnni I knew that was gonna happen! Although I thought Pepsi would have made the bold move...

— cyril (@cyril) 1537197799.0
@CanadaPotstocks Stepback a sec:You think coke won't take advantage of being a 1st mover producing CBD soft drinks… https://t.co/MCF4N1wIvU

— Wolf of Potstocks (@Wolf of Potstocks) 1537190828.0
So we want to know what you think. What are your thoughts on CBD and whether or not Coca Cola should consider infused drinks. Sound off!

H/T: Bloomberg, Twitter, CNN Money