CNN's official communications Twitter account called out billionaire Elon Musk after he tweeted a fake CNN headline about "free speech."
Musk was swiftly fact-checked after he shared a screencap of a CNN "headline" declaring that he "could threaten free speech on Twitter by literally allowing people to speak freely."
You can see Musk's tweet below.

But the headline doesn't exist.
Twitter's new owner was the subject of a fact-check by his own website, which flagged Musk's tweet and noted that it "originated from a satirical website."
Twitter linked to an Associated Press fact-check, adding that the chyron visible in the screencap "has been digitally altered to add the text."
You can see Twitter's fact-check below.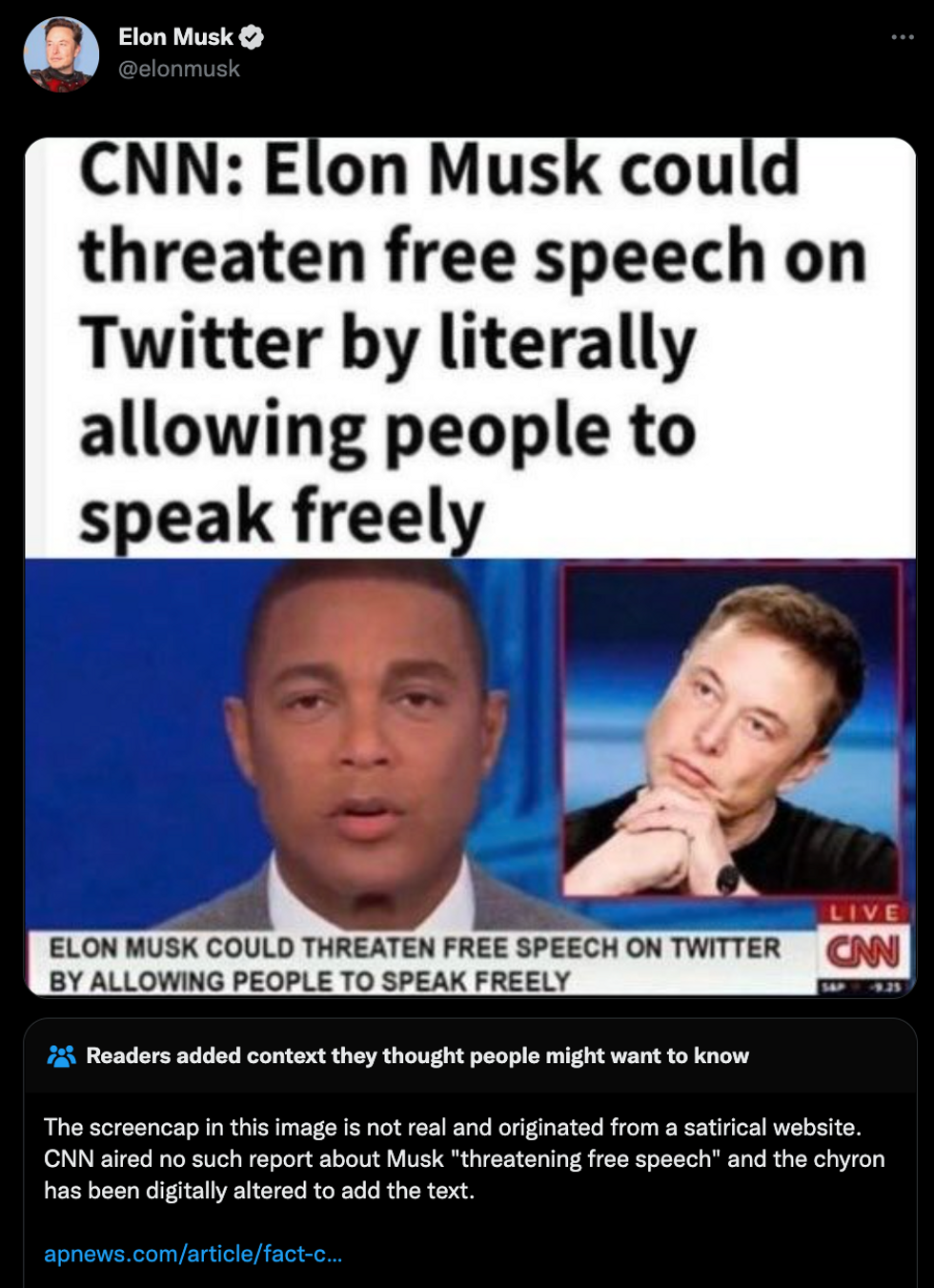 @elonmusk/Twitter
Shortly afterward, Musk was called out by CNN's official communications Twitter account, which implored him to "Be better."
However, the undeterred and unrepentant Musk did the exact opposite, replying to CNN with "Lmaoooo," the slang text term for laughing.
Musk has been harshly criticized for his response.
Twitter has had to contend with one crisis after another since Musk took ownership of the company, and much of that controversy has revolved around the $8 monthly cost of Musk's newly announced and recently delayed blue checkmark verification subscription, which effectively allows anyone to create a verified account and impersonate whoever they wish.

Musk has repeatedly insisted that Twitter needs to go private if it wants to become a platform for free speech, though he has already come under fire for silencing his critics and spreading misinformation.

This is the second time in the last week that Musk has had to be fact-checked by his own website.
Earlier, Musk was fact-checked after he attributed a quote by late psychologist Carl Jung to Frank Herbert's science-fiction novel Dune.
Twitter flagged Musk's tweet and pointed out that the quote was actually by Jung, and that Musk had gotten it slightly wrong, mistakenly writing "a function of" rather than "a sign of."