Renowned guitarist Carlos Santana has issued an apology for what he referred to as "insensitive comments" he made during a concert in Atlantic City, New Jersey, last month.
Clips of an anti-trans rant resurfaced from the event, sparking criticism and backlash. During the July concert, Santana expressed his views on gender identity, stating that "a woman is a woman and a man is a man, that's it."
The guitarist's comments were met with applause from the audience, but they also led to concerns and discomfort among attendees.
Santana also touched on the idea of privacy and individual choices, mentioning that whatever someone chooses to do "in the closet" is their personal business. He referenced comedian Dave Chappelle, known for his controversial stance on trans issues and his transphobic jokes.
You can hear what Santana said in the video below.
Santana said:

"When God made you and me, before we came out of the womb, you know who you are and what you are."
"Later on, when you grow out of it, you see things, and you start believing that you could be something that sounds good, but you know it ain't right."
"Because a woman is a woman and a man is a man. That's it."
"Whatever you wanna do in the closet, that's your business. I'm OK with that."
Santana was harshly criticized for his remarks as many called out his blatant transphobia.

In a message shared to his Facebook page that was later removed on Thursday, Santana said he was sorry for his "insensitive comments":
"They don't reflect that I want to honor and respect all person's ideals and beliefs. I realize that what I said hurt people and that was not my intent. I sincerely apologize to the transgender community and everyone I offended."

"Here is my personal goal that I strive to achieve every day. I want to honor and respect all person's ideals and beliefs whether they are LGBTQ or not. This is the planet of free will and we have all been given this gift."
"I will now pursue this goal to be happy and have fun, and for everyone to believe what they want and follow in your hearts without fear. It takes courage to grow and glow in the light that you are and to be true, genuine, and authentic."
"We grow and learn to shine our light with Love and compliments. Have a glorious existence. Peace."
You can see what he wrote below.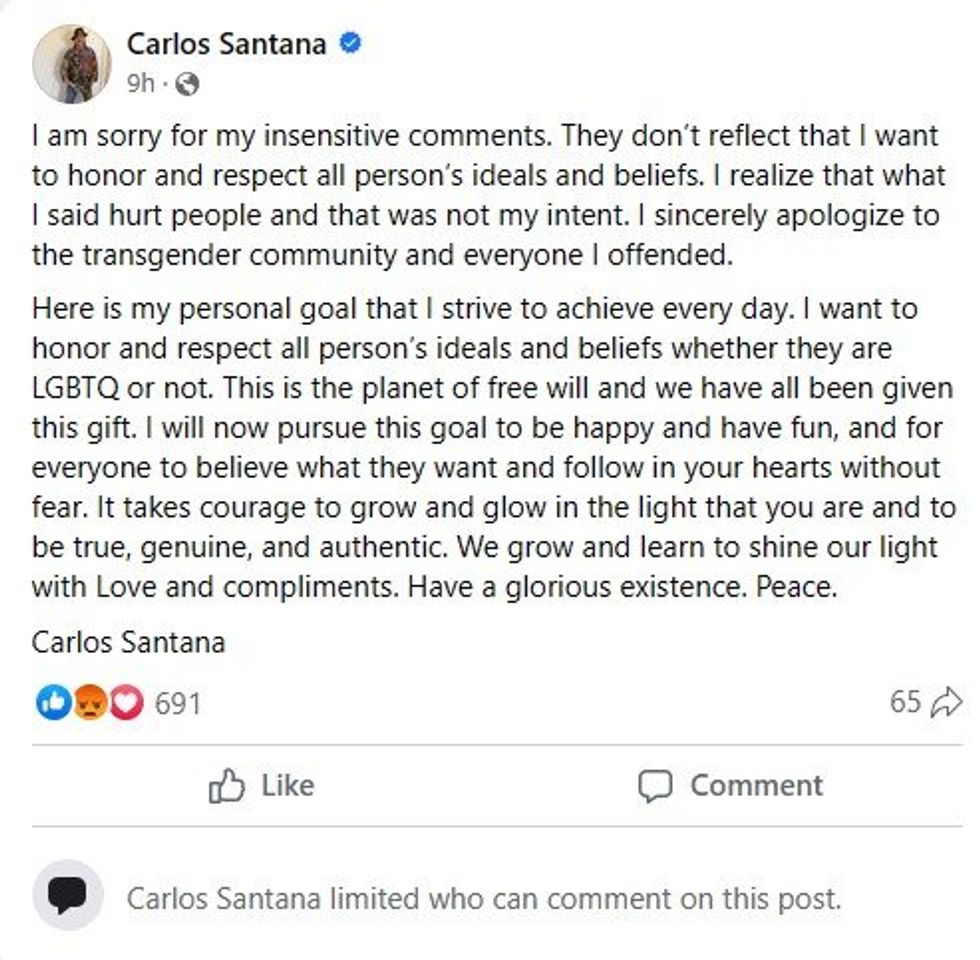 Carlos Santana/Facebook
Santana's publicist has not responded to questions about why the apology was removed.