With 15.3 million views and 3.8 million likes, TikTok user rockefeller.o went viral.
The attractive young woman posted her video after a woman complained her Burger King uniform was a 'distraction' to her husband.
The TikToker—also known as LALA on the site—had an amazing come back.
She was wearing the typical Burger King uniform that is exactly the same for every employee. It includes a polo shirt provided by the fast food chain, black jeans and a black visor.
LALA was also wearing a black medical face mask.
You can see her video here:
@rockefeller.o

"Girl, f*ck you. 😐 #FriendsReunion #ConjuringHorror #fyp #zyxcba #foryou #zyxbca #iamafrican #blacklivesmatter #whatitslike #justvibing #
The video's captions read:
"I had a lady complain today because my work uniform was a 'distraction' to her husband."
LALA then turned around to show the whole outfit.
Then she promptly turned back around to give two middle fingers to the camera:
"I guess I'll leave my a** at home next time."
The internet exploded over this short video.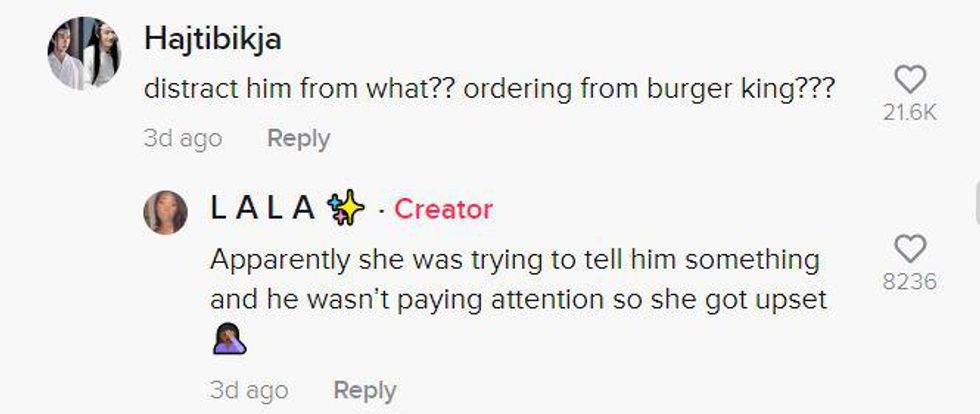 @hajtibikja53/TikTok
@jks_banana_milkk/TikTok

@jks_banana_milkk/TikTok

@kaygee2307/TikTok

@feekoomeekoo/TikTok
@mimiw003/TikTOk

@nitdo2/TikTok

@rachelilyy/TikTok
@lucidcelestial/TikTok
LALA even joked someone could borrow her 'assets' while she's at work.

@janettvega15453525/TikTok
She had another hilarious follow up video about leaving her behind at home.

The screen text read:
"Don't forget to leave your a$$ at home today!"
The audio under the video she lip-synched to said:
"Oh yeah, I got it in my purse for you right now."
"I brought it just for you, cause I knew you was gonna ask me for it."
@rockefeller.o

I won't forget to leave it at home tomorrow 🤣 #HoldMyMilk #iamafrican #InTheHeightsChallenge #justvibing #beautyreview #blacklivesmatter
LALA also clapped back at a racist comment left on the original video.

She took a screenshot of the comment that said:
"Typical [n-word] always trying to get attention and always being a home wrecker."
Then you see her holding her back as she walks on screen with the text saying:
"My back hurts from carrying the weight of..."
Then she breaks out into dance:
"Not caring because I did nothing wrong except wear my uniform and STILL got sexually objectified and harassed."
@rockefeller.o

Just say you're racist & go… 🤨 #HoldMyMilk #iamafrican #whatitslike #mentalhealthmatters #mentalhealth #justvibing #blacklivesmatter #kitchenhacks
There is a long history of Black women being overly sexualized in America. It still has effects on young women and girls today.

Studies have shown Black girls and women are seen through a hypersexual lens, but are often less likely to be believed as survivors of assault.