When it comes to trolls going after her online, Kate Beckinsale has no problem wielding her sardonic wit to defend herself.
Recently, the Underworld actress posted a video of herself in bed with her cat "Clive" dressed as the terrifying murder doll, "Chucky" from the popular Child's Play film franchise.
For the most part, followers got a kick out of the silly clip evocative of the spooky season.
@katebeckinsale/Instagram

@katebeckinsale/Instagram

@katebeckinsale/Instagram
However, one Instagrammer decided to denigrate her with a comment about her physical appearance and wrote:
"You're dreadfully thin."
@katebeckinsale/Instagram
But Beckinsale had a potent clapback for the body-shaming reprobate and referenced the dark glasses covering the Instagrammer's face in their profile picture.
She wrote:

"You're wearing speedo goggles. It might be hard for you to be entirely confident about what you're seeing — much less comment about it."

@katebeckinsale/Instagram
Buzzfeed News kept track of some of Beckinsale's most incisive comebacks to trolls who frequently target her image and relationships.
One person slammed the actress' choice in men in an apparent reference to dating Goody Grace and Pete Davidson.

@testerrname_plzignore wrote:

"Why do you keep dating guys that could be your children?"
To which she responded:
"Every relationship I have had has been solely to annoy you."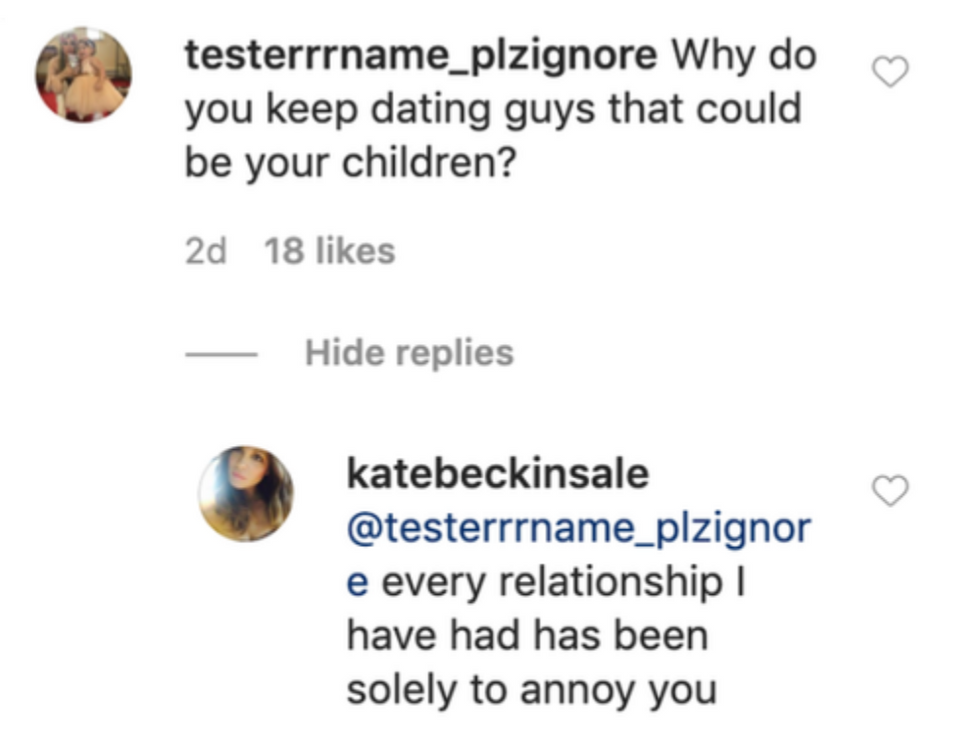 @katebeckinsale/Instagram
In another post, a troll accused Beckinsale of using Botox and suggested she should stop because "you will so regret it later in life."
She fired back:
"I literally don't get Botox. Please hop off my d*ck you will so regret it later in life."

Beckinsale has always been publicly outspoken against body-shaming.
When a media outlet once erroneously reported she was eleven years older than she actually was, Beckinsale encouraged other women to recognize insults targeted at them are a result of the fear of women.

She wrote in an Instagram post:

"I urge us all, as females, to see it for what it is. Fear of YOU. Fear of the magical mystery sh*t a woman can do with her magical body. Fear of what she can withhold or bestow."
"It's the same impulse to reduce the power of a pretty girl who wouldn't date you in school by becoming a big boss and getting your penis out at a meeting it made you feel powerful to set … It's fear."
"Don't let it in. Let's see it as fear and try to mend it together, rationally and peacefully."
And when it comes to online bullying in general, trolls should know by not not to even try it with Beckinsale.
Even Clive won't let you off the hook easily.
Seriously, he ain't playin'.