Actor Ansel Elgort knows how to work the camera.
And his fans.
---
Not only is the 26-year-old known for his critically acclaimed performances in films such as Baby Driver (2017)—for which he earned a Golden Globe nomination—the young Manhattanite is also quite the looker.

And a genius.
To raise money for the tireless health care workers in Brooklyn risking their lives as they fight the pandemic, Elgort posed in the shower shielding his manhood from the camera with one hand for an Instagram photo.
Here's an edited version.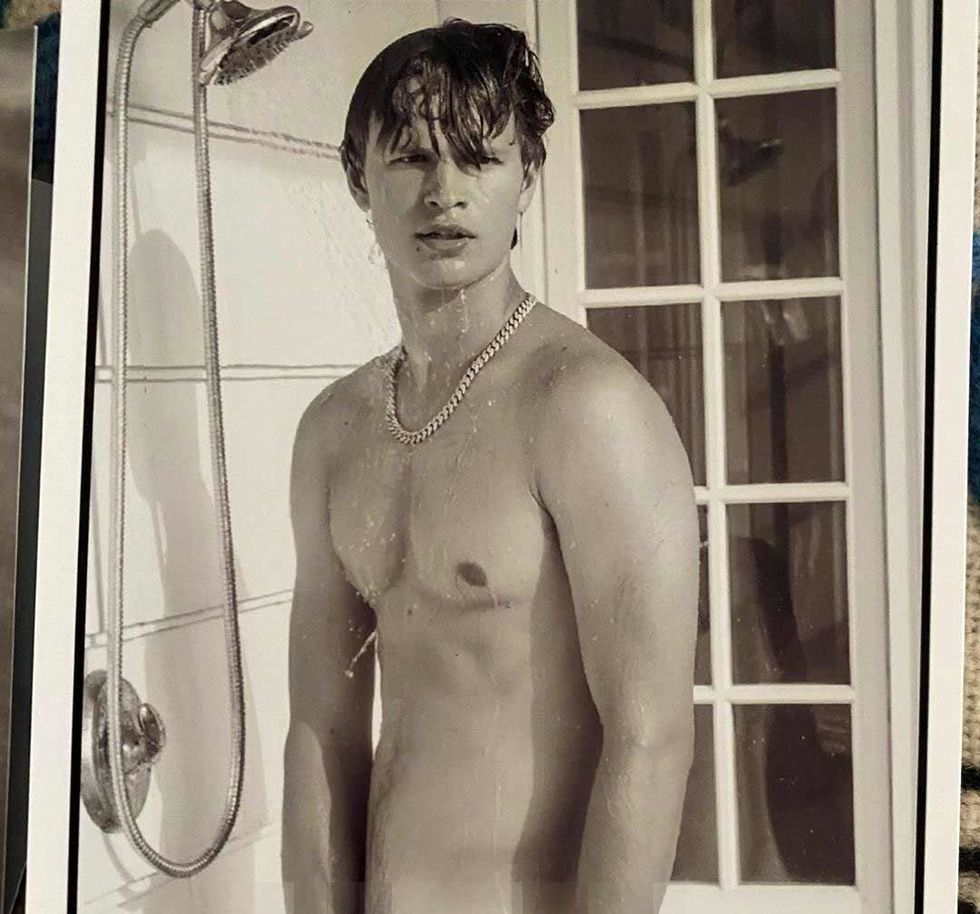 @ansel/Instagram
Finished catching your breath?

Unfortunately the post would be short lived.
Elgort later posted to his Instagram Story:
"I don't know how much of this is from the post but it seems a lot of people have been giving in the last few hours. Thanks a lot, looks like it was worth it."
"Unfortunately, Instagram told me I gotta take my post down because it's nudity, so I'm going to take it down or maybe I'll repost the version that cuts a little higher, how about that?"
Elgort added:
"Alright, sorry about that Instagram. Sorry if I offended anybody but we did a good thing."
"And my dad took the picture by the way. He was mad, he said that I needed to give him credit."
Those who managed to catch the photo had thoughts.
Elgort—who is also an accomplished singer and dancer and will appear in the upcoming Steven Spielberg remake of West Side Story—teased fans with a caption to go along with his post, saying:
"OnlyFans LINK IN BIO."
He's so cheeky, that one.
Fans expecting to be redirected to OnlyFans—the paid subscription content service popular among amateur adult film actors—will be sorely disappointed in not seeing more racy images of the actor.

Instead, the link in his Instagram bio will take you to a GoFund Me fundrasier called "Brookyln For Life!" which will provide meal deliveries to the front line workers at several NYC hospitals and first responders.
The charity is a collaborative effort from the hospital, local restaurants, Brooklyn borough president Eric Adams, and actor Jeffrey Wright.
We got punk'd, y'all.

And we're not mad about it.

@ansel/Instagram
If posing in the buff is his interpretation of contributing to a good cause, so be it.

The Fault in Our Stars actor is far from being the modest type, as was evidenced last May when he posted 17 shirtless selfies in a span of ten minutes.
The reason for the shirtless selifes?
Who said anything about there being a reason?
The GoFund Me campaign's description reads:

"Local Eats for Brooklyn's Frontline Fighters in Brookdale Hospital, Brooklyn Hospital, Cumberland Health Center, Gotham Health Clinic East NY, Interfaith Medical Center, NewYork-Presbyterian Lower Manhattan Hospital (almost Bk - they snuck in!), Woodhull Medical Center and Brooklyn FDNY EMS Battalions 31, 32, 35, 38, 39, 40, 44, 57, 58 & 59."
"Our goal is to fund each Brooklyn for Life! restaurant, enabling them to provide - at no cost to the recipients - at least 75-100 meals per day for delivery to the Brooklyn frontlines of this pandemic."
So far, the campaign received over $203K of its $1 million goal.
Meanwhile, many of us will be recovering from an impassioned fever, thanks to Ansel Elgort's audacious act of kindness.

Elgort's film The Goldfinch is available here.