Vampyre Cosmetics, an LGBTQ+-owned cosmetics brand, has severed its ties with rock legend Alice Cooper in the aftermath of deeply anti-trans comments he made during a recent interview.
In a statement released on their official Instagram page, Vampyre Cosmetics announced its decision to cancel a makeup collaboration with Cooper, expressing its solidarity with the LGBTQ+ community.
The brand said:

"In light of recent statements by Alice Cooper we will no longer be doing a makeup collaboration. We stand with all members of the LGBTQIA+ community and believe everyone should have access to healthcare. All pre-order sales will be refunded."
You can see the brand's announcement below.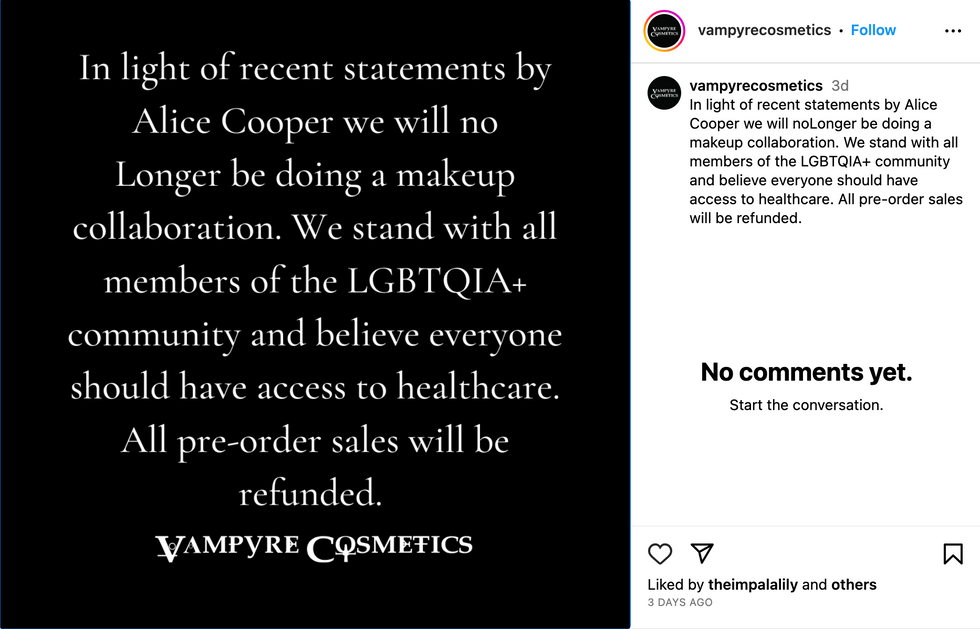 @vampyrecosmetics/Instagram
Cooper ignited outrage when he expressed his views on transgender and nonbinary individuals during an interview with Stereogum. The "School's Out" singer supported anti-trans statements made by fellow rockers Paul Stanley of Kiss and Dee Snider of Twisted Sister, who later retracted their comments.

Cooper labeled the acknowledgment of kids identifying as transgender or nonbinary at a young age as a "fad," aligning himself with the notion of a "social contagion" that suggests peer pressure and social media exposure are the driving factors. Despite being widely discredited, this perspective is propagated by certain Republican politicians and anti-trans activists.
Many have further criticized Cooper after the brand's announcement.
Cooper has not publicly addressed the backlash generated by his remarks. The rock star is currently engaged in promoting a new album, leaving the scandal hanging in the air.
Proudly identifying as "women owned, disabled owned, and LGBT+ owned," Vampyre Cosmetics strives to be inclusive, catering to all races, ages, and genders.
The collaboration's presale was launched on August 14, with Cooper's endorsement posted on his official website a few days later. However, the products have since been removed from Vampyre Cosmetics' website in response to the unfolding controversy.