Who is Alejandro?!
It's the question TikTok - and DoorDash - need the answer to, but we may honestly never know.
The mystery started with a video on TikTok of a confused man explaining that he got a random DoorDash order in the morning. The order was for "Alejandro" but there was no one to return it to so the poster (and his adorable breakfast companion) chowed down.
Weird, but whatever; he went on about his day.
But then when he got home from the gym there was more food waiting at his door.
Weirdly, both times the order was food he would have ordered himself and prepared the way he would have asked. Had he ordered it, that is... which he did not.
Maybe a friend was trolling him?
A few hours later another order for Alejandro showed up - this time a box of donuts.
It happened again - he went to step outside only to be greeted with Alejandro's burger, some garlic fries, and a strawberry lemonade.
... at this point we are only about halfway through day one of what would be a four day long saga of nonstop food deliveries for Alejandro.
Day One
Day Two
Day Three
Finally, day four
The Italian food delivery was the last in the saga - which the family was both thankful for.
The orders had been coming early in the morning and very late at night. The amounts of food were way more than the man, his girlfriend, and their two young kids could eat. And the family all lives together in a small studio apartment, meaning the constant knocks threw off toddler sleep schedules. (all of the parents just gasped in horror)
Based on the orders shown, people estimate "Alejandro" must have spent a few hundred dollars per day on food he never got.
People also want to know WTF.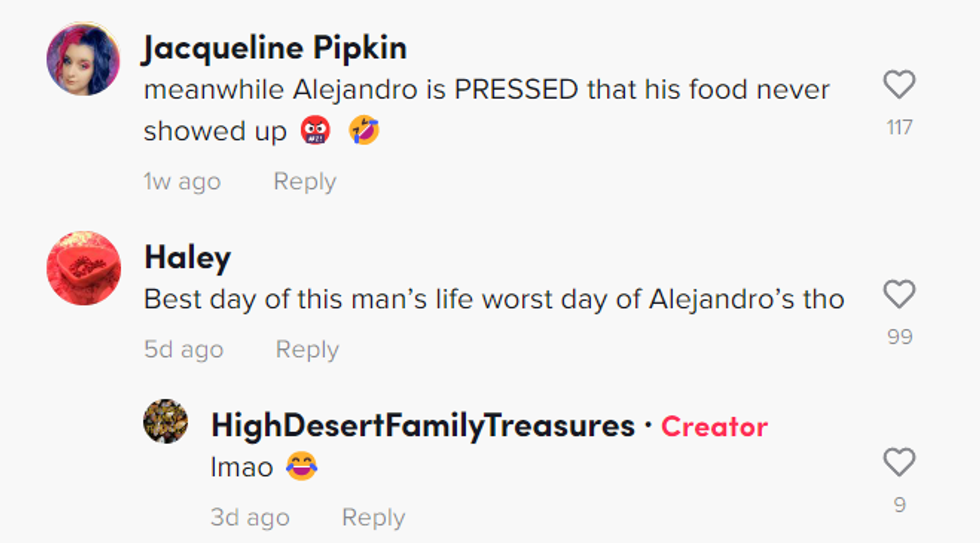 @hdfamilytreasures/TikTok

@hdfamilytreasures/TikTok

@hdfamilytreasures/TikTok

@hdfamilytreasures/TikTok

@hdfamilytreasures/TikTok

@hdfamilytreasures/TikTok
As invested as people were, the original poster was probably correct when he said we'd likely never know.
We do, however, know that DoorDash was able to confirm that it was an error (or several errors) but invited them to just enjoy the food anyway.
Their response to The Alejandro Incident was pretty epic.

@hdfamilytreasures/TikTok
So ... um ... Alejandro, if you're reading this please hit me up. We have this new pho place nearby ...