Wrestling coach Dave Hollenbeck drew backlash for a post making light of George Floyd's death at the hands of a Minneapolis police officer.
People in the community called his post inappropriate and asked for the Bethel School District in Tacoma, Washington to remove the first year employee.
Hollenbeck—a self-described trained martial artist with "a speciality in fighting on the ground"—posted a photo of himself with a person's knee on his upper back.
The wrestling coach is smiling and giving the thumbs up sign with two different captions on the photo.
What is believed to be the first caption read:

"Not dead yet. This is for all the race baiters and people that don't What [sic] they're talking about when they're saying that this could kill you"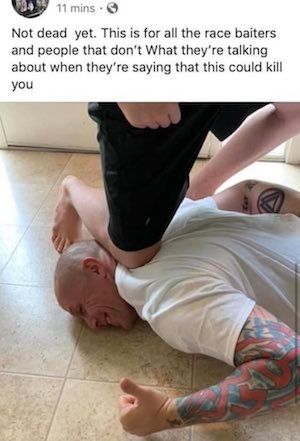 @MichaelKIRO7/Twitter
The other caption read:

"Not dead yet I'm doing this for Are [sic] police officers the media is a race-baiting machine and I'm tired of it I'm going to speak out every time if you don't like that I'm sorry but I love All people.. Wake up America."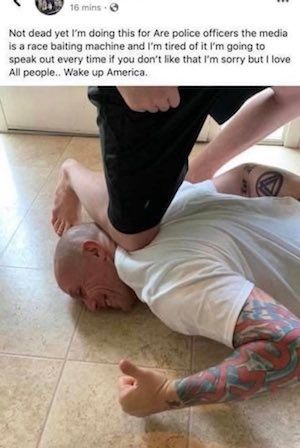 @MichaelKIRO7/Twitter
While his captions made it very clear Hollenbeck didn't teach English, the point of his posts was unclear to parents in the school district where he was employed.
Jay Davenport—a Bethel district parent and a youth sports coach—told KIRO7 News:
"There is no reasonable rationale for him to post anything like that. It's about humanity, it's about integrity; that post lacks both."
"You have young impressionable lives that you're mentoring and you're making stuff like this? I have no tolerance for that."
But Hollenbeck defended his post in interviews with local news affiliates.
He told KIRO7 News:

"I did not tell any lies; I showed that I was OK from a knee on my neck. That is it."
"I did not say anything racist and maybe it was insensitive at the time."
You can see Hollenbeck's interview with KING5 News here:
Bethel School District releases wrestling coach after social media posts appear to mock death of Geoyoutu.be
Critics pointed out Hollenbeck's post showed a trained martial artist could stage a photo with another trained martial artist of a person with a knee on their upper back from a 45 degree angle with weight balanced on the other foot placed on the floor.
George Floyd had a knee placed on his neck at a 90 degree angle with the police officer's entire weight placed on that knee—Officer Derek Chauvin's other foot can be seen behind him—as a side by side comparison showed.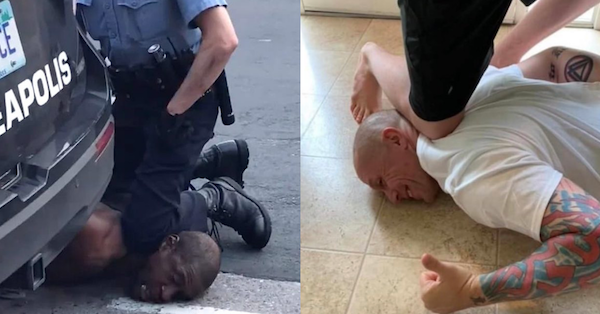 @KeaonDousti/Twitter; @MichaelKIRO7/Twitter
Public reaction to Hollenbeck's inaccurate reenactment was not favorable toward the self-described expert.
People had questions about some of Hollenbeck's ink which bore a resemblance to White supremacist iconography.
People felt an investigation into Hollenbeck's conduct was unnecessary.
And a few with wrestling experience of their own weighed in, calling out another flaw in Hollenbeck's demonstration intended to discredit charges against former Minneapolis Police Officer Derek Chauvin.
In addition to the weight of the person with their knee in his upper back being distributed differently, Hollenbeck also has use of his arms and shoulders to counter any pressure. Body positioning with your hands cuffed behind you is different than having them loose at your sides.
Despite Hollenbeck's endorsement of the safety of the maneuver he demonstrated, former wrestlers pointed out the move would be disqualifying if used in the sport.
An alternate expert opinion was offered.
Someone asked if Hollenbeck would be willing to recreate the actual circumstances of George Floyd's death—for charity.

Bethel district spokesperson Doug Boyles told KIRO7 News on Friday:

"We have completed our investigation. Dave Hollenbeck is no longer employed by the Bethel School District."
"His behavior was not consistent with our equity initiatives and nondiscrimination policies."
The district also emphasized that Hollenbeck was not a teacher.
"This was his first year as a wrestling coach at Bethel High School. As wrestling season is over, he is not working for us right now."