Tag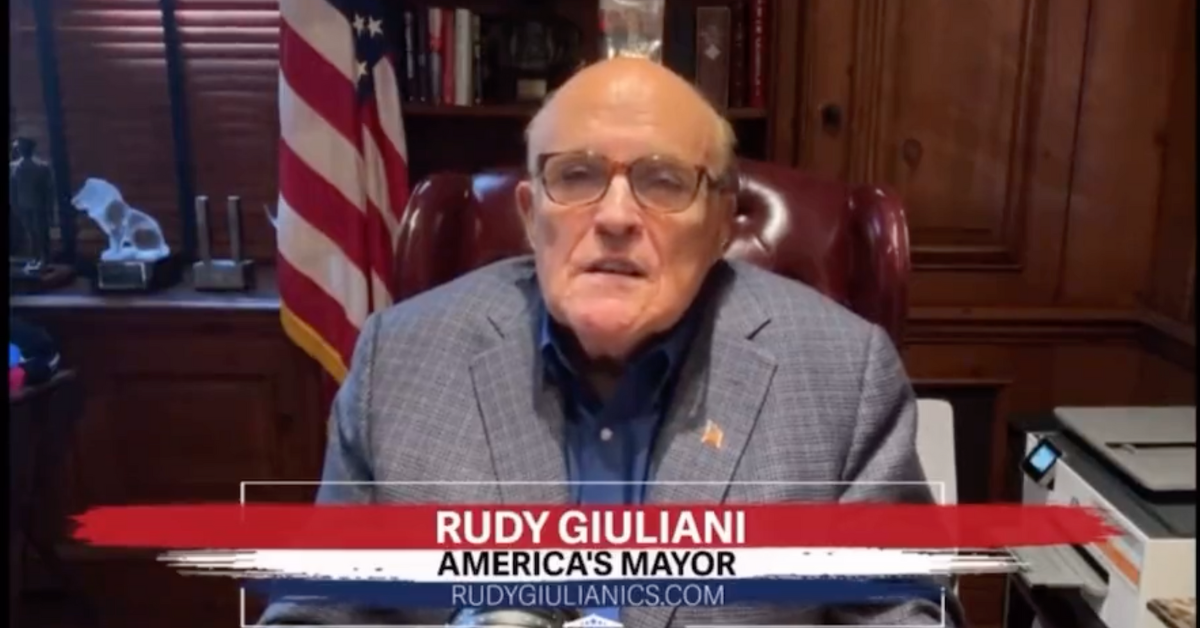 The Joe Pags Show
Former Republican President Donald Trump's personal attorney Rudy Giuliani seemed to provide a ringing endorsement for police brutality after he complained police officers "can't punch you" in the face anymore as the result of widespread reforms to address police brutality and misconduct.
Speaking during an interview on The Joe Pags Show—a conservative talk radio program hosted by Joseph Pagliarulo—Giuliani went on to add he had an uncle who was a police officer with a great "knockout punch" that kept him from shooting anyone.
You can hear what Giuliani said in the video below.
Giuliani said:
"You can't use your gun, you can't touch anybody."
"One of the reasons why cops are having a hard time … they can't punch you!"
"My uncle had a knockout punch, he could put you down with one punch … Think of the people he didn't have to shoot because of that!"
There have actually been multiple cases of police officers punching people.
In 2017, an unarmed mentally ill Indigenous man, Zachary Bear Heels, died after being punched in the head repeatedly and tased multiple times by Omaha, Nebraska police officers. Bear Heels—who had not committed a crime—was handcuffed and seated on the ground while he was tased 12 times and punched 13 times.
In 2020, three of the four officers fired for their involvement in Bear Heels death were reinstated by the Omaha Police Department with back pay.
A few years ago, NPR actually dedicated a segment on Weekend Edition to the phenomenon after surveillance video showed police officers in Mesa, Arizona had beaten "an unarmed, noncombative suspect."
Earlier this month, Arkansas State Police opened an investigation into three of its officers after video footage showed they had punched and kicked a 27-year-old man outside of a convenience store.
News outlets also reported this month Alabama police officers rallied to defend a colleague who punched a man who the Vestavia Hills Police Department said did not comply with demands during a traffic stop.
The National Institute of Justice (NIJ) notes "the use of force by law enforcement officers becomes necessary and is permitted under specific circumstances, such as in self-defense or in defense of another individual or group."
However, police behavior has been more closely scrutinized in recent years amid nationwide outrage toward the killings of unarmed people of color at the hands of police officers that reached a tipping point after the murder of Minneapolis resident George Floyd, an incident that kicked off an international movement against racism and police brutality.
Giuliani's remarks were harshly criticized.
Giuliani's support for hitting people appears to apply to everyone else but him.

Earlier this summer, the former New York City Mayor sparked controversy after he claimed he'd been "assaulted" at a grocery store even though his story did not hold up once the store released security footage of the encounter.
A worker at a ShopRite store on Staten Island, New York was arrested after slapping Giuliani on the back and calling him a "scumbag" during a campaign event for his son Andrew, who launched an ill-fated gubernatorial bid that failed to secure the support of New York's Republican leadership.
Afterward, Giuliani told The Curtis Silwa Show—hosted by Republican activist Curtis Silwa who was the Republican nominee for the 2021 New York City mayoral election—he had felt "a shot on my back, like somebody shot me."

He added he was grateful to be in "pretty good shape because if I wasn't I'd've hit the ground and probably cracked my skull."
He went further during an interview with The New York Times, claiming he had red marks on his back after the incident and he felt fortunate he was still capable of walking.
The incident was initially reported as an assault but the security footage showed while Giuliani appeared surprised by the slap on the back, it did not leave him physically reeling as he'd suggested.
He was called out for lying and exaggerating about the severity of the encounter.