It's one simple word, but it can change the course of someone's day.
---
Celebrated on Nov. 21, World Hello Day is an annual attempt at promoting communication over force. To do so, participants are encouraged to greet at least ten new people. Whether those greetings turn into lasting conversations isn't entirely relevant as the point of the holiday is to reach the attention of world leaders, who tend to veer more towards forceful resolutions.
Started in 1973 by Arizona State University graduate Brian McCormack and Harvard University graduate Michael McCormick, World Hello Day was a direct response to the Yom Kippur War. To start the secular holiday, the McCormick's mailed 1,360 letters, penned in seven different languages, to government leaders across the world.
Today, World Hello Day is observed by 180 countries. For a better understanding of the holiday, its purpose, and its reach, check out these quick facts.
Greet for Peace #WorldHelloDay https://t.co/dihda2TtA4

— Mi India (@Mi India) 1511243808.0
The Cause for World Hello Day
On Oct. 6, 1973, Egyptian and Syrian forces sought to regain land lost to Israel during the Arab-Israeli war six years earlier. The coordinated attack started on the Jewish holiday of Yom Kippur and came as a complete surprise to the Israeli forces.
Within 19 days, the conflict was forced into a cease-fire as both sides suffered immense casualties. The brief war was a bloody one and, according to Michael, it inspired them to "do something to celebrate the importance of personal communication to preserving peace."
The McCormack Brothers
It doesn't take a predominant figure to create a movement. For World Hello Day, it was just two brothers who wanted the world to approach its conflicts in a better manner. Spending their last cent on postage to mail out letters, their message was received by 15 countries at the time.
Outside of World Hello Day, Michael is an actor and author, having written Gandhi's Last Book and The Quotations of Chairman Meow. While his brother pursued directing aspirations in 1999, Brian took a backseat approach and has remained out of the spotlight, though he did earn a Ph.D at Arizona State.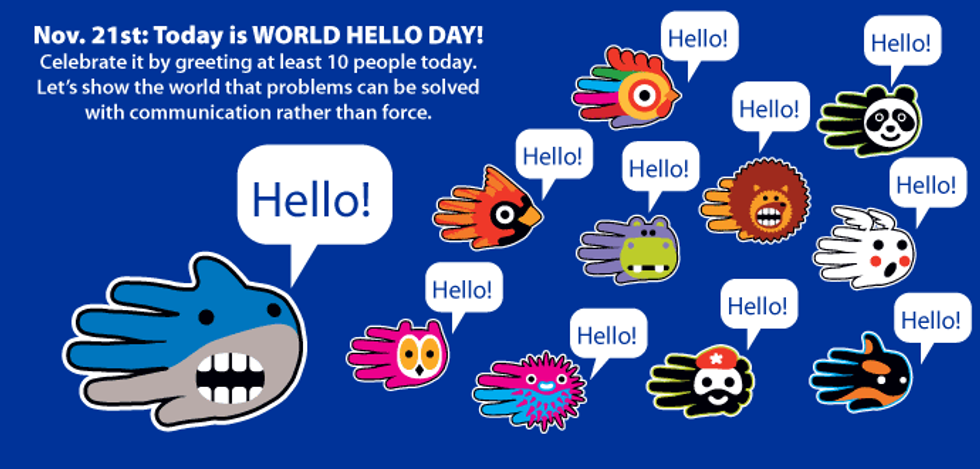 The McCormacks' Received Letters from Notable Individuals
It all started with letters and, as the McCormacks would find, it would continue with letters. Over the years spent promoting World Hello Day, the two brothers have received words of encouragement from more than 60 influential people and organizations.
Among those that have sent letters include Whoopi Goldberg, Mother Teresa, Jimmy Carter, Pop John Paul II, Queen Elizabeth II, Bill Clinton, Arnold Palmer, and David Rockefeller. Organizations that have reached out to congratulate the brother's on the success of World Hello Day includes UNICEF, International Red Cross, and the Community of the Peace People.
Please SHARE this with your friends and family.