Living with the current pandemic, there are special occasions people have found they're missing out on because of the need for social distancing: birthday parties, engagement parties and announcements and even weddings.
But in some cases, they've been able to work around the needs of social distancing and still had a totally unforgettable, special moment.
---
Carly Boyd wasn't going to let anything stop her from sharing her special moment with her grandfather, even a total lock-down at the assisted living establishment where he resides.
Boyd became engaged over the weekend to her longtime boyfriend at Myrtle Beach where they had their first date.
Boyd reflected on the moment:
"We start walking out to the beach and he started telling me how much he loved me and halfway through I figured out what was going on. My friend, that said she was 'Facetiming her fiancé', turned around and started taking pictures and he got down on one knee and proposed to me and I was very, very ecstatic about it! I cried, he cried."
She was beyond excited and immediately shared the news with her family and friends. But she had one more special person in her life to share the news with, her grandfather, who lives in assisted living and currently isn't allowed visitors, due to the spread of the coronavirus.
But Boyd knew she needed to make her best effort to share the news with her grandfather.
Boyd explained:
"I really wanted to be able to tell my grandfather because he has dementia and there's no phone in there that he has access to. I just really wanted to make an effort to tell him."
Boyd started looking for a way to be in touch with her grandfather and contacted the Premier Living & Rehab Center to create a plan that would lead to an unforgettable moment between her and her grandfather.
Boyd explained:
"They said 'Well we can walk around [the building] and we can pull the blinds up and you can tell him [through the window]' and I was like 'Yes, I would love to!'"
So that was exactly what they did.
The moment was incredibly sweet as Boyd shared the news through the window, and as they "touched" hands, missing one another and celebrating the moment together.

Boyd said of the special moment:
"I just … it was very -- oh my gosh, I'm going to cry -- it was very special. I got really emotional and really sad and I just put my hand on the window, and he put his there too. I just told him I love him, and he said 'I love you too and I hope to see you soon', like really see you."
The Premier Living & Rehab Center also took a few pictures, capturing the moment for Boyd and her grandfather, and shared the special moment on Facebook.
The post has gone totally viral, a spectacular moment in the face of the coronavirus, boasting 177-thousand shares and more than 10-thousand comments.

Premiere Living & Rehab Center / Facebook

Premiere Living & Rehab Center / Facebook

Premiere Living & Rehab Center / Facebook

Premiere Living & Rehab Center / Facebook
It's wonderful that the staff at the Premiere Living & Rehab Center were able to make arrangements with Boyd to share the news with her grandfather, not to mention everyone's ability to celebrate with them online.

Boyd plans to get married next year and hopes her grandfather will be able to attend and see her walk down the aisle.
You can commemorate your special moments with this frame available here.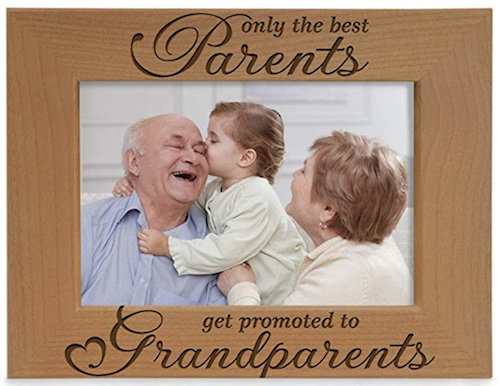 Amazon