A mother-of-one told how knocking her elbow on a beer pump at her teenage bar job triggered an incurable skin condition, which left her covered in red, crusty patches.
Now 36, Marisa Lally has been plagued by psoriasis – causing flaky patches of skin, covered in silvery scales – since she was 18, trying everything from sunbeds and light therapy to Chinese tea and oatmeal baths to sooth her symptoms, all to no avail.
Now, thanks to a miracle cream, the housing specialist from Sheffield, South Yorkshire, has seen an improvement so vast that, within a week of using it, she felt confident enough to wear a dress for the first time in years.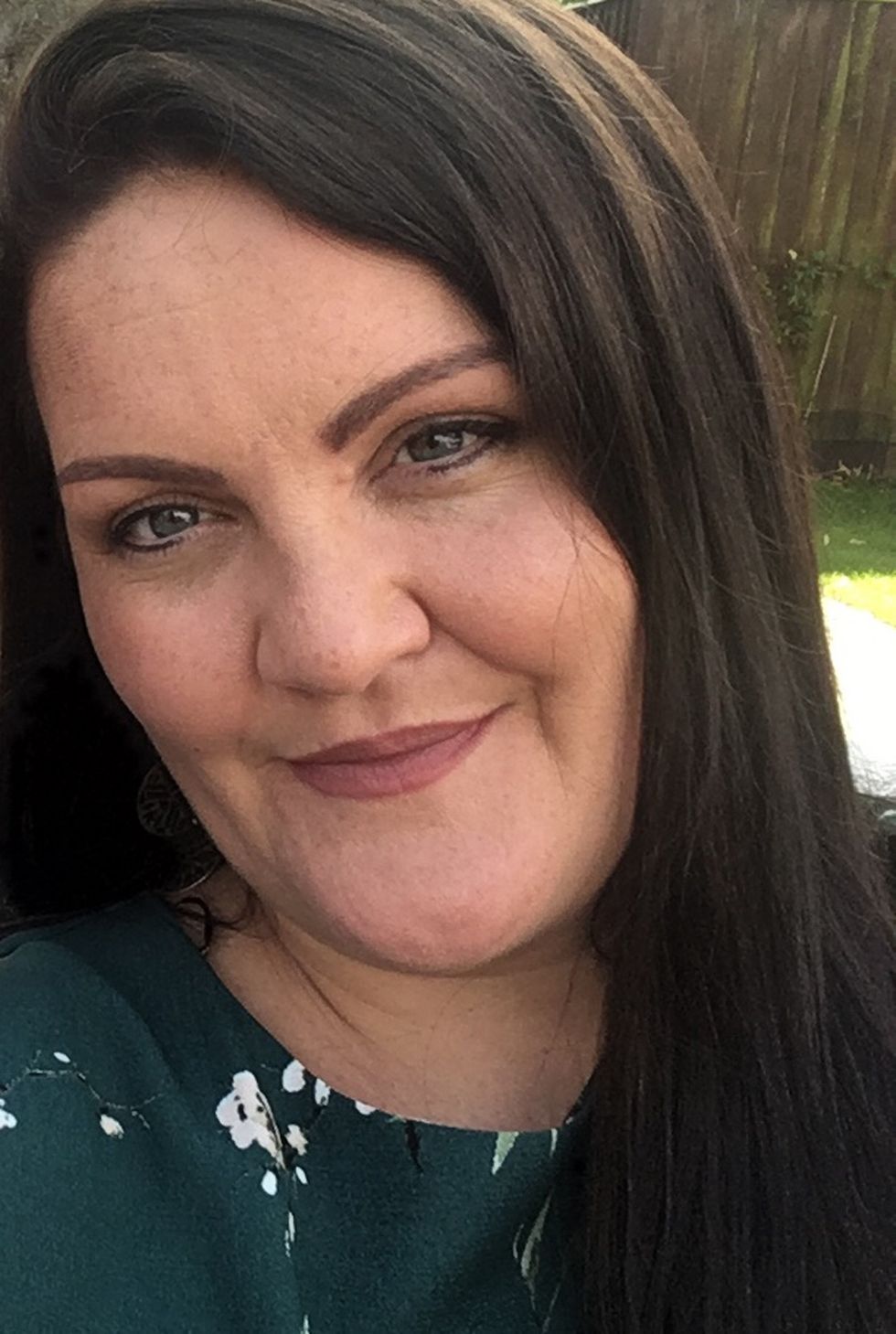 Marisa has discovered a miracle cream to soothe her symptoms (PA Real Life/Collect)
Marisa, whose partner Carl Bennett, 33, works for a medical company, said:
"At my worst, I was having baths at 2 a.m., because I couldn't stand the itching, and would constantly wake up with my sheets covered in blood."
"I never wore dresses, as the psoriasis was especially bad on my legs, and always dressed in black so that, if I started bleeding, it wouldn't show."
"I'm so over the moon now though and feel more confident than ever."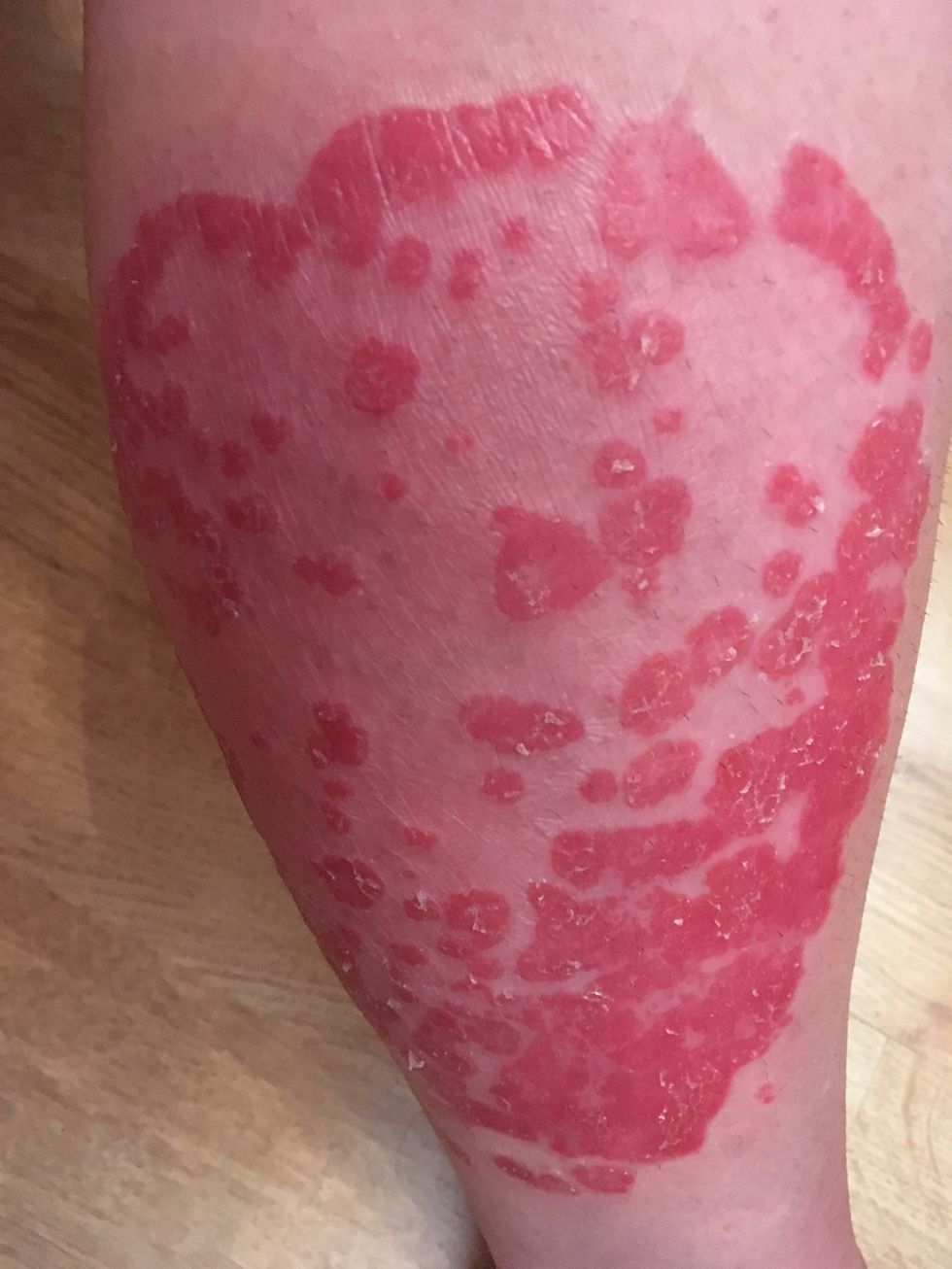 Marisa's patches starting to clear three days after using Sorion (PA Real Life/Collect)
When Marisa, whose son Eloy from a previous relationship was 12, first banged her elbow at work when she was 18, she thought little of it, assuming when it ached afterwards it was just badly bruised.
Then, the skin under her nails began to mysteriously flake.
"I couldn't work it out. I went back and forth to the doctors, and even sent away nail clippings to be tested in case it was a fungal infection," she said. "But nobody seemed to know what was happening."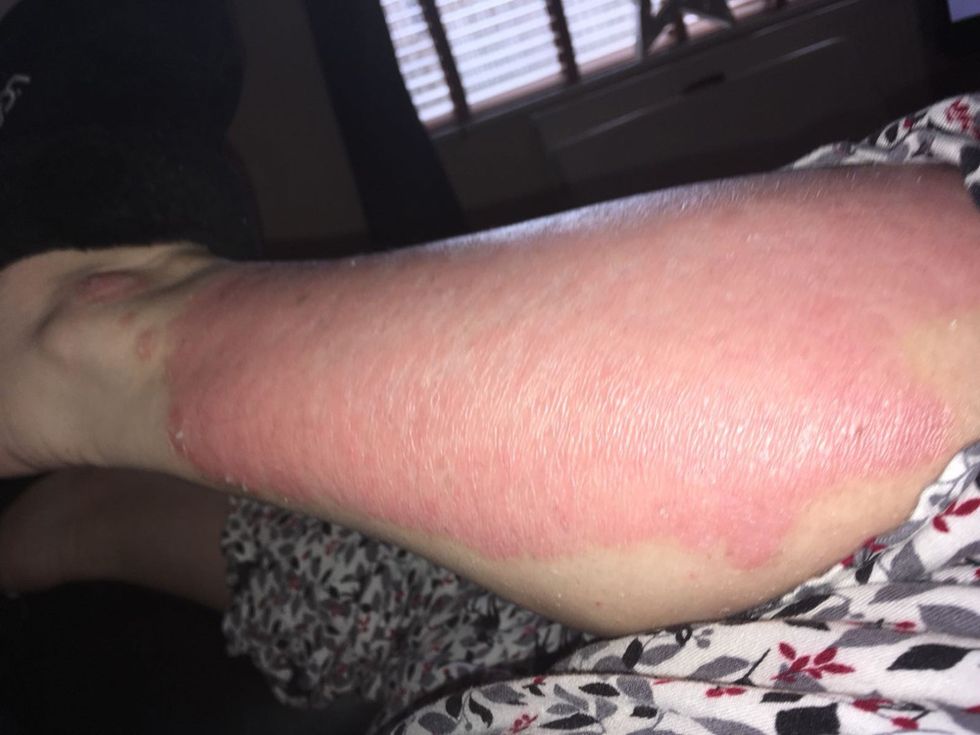 Marisa's leg now (PA Real Life/Collect)
It wasn't until two years later, when the same crusty patches appeared on Marisa's elbows that doctors diagnosed psoriasis which, according to the NHS, does not have an exact known cause, but has common triggers such as an injury to the skin, like a cut, scrape, bite or burn.
"I believe the knock was the initial trigger, but my stress over not knowing what was going on made it worse," she said.
After that, patches began to spring up all over her body – especially her legs, making the skin on her limbs so fragile, it would bleed at the slightest knock.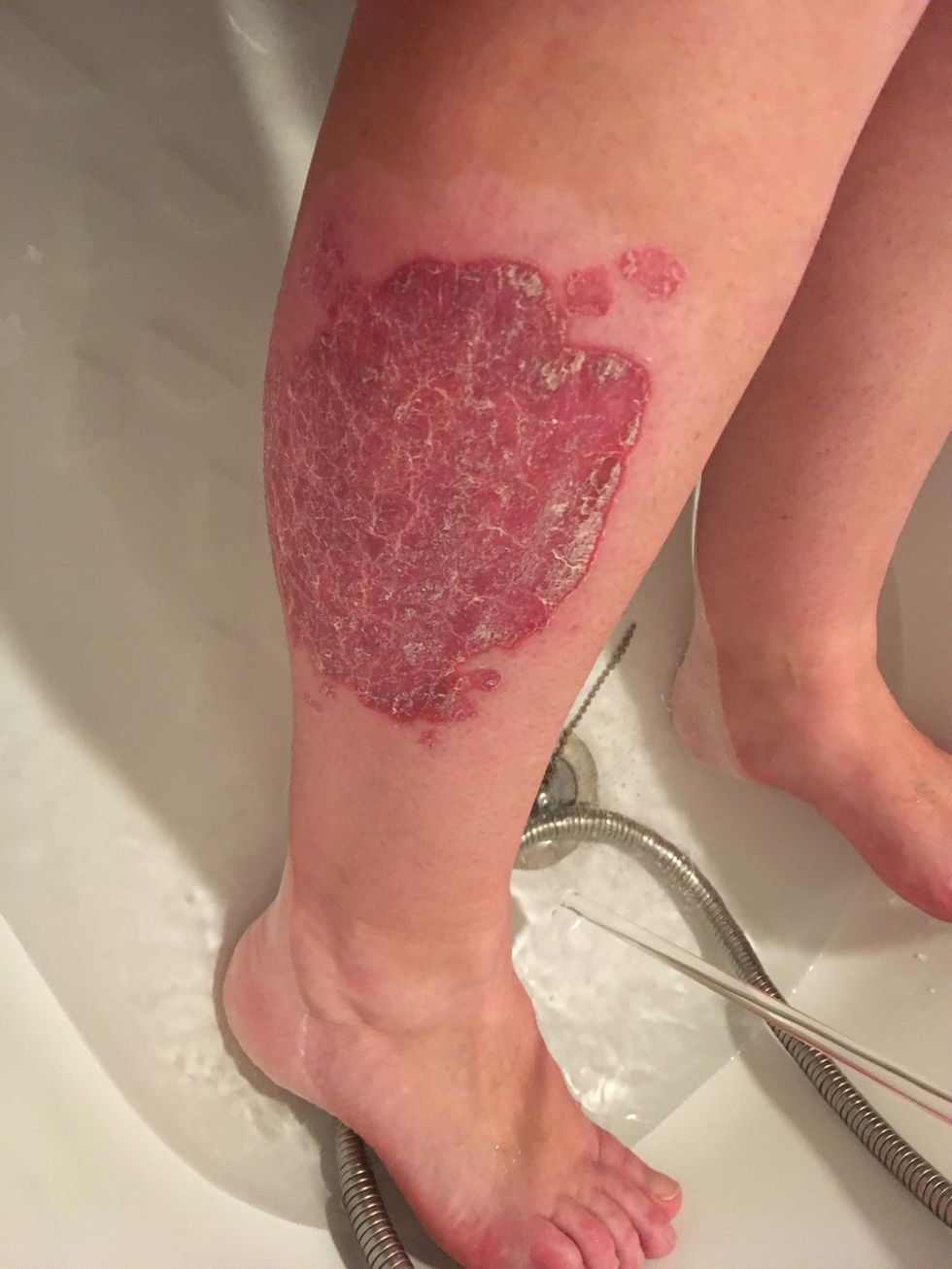 WARNING GRAPHIC IMAGE – Marisa's psoriasis on her leg when it was very severe (PA Real Life/Collect)
She continued:
"I remember being out to lunch one day with a friend when I ever-so-slightly hit my elbow on hers."
"I looked over at her and said, 'Why is your shirt covered in blood?' Then I realized it was my blood."
First of all, Marisa was prescribed a steroid cream as a treatment, but it did little to help.
Next, she tried a course of red-light sunbeds, which are thought to help promote proper cell function.
"That did slightly help for a while – but then the psoriasis just came back with a vengeance," she said.
In time, Marisa was referred to a dermatologist for an intensive course of light therapy, which uses UV rays to penetrate the skin and slow the growth of affected cells.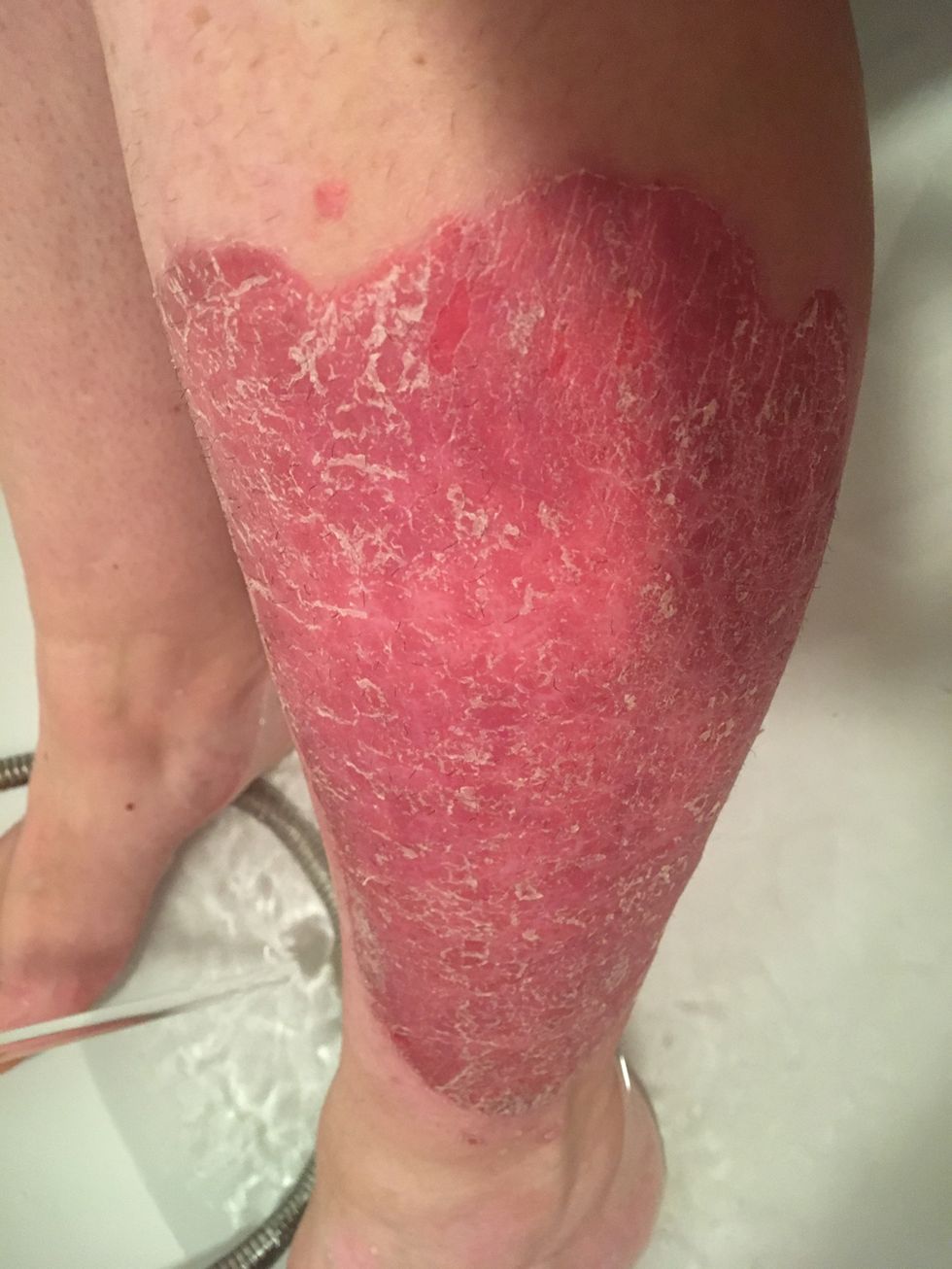 WARNING GRAPHIC IMAGE – Marisa's psoriasis patches on her leg (PA Real Life/Collect)
She continued:
"I had that three times a week for about two months. Sessions would be so short, that I'd do an hour round trip for literally around 12 seconds under the machine."
"Just like before, my skin did clear up – but, as soon as I stopped treatment, the patches just came back worse."
As Marisa tried out various different medicines and steroid creams, even dabbling in alternative treatments like Chinese teas and adding oatmeal to her bath water, her confidence plummeted – especially as nothing seemed to work.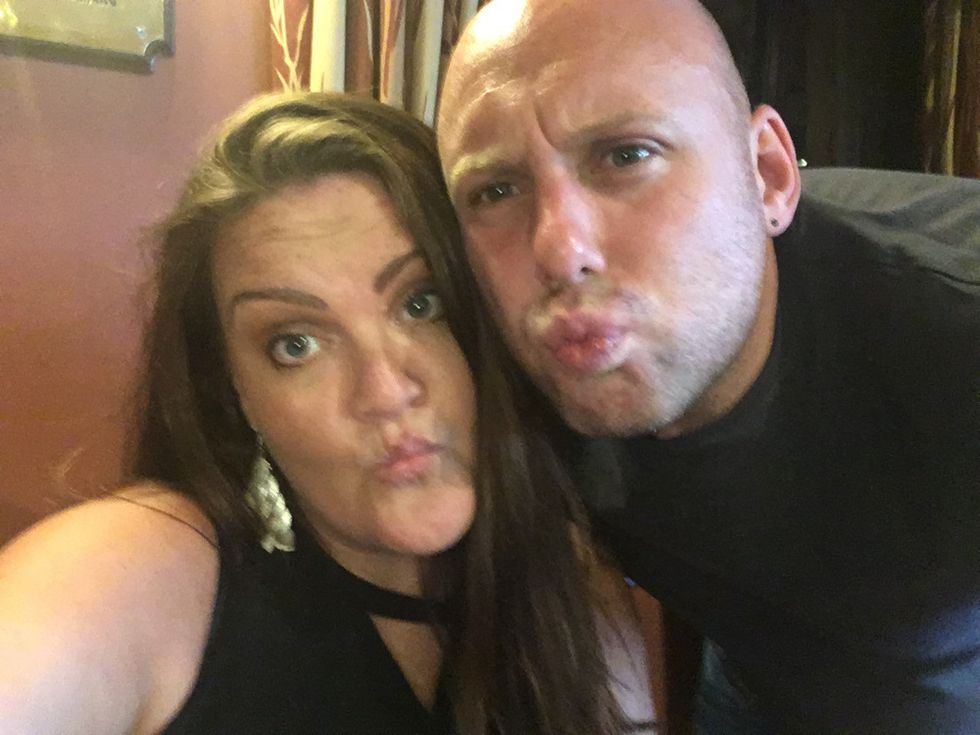 Marisa and her partner Carl (PA Real Life/Collect)
Conscious of strangers staring at her, she tried her best to cover her skin up – even finding the condition affected her dating life.
She explained:
"I was single for about eight years before I met Carl, and the psoriasis did hold me back."
"I could cover up on dates, but there would always be that worry in the back of my mind about becoming intimate, in case men saw my psoriasis and thought, 'What's wrong with her?'"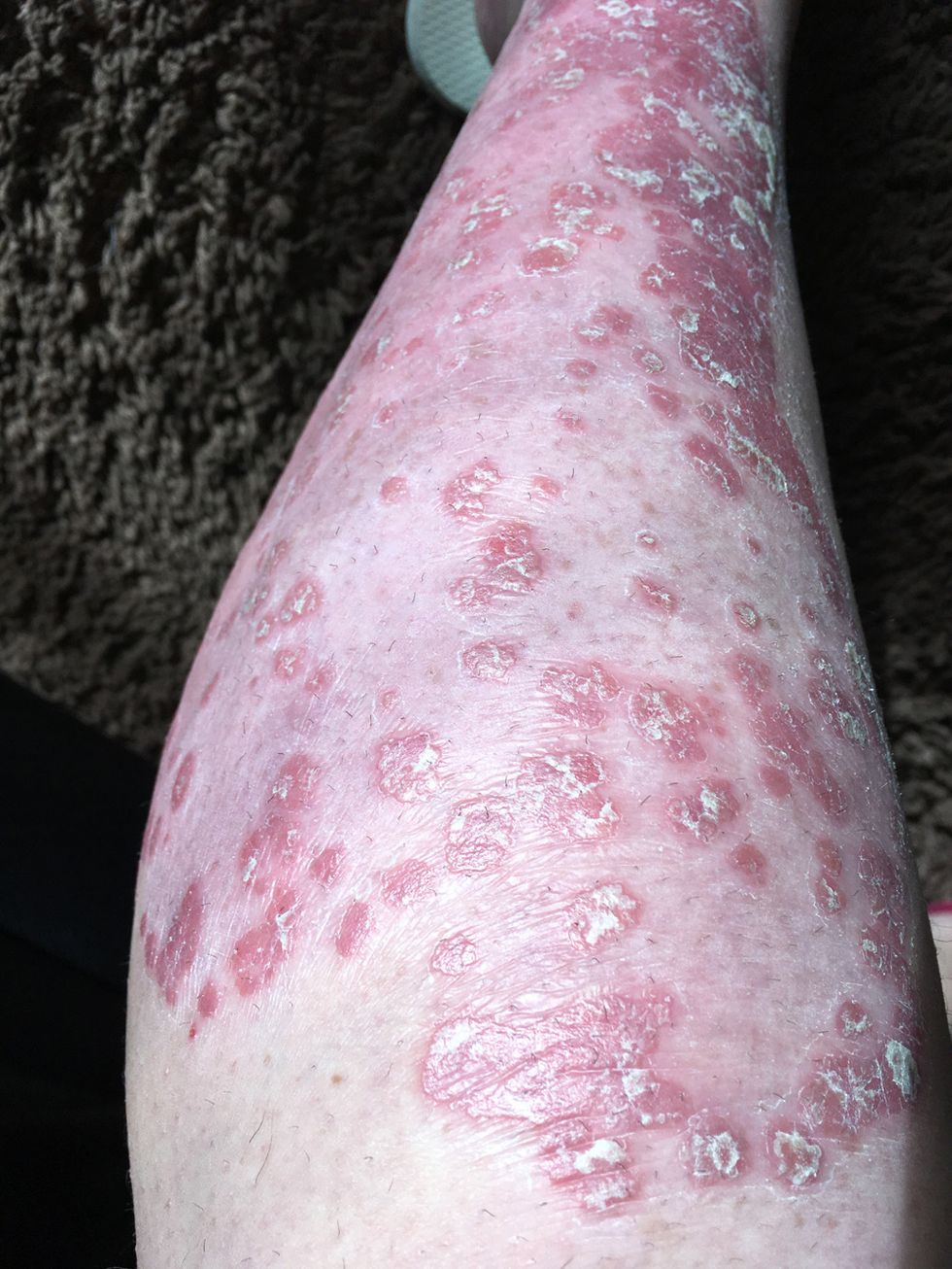 Marisa's psoriasis patches as they cleared (PA Real Life/Collect)
After meeting Carl, Marisa found his support improved her self-esteem. But it was shattered again during a holiday with him to Spain two years ago.
"I don't know why, but I seemed to attract so much attention," she said. "Everywhere I went, people would be whispering and staring.
"I'd spent so long trying not to let that kind of thing get to me. Before, I would take the chance to talk to people and explain what psoriasis is. But I just absolutely broke. It made me feel terrible." Desperate to find something to alleviate her symptoms, Marisa pressed on in her search of a treatment. Then, earlier this year, she was browsing a Facebook support group when she noticed a post about Sorion, a range of products that contain wonder ingredients used in traditional Indian medicine, like turmeric and coconut oil.
Logging on to HelloSkin.co.uk, a website that recommends products based on an individual's symptoms, she ordered a cream and shampoo for herself, after filling out a questionnaire about her needs.


Marisa's psoriasis patches (PA Real Life/Collect)
Incredibly, within just one week of use, she found that the skin on her legs had improved so much that she felt ready to wear a dress once again.
"It sounds silly, but it was such a big thing for me," she said. "The Sorion was like magic – I couldn't believe it."


"It reduced the psoriasis scales and took away the redness and irritation too. Where other creams had thinned my skin, Sorion was very gentle. I've been recommending it to anyone that asks. It's my little miracle."

For information, visit www.Helloskin.co.uk

A version of this article originally appeared on Press Association.