On a flight from Barcelona to London, things turned ugly when a man decided it was okay to abuse an elderly woman by threatening and bullying her with racist hate speech.
---
This incident took place on Irish owned Ryanair Airlines, and was captured by a nearby passenger. Another passenger stepped in telling the abusive man to stop, but it doesn't appear the man was punished in any way for his behavior by the crew. In fact, the woman was moved, allowing the bully to remain in his seat.
A widow in her 70s, who was the victim of a racist tirade on a Ryanair flight, has told ITV News how the incident h… https://t.co/iVCvUFb9b4

— ITV News (@ITV News) 1540211947.0
In the video, the man can be heard yelling at Delsie Gayle:
"Don't speak to me in a foreign language, you stupid ugly cow."
He also calls her "an ugly black bastard."
The verbal attack seems to have started after Gayle didn't move fast enough to please the man when he was trying to get in his seat. She has arthritis and at times, it is difficult to move quickly.
The man then says:
"I don't care whether she's fucking disabled or not – if I tell her to get out she gets out."
An investigation has been opened. Essex police have identified the man and turned over that information to the Spanish authorities.

Gayle;s daughter, Carol, doesn't understand why the airline didn't remove the man from the plane.
She tellsThe Guardian:
"He should have been moved or taken off the plane and nothing was done … Nobody has apologized. We've not had nothing. We just want an open apology from Ryanair."
In an interview with ITV News, the recently widowed Gayle says:

"He pays his fare, I pay mine. So why did he abuse me for that? Because of the color of my skin … If I had done that to him, I'm sure they would have called the police."
People are shocked the airline hasn't reached out.
@jessbrammar @eileenbgibson @Ryanair I feel a Ryan Air boycott coming on...

— Michael (@Michael) 1540225962.0
twitter.com
@jessbrammar @Ryanair 1. @Ryanair need to give the staff some training of what should actually happen in this unfor… https://t.co/pu6Uyowxgn

— Ben Larkin (@Ben Larkin) 1540224655.0
@jessbrammar @Ryanair That's because they couldn't give a shit.

— Sharra & K'ythri (@Sharra & K'ythri) 1540223607.0
twitter.com
@jessbrammar @retrochbabe @Ryanair Ah now!! That's expecting too much 🙄

— Eileen Higgins (@Eileen Higgins) 1540224823.0
twitter.com
@eileen_higgins2 @jessbrammar @Ryanair Unbelievable isn't it ? They now say the police must deal with it .

— maureen clarke (@maureen clarke) 1540224905.0
.
@jessbrammar @Ryanair Maybe time to boycott Ryanair.

— Sugar Kane (@Sugar Kane) 1540223513.0
twitter.com
@jessbrammar @Ryanair Absolutely deplorable & I say that as someone who's role within a major airline was 2 respond… https://t.co/5ofovRXn4h

— 🎀Michele Halpin (@🎀Michele Halpin) 1540236088.0
The airline did put out this tweet.
Statement: We are aware of this video and have reported this matter to Essex Police

— Ryanair (@Ryanair) 1540108813.0
One Twitter user even did all the hard work for them.
@mrsklvy @Ryanair It's not hard to say, "We expect all our staff and customers to treat each other with respect. Th… https://t.co/EKi4dUOlHk

— Allison (@Allison) 1540227933.0
@mrsklvy @Ryanair ... on how to handle any similar situation in the future. Ryanair does not tolerate harassment an… https://t.co/xQuY77T2v1

— Allison (@Allison) 1540228019.0
We'll just be here waiting on that apology.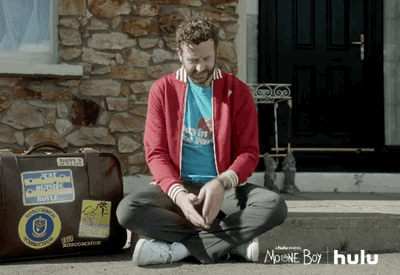 Giphy