It's mind-boggling the lengths some people will go to in order to not pay for something that costs everyone around them money.
And then when they try to turn the blame around on the person who is just doing their job turns them down?
Wow.
Ramia of @yoramia on TikTok recently went through such a situation when a woman approached her, wanting to use the restroom beyond a point of admission, intended only for paying customers and staff.
The woman, named Georginia, refused to pay the $10 admission fee to access the sporting event area where the restrooms were located. Instead, she insisted on seeing Ramia's manager.
Ramia shared the incident on TikTok and captioned the video:
"They always want the manager."
You can watch the first video here:

Georginia didn't appear to be done talking, though, as she immediately turned back around to continue the conversation.
In addition to wanting to speak to the manager, she specifically wanted Ramia's name for undisclosed reasons.
Ramia refused to tell her, which seemed to make the situation worse.
You can watch the second video here:
Later, Georginia returned, demanding an apology. She said it was on the grounds of Ramia being rude, not telling the other woman her name, and of course, for not getting the manager.
Another customer cut the incident short, as they demanded Georginia allow Ramia to get back to work at the end of the video.
You can watch the third video here:
Some couldn't believe the woman's audacity.

@yoramia/TikTok

@yoramia/TikTok

@yoramia/TikTok

@yoramia/TikTok

@yoramia/TikTok

@yoramia/TikTok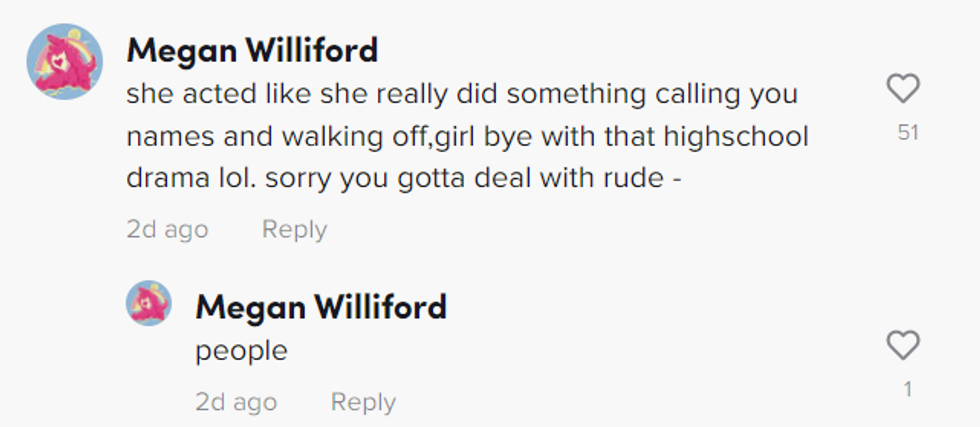 @yoramia/TikTok
But some weren't so convinced.


@yoramia/TikTok

@yoramia/TikTok

@yoramia/TikTok

@yoramia/TikTok
Ramia had a response for the skeptics, explaining why she really couldn't let the other woman simply walk through to use the bathroom without paying the $10 fee.

Ramia explained that the organization had a history with parents who said they were only dropping their kids off at the sporting area, or who needed to use the restroom like Georginia, and they conveniently would not return to the entry area when they were done. They gave an excuse to attend the sporting event without paying.
You can watch the fourth video here:
While some weren't convinced if this was actually a problem worth sharing videos about, a large portion of the TikTok community was fed up with people like Georginia who seemed to seek out arguments like this one just for the sake of it.
Not to mention there are other restrooms the woman could have used, or she could have simply made the $10 and asked for a refund after only going to the restroom.