A woman named Savannah Sims was sunbathing on the big island in Hawaii where she was taking a vacation when a mother berated her and told her to leave over what she was wearing.
Ironically, the mom was wearing a thong bikini bottom.
In a tiktok with 88.5 thousand likes, @savysimsyo recounted the moment after she laid down on the beach:
"So I just had the worst experience in Hawaii on the big island.
I lay down at a spot that's right off the road and this family gets out of their car and sits down kind of close to me."
"And the mom starts saying to her boyfriend, 'no I can't have that' and 'that's not OK with me'."
When Sims notices the mom is directing her comments at her, Sims asks what is wrong.
The response?
"She said 'she doesn't want to be seeing my butt and lady parts'."
Sims shows in the video she is wearing a fairly typical style bikini.
The mother complained college students come to the beach often and wear bikini's. The mother was offended to see her showing off her body in front of her children.

Even though Sims was there first, the mother asked her to leave.
The video ended with her saying:
"So I got up and left and she said 'mahalo', and it ruined my day."
In a follow up video, Sims pointed out the mother was wearing a thong bikini, considerably more revealing than the one she was wearing.
In the video she said:
"She is wearing a thong bikini. Which is totally fine, I wear those all the time."
"But to call me out and take off your skirt and be rocking a G-string, you're either a hypocrite or it wasn't about what I was wearing."
Quite a few people shared support for Sims and even told her she shouldn't have left.

@jenjenb26/TikTok

Selena Cocaina/TikTok

@cristinasant0ss/TikTok

@kikithemermaid/TikTok

@raysiang/TikTok

@kuuleipk/TikTok

@sindijx/TikTok

@avie_daydreaming/TikTok
Although she received a lot of support, many people had something to say about her caption.
It reads:
"Ik tourists can be a lot when you live in a #hawaii, but keep in mind that the world isn't yours, it's to be shared"
People called her out on her lack of acknowledgement of the impact colonization had on Indigenous peoples.

@needmoneyforplants/TikTok

@lethallex/TikTok

@kzjackson8/TikTok

@mamea_lanuola/TikTok
Sims did apologize for her caption.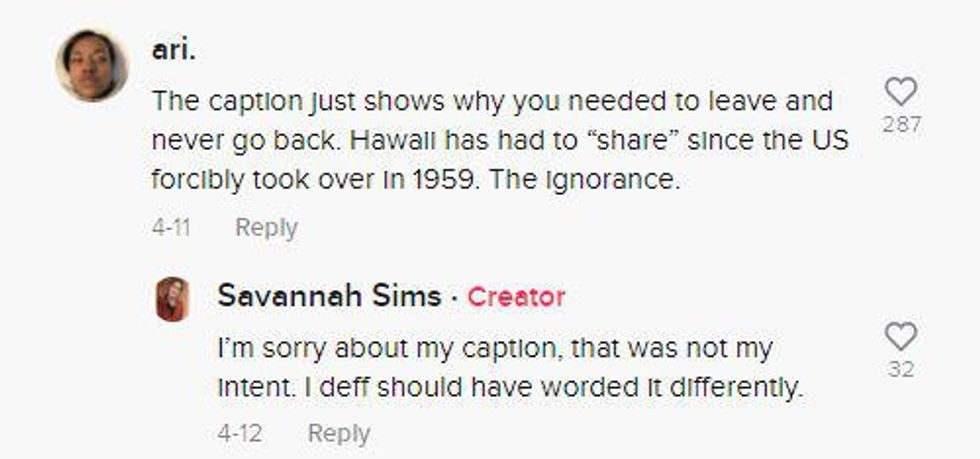 @amoneyyyyyyy__/TikTok
Unfortunately, captions in TikTok cannot be updated after a video is posted.