Reports have emerged stating that elementary school children in Texas are being provided with Winnie the Pooh books that teach them how to respond in the event of a school shooting.
The book, titled Stay Safe, was distributed in the backpacks of students within the Dallas Independent School District. It offers guidance on actions such as running, hiding, and fighting to protect themselves during an active shooter situation.
It features Winnie the Pooh, the beloved bear from the Hundred Acre Wood, offering advice to children. It encourages them to hide and remain quiet until the police arrive if they perceive danger. One page depicts Pooh peeking out from inside a honey pot, illustrating the concept of hiding without making a sound.
The distribution of the book occurred just a week after the anniversary of a tragic school shooting in Uvalde, Texas, which claimed the lives of 19 students and two teachers.

News about the book went viral after California Democratic Governor Gavin Newsom posted a photo from its pages and tweeted the following criticism:
"Winnie the Pooh is now teaching Texas kids about active shooters because the elected officials do not have the courage to keep our kids safe and pass common sense gun safety laws."
You can see Newsom's tweet below.

You can see the photo Newsom posted below.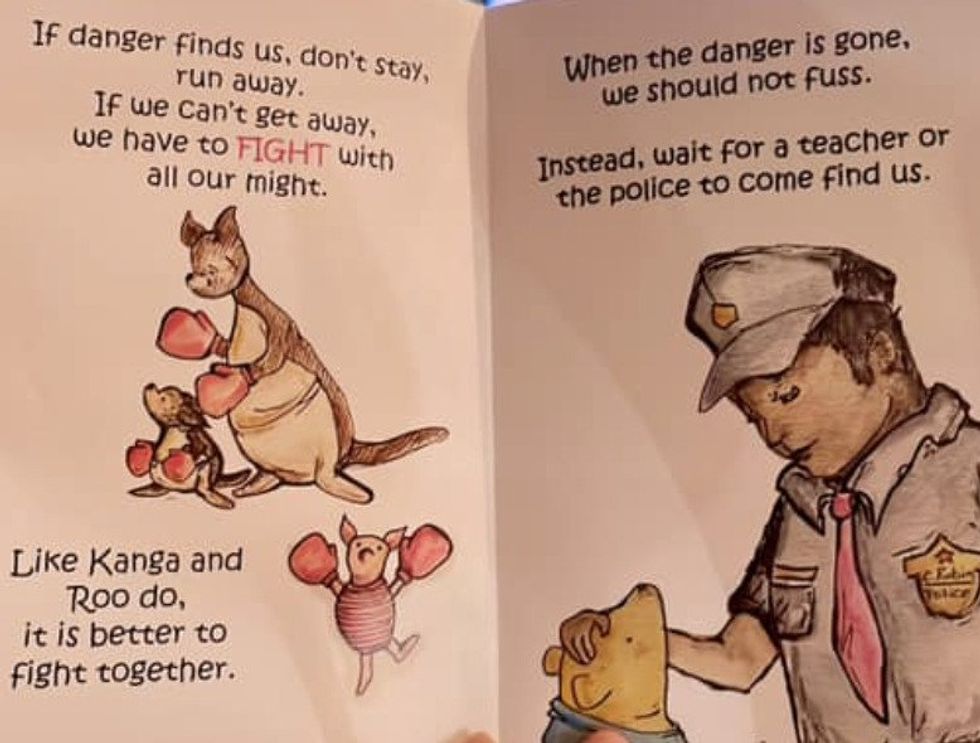 Praetorian Consulting
Condemnation rained down on Texas GOP legislators as soon as the images circulated on social media.
A Dallas elementary school teacher, who chose to remain anonymous, expressed discomfort with the book's contents and disappointment that it was produced instead of taking tangible actions to prevent school shootings.

The Dallas Independent School District has not yet responded to requests for comment regarding the distribution of the book.
The book was produced by Praetorian Consulting, which states on its website that the materials were created in collaboration with schools and police to educate children on remaining safe during dangerous school situations. The "run, hide, fight" advice given in the book aligns with the guidelines provided by the FBI for schools in active shooter scenarios.
The firm's use of Winnie the Pooh and related characters popularized by English author A.A. Milne was made possible because Milne's creations officially entered the public domain on January 1, 2022.