For some bigots it is the social stigma and public backlash they will receive that motivates them to keep their bigotry at home and in check.
But in recent years, many have noted bigots feel empowered to put their prejudices on blast in public more and more.
---
One such bigot decided to put his White nationalism, racism and xenophobia on full display during a parents' meeting at a Michigan school. Without a hint of understanding the irony, the bigot decided to make his feelings known during a meeting to discuss incidents of racism and bigotry being experienced by students at the school.
You can watch the moment here:
Adrian Iraola is the Hispanic man speaking. He was telling the crowd how his son's classmates' taunts of "taco," "enchilada" and "dirty Mexican" left the high schooler in tears.
Iraola said:
"I went to his bedroom to say good night. He was crying because of the abuse that he was enduring in this school system."
That's when Tom Burtell—the White man behind him—interrupted him to say:
"Then why didn't you stay in Mexico?"
Burtell's White nationalism, racism and bigotry was not well received by the majority of the meeting's attendees. The video was taken in Saline, Michigan which is a mostly White suburb in Michigan—a state named for an Algonquian word meaning "big lake."
The area was originally inhabited by Fox, Sauk, Kickapoo, Menominee, Miami, Ojibway/Chippewa and Potawatomi before those groups were displaced by White settlers as little as 150 years ago. In another stroke of irony, Burtell—a descendant of those who displaced those Indigenous peoples who lived in Michigan for millennia—is now lashing out at an Indigenous man for moving to Michigan in a textbook display of White nationalism—the belief that the United States is a White nation and anyone who is not White should "go back where they came from."
The majority of Hispanics from the Americas descend in part from the Indigenous tribes of North, South and Central America.
The school meeting was called to address other incidents of racism at the school. Earlier in the year in a Snapchat group of high school football players, two players used racial slurs and talked of "WHITE POWER."
The outburst by Burtell gave attendees at the meeting a clear indication of what trees those bad apples fell from.
Iraola said to The Washington Post:
"We wanted to tell the audience that this [kind of bigotry] was alive and well. We were very surprised to see that, right then and there, is the ignorance manifested by those comments."
Iraola—an architectural engineer—moved from Mexico City to the United States in 1980 "in search of a better life." He and his wife Lori settled in Saline because of the town's charm and high-quality school system.
Now that school system's quality is being tainted by children who weren't even born and whose parents were little more than children themselves when Iraola settled in the United States. Iraola—who along with his wife coached sports in the school system and opened a popular local chain of restaurants—raised his three USA born children in Saline.
Those children are now 23, 26 and 28. Iraola's point was to illustrate that the issues in Saline go back further and are more widespread than the Snapchat incident.
But Burtell's behavior was a much better illustration of the problems many communities in the United States face.
In a letter to parents, Saline Area Schools Superintendent Scot Graden denounced the Snapchat incident as:
"an act of racism that created harm to all of our students, especially students of color."
But a student told the Ann Arbor News:
"[Bigotry] occurs daily and racist imagery can be found everywhere."
For the Iraola's, that was why they decided to attend the meeting after speaking with their grown children.

Lori Iraola said:
"We didn't want this to be seen as an isolated event. We wanted to tell the story of what we saw through our children's eyes."
Unsurprisingly, Burtell sees the Whites who make up 85% of the school population as the real victims. He cited "Black racism" and called efforts to teach about diversity "ludicrous."
Hispanics comprise about 2.5% of the school's population while Black students are about 2%. The racial composition of the other 10.5% of students was not disclosed.
Michigan measures school diversity as White, African American, Asian, American Indian/Alaskan Native, Hispanic/Latino, Native Hawaiian/Pacific Islander and two or more races. At the state level, most students are White, followed by those of two or more races, then Asian.
Burtell said:
"You're complaining about situations and this incident where somebody made a little tweet. Nobody got hurt in that, and that was done off campus."
"That doesn't concern the school system. Everybody has a right to free speech."
Later, Tom Burtell's own son Matt Burtell posted on Facebook calling his father "deliberately racist."
The younger Burtell posted:
"Today my father asked a deliberately racist question at the Saline Area Schools diversity and inclusion meeting."
"His views of hate in no way represent my own."
"I stand in solidarity with the refugees and immigrants of the world."
While the elder Burtell was willing to interrupt others during the meeting—shouting his racist and bigoted views more than once—he refused each time Iraola tried to hand him the microphone.
As for Burtell's first shouted question, Iraola did answer it, stating:
"He asked me a question. 'Why didn't I stay in Mexico?' Because this is the greatest country in the world."
Think racism has no place in your community?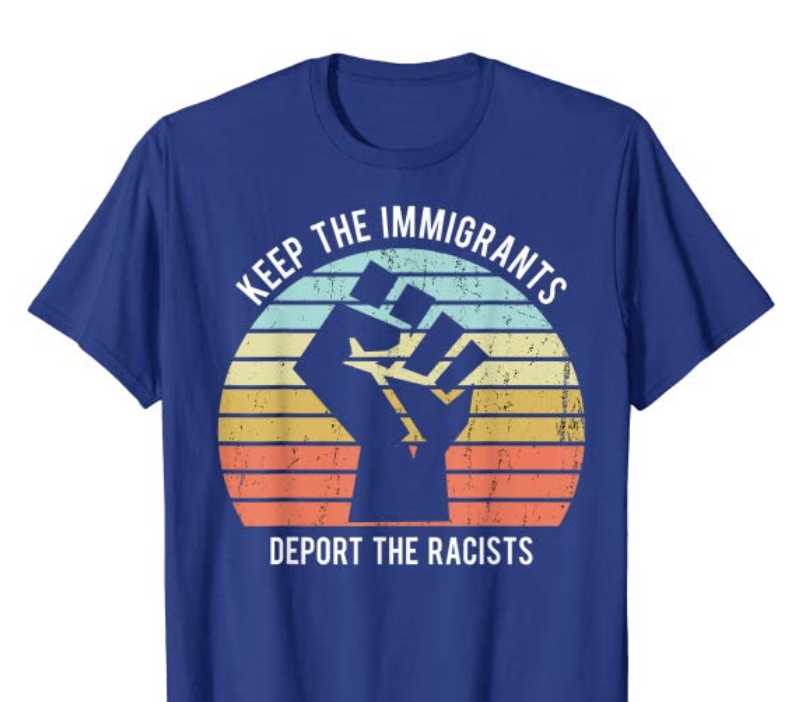 Amazon