Mom-shaming is a regular, ongoing phenomenon.
It is especially rampant for celebrity moms, who are often put on a pedestal or thrown under the bus for their parenting decisions.
---
But when Ashley Graham shared a photo of her changing her newborn's diaper in Staples, TV personality Wendy Williams upped the mom-shaming ante, arguing Graham's decision not only was sending the wrong message, but that she was being an improper role model to moms everywhere.
The problem? Graham was changing her child on the floor.
Ashley Graham has been very open and candid about her motherhood journey, often confiding personal information and cracking jokes. Some have included getting comfortable in her postpartum body, especially as a model, and finding a new favorite garment in disposable underwear.
But when Graham posted a photo on Instagram of changing her seven-week-old son on the floor of a Staples store, Williams said that was not a good look.
Several days ago, Graham went to Staples for some supplies. When her son suddenly needed a diaper change, she couldn't find a restroom.
So she set up her changing pad on the floor of one of the aisles and changed her son's diaper. She later shared the photo of the incident proudly.
Williams, who shared the photo and her thoughts during her "Hot Topics" segment on her show, said she was confused at first over what seemed like a lack of preparation for a newborn's inevitable need for a diaper change.
Williams said:
"If you're taking your seven-week-old baby to Staples, you're watching the baby more than you're watching where the Sharpies and rings of paper, and cartridges for your printer are."
While Williams didn't argue against mothers having it hard, she didn't think an aisle was a place to change a child's diaper. She claimed Graham had other options.
Williams questioned:
"Why didn't she take the baby out to the car?... I just wish she would've done something different."
But ultimately, Williams' biggest concern was the message Graham was sending by promoting her decision.
Williams challenged:
"This is not hot. Ashley, I like you. This is not hot. This is sending a bad message. I don't want to see this in the store. I don't, and I'm a mom."
She argued there were other places the baby's diaper could have been changed, and doing it so publicly was inappropriate for the young baby, for other mothers and for other onlookers who were in the store.
You can watch the full segment here:
On Graham's Instagram, some were in favor of her decision, viewing the photo as empowering.


@ashleygraham / Instagram

@ashleygraham / Instagram
@ashleygraham / Instagram
@WendyWilliams The changing mat on the floor was a much better solution than finishing her shopping & then changing… https://t.co/BAAGHLTF5R

— The Weed Mom (@The Weed Mom) 1583444275.0
But most sided with Williams' feelings—both on Graham's Instagram and on Twitter—feeling that changing the baby so publicly was inconsiderate, and not safe for the baby for health reasons.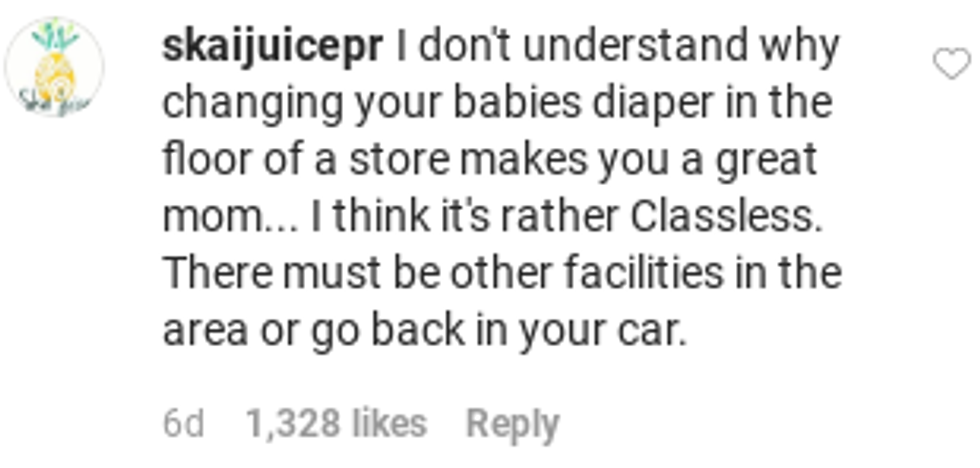 @ashleygraham / Instagram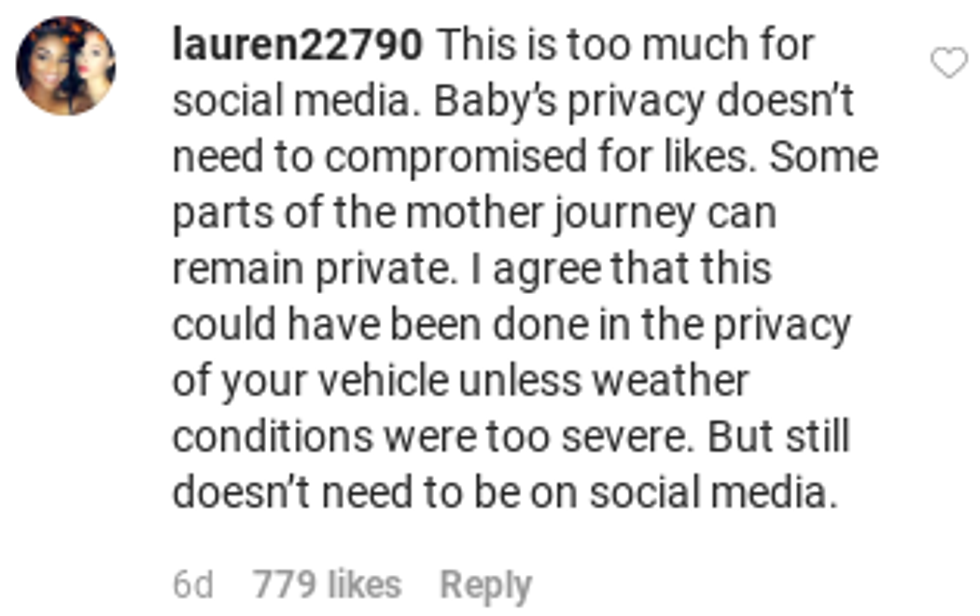 @ashleygraham / Instagram

@ashleygraham / Instagram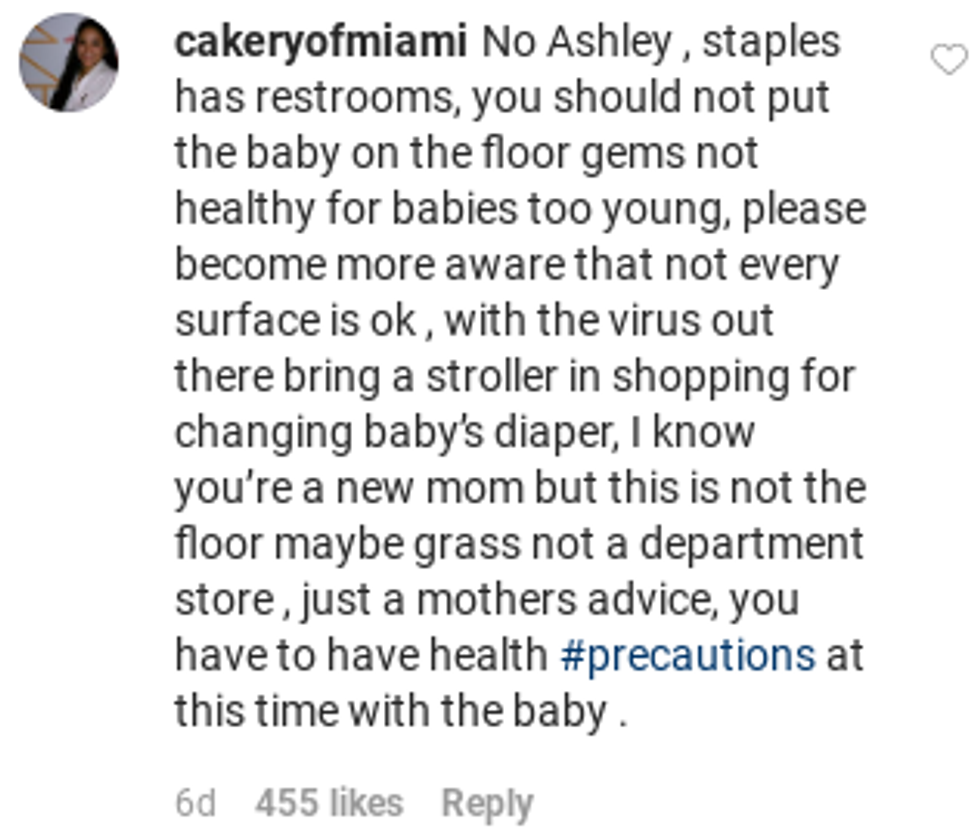 @ashleygraham / Instagram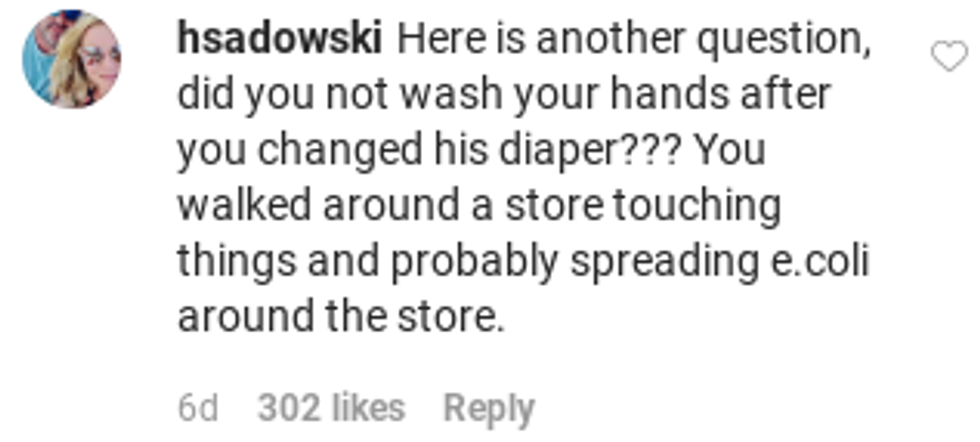 @ashleygraham / Instagram
Parenting is difficult and overburdened with decisions from moment to moment. But obviously in instances like this one, not everyone is going to be happy with anyone's decisions, let alone one that may or may not contain health risks or issues of privacy.