As people become more and more outspoken about their anti-racist beliefs in the wake of George Floyd's murder and the resulting protests, it seems to have become more common for people to draw lines in the sand based on their convictions.
A wedding photographer did just that recently when, in response to an Instagram post she made in support of Black Lives Matter, one of her clients became offended and demanded a refund. And her epic response has people all over the internet cheering her on.
Shakira Rochelle is a photographer who shoots wedding, pregnancy and baby photos in the Cincinnati, Ohio area. She recently made an Instagram post expressing her support of the Black Lives Matter movement, saying she "stands in solidarity with the black community"—a simple, innocuous show of support for a struggling group of people, right?

It was a simple, innocuous show of support that hardly seems controversial, right?
So imagine Rochelle's surprise when she received the following text, which was shared by Twitter user @PINKdot_com, from an upcoming client.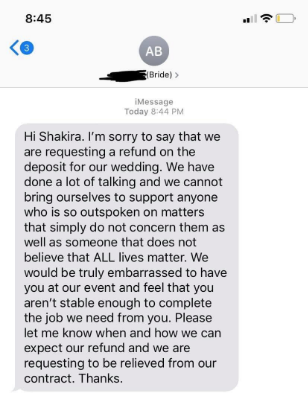 @PINKdot_com/Twitter
Of course, the bride invokes the phrase "ALL lives matter."

"...we cannot bring ourselves to support anyone who is so outspoken on matters that simply do not concern them as well as someone that does not believe ALL lives matter."
She then seems to imply Rochelle's support for BLM is a manifestation of mental illness.
"We would be truly embarrassed to have you at our event and feel that you aren't stable enough to complete the job we need from you.
It is on the basis of that bizarre implication that the bride closes her text by demanding a refund and an annulment of their contract.
But the thing about contracts, of course, is that they are, well...contracts, and it doesn't really work like this.
Which Shakira pointed out to the bride in the best way possible—and then wrapped up her reply with the most epic of clapbacks.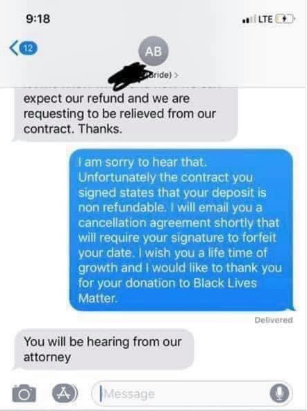 @PINKdot_com/Twitter
As Rochelle put it:

"I wish you a life time of growth and I would like to thank you for your donation to Black Lives Matter."
What better way to respond than donating the bride's deposit to the movement?
An absolute class act!
On Twitter, people were absolutely thrilled by the photographer's response.
And pretty much no one was buying the bride's threat of legal action either.
As for the impact this has had on Rochelle's photography business, she remains "booked and busy" as the saying goes.
As she put it in a Facebook response to this viral controversy:
"I am already booked until winter. I am not in need for clients or business as I already don't have enough availability as it is."
It seems that being on the right side of history might be good for business.