Most people do not think of class clowns being the teacher.
Meet Professor David Wright, a teacher who can engage in shenanigans just as well as his apt pupils.
---
Wright joined the Tidewater Community College faculty back in 1974. After 45 years, the educator continues to prove that education can be fun.
He told Buzzfeed News about his long but rewarding tenure at the school.
"It was my very first job out of graduate school. I never thought I'd be at the same place my entire life, but it's been a wonderful place. I've really enjoyed it."
His teaching approach is not all that unconventional. But his infectious charm and charisma make his class far from being a snoozefest.

Instead of boring lectures, he'll explain physics through demonstrations – including making ice cream out of liquid nitrogen, letting balloons dart across the room as they deflate and lying on a bed of nails.
Wright continued:

"It keeps them focused. We'll talk about what might happen. We'll do the demonstration. We'll talk about why it happened the way it did."
"I'm trying to show them how physics applies in the real world. They really appreciate being able to do that and see the applications of that."
Erica Church, 18, is a sophomore who took Wright's class as a prerequisite as a sonography major.
She expressed concern after watching something a daredevil would do.
"I was a little worried going in. On the first day of class, he actually walked on a bed of broken glass. I was like, this is a little crazy. I've never seen a professor doing this before."
Amused by Wright's teaching method, she put together a video montage of his educational hijinks and posted it on Twitter.
The video unexpectedly went viral and suddenly school was in session on Twitter.
The numbers continue towards nuclear ascent with 1.7 million likes and counting.
Church emailed Wright to let him know how much he is appreciated outside of school.
Church wrote a letter of appreciation to Wright and alerted him of his celebrity-status on Twitter.

"Today I made a collage of all the videos I've recorded over the semester of all of your demonstrations. I posted it on Twitter so all my friends could see it and enjoy it too, and it ended up going viral!"
"As of right now it has 145, 000 likes and 1 million views!!"
"Everyone loves your demonstrations and the tweet has blown up!"
"I wanted to let you know that the Twitter community and all of us from class loves you."
"Here's the link so you can see the post for yourself. Thank you for an amazing semester!"
Here is a screenshot of her letter that was superimposed with a beaming heart GIF.

@its_riccaa/Twitter
The venerated professor professed his appreciation for the shout out.
The feeling was mutual, with Wright responding:
"Thank you very much for sharing that with me."
"It was an amazing semester, because I had amazing students."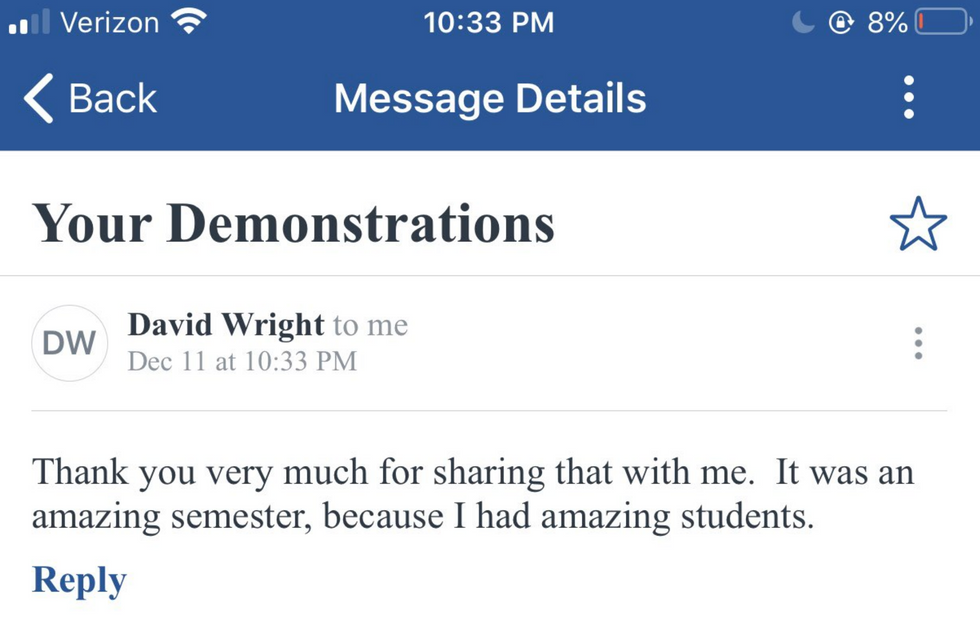 @its_riccaa/Twitter
His reputation precedes him.
We can all learn about passion and enthusiasm from Prof. Wright.

This user shared memories of past impressive educators.
This man is an institution who must be cherished for all time.
On his viral fame, Wright told Buzzfeed:

"I was just amazed. It's incredible. I'm blown away."
Wright has found his purpose in life and didn't expect to inspire so many people on this scale.

"I've often hoped I could reach people. I see my mission in life as to get people excited about science, so it really remains relevant, exciting, and fun."
"I've always tried to do that in my class, but I never expected to do that on this scale."
He hoped his video montage will pique someone's curiosity enough for them to study physics.

"Maybe someone will see the video and think, oh, I should really take physics and learn more about this remarkable stuff that's going on out there."
Speaking of remarkable stuff – like surviving lying on a bed of nails – Wright provided a free lesson about weight distribution preventing him from becoming Swiss cheese.

"That's the principle of pressure. There's 400 nails in contact with my back — and because there's so many nails, and each nail supports a tiny fraction of my weight, the pressure on the nails is not sufficient to break my skin! If I only had five nails, I'd be having a bad time."
And what's the deal with the skateboard launch in the hallway?
"That's Newton's second law! That idea there is that force is proportional to the acceleration."
"So my students are holding on to bungee cord and I say, 'Hold on tight,' and get three or four on each side. We pull the skateboard back just a little bit, and the acceleration is a little wimpy."
"So I go back further and we're going again — and then I finally go as far back as you can move that bungee cord and really move off with a great acceleration."
"So I put somebody on the cart with me, and now we've got the same force but a lot more mass. So it doesn't accelerate as quickly."
"So it really illustrates the principle that if you have more force you get more acceleration, and if you have more mass you get less acceleration."
He couldn't have explained it better than any textbook on the subject.

Thanks, Professor!

The Kids First Engineering Design Physics Lab Science Kit is available here.