It is that time of year once again to break out your favorite recipes for hot chocolate, apple cider and... vegan hummus milkshake?
Huh?
---
The Hummus and Pita Co. of New York just unveiled their new line of hummus milkshakes and people aren't feeling it.
I mean, we kind of get it, since "hummus" is right there in the name, but we'll pass on this one, even if they offer nice sounding flavors like, strawberry, chocolate, pistachio and butter pecan, along with original.
Wait.
Original?
What is that all about?
We aren't the only ones not chomping at the bit for a hummus shake.
Twitter is giving it a huge thumbs down too.
For some it doesn't even resemble food.
Which is why it was still a white hot "no."
To be fair the rest of the menu looks delish, and at least they are not serving "human" shakes.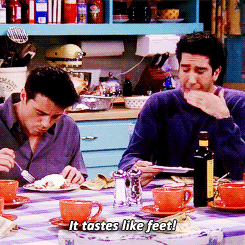 rebloggy.com
We'll stick with the Falafel if that's all right.
H/T: NY Daily News, Insider