*The following article contains discussion of suicide/self-harm.
Natasha Yi—wife and co-host of popular San Francisco area DJ and radio host Jeffrey Vandergrift—posted an update regarding the recent disappearance of her husband.
Sadly, it's not the news fans of the duo who hosted The JV Show together on Wild 94.9 were hoping to hear.
The 54-year-old Vandergrift was reported missing since February 23. According to a report from the San Francisco Police Department, he was considered "at risk."
Vandergrift's disappearance came after some alarming behavior on Instagram.
Vandergrift updated a post from August 20, 2022 featuring a picture of himself wearing a Wild 94.9 jersey with "Doghouse" written on the front and the number 94 on the back.
The caption originally read:
"It's #NationalRadioDay."
"I know, who gives a fart!!?"
"Been at 94 since 94."
"Wow, that's a long time‼️"
"Super grateful for each of you who have been on this journey w me."
However, immediately prior to his disappearance Vandergrift edited the caption to say:
"Thank you for a wonderful life-filled w joy, laughs, pain & struggle."
"It's been a great journey."
"Your support & prayers meant the world."
While the investigation is ongoing, Yi posted a statement on her Instagram page and Wild 94.9's website on Wednesday, March 1.
It suggested everyone's worst fears may have been realized.
Yi began the post by thanking all their fans and listeners for their support.
She addressedw Vandergrift's recent struggles with Lyme disease, something Vandergrift had been openly discussing on his show and which Wild 9.49 confirmed on their website had been an "intense battle".
"Thank you to our friends and the entire i-HeartRadio family and listeners for your love, support and prayers."
"I can feel your love and energy for JV, and I am so grateful for it."
"The amount of compassion for the physical torture JV has been going through for the past 2 years has been overwhelming."
While not going into specific details, she confirmed there was new information in the investigation which seemed to confirm Vandergrift was not going to make a safe return home.
Yi made it clear he didn't appear to be the victim of foul play.
"I have been in so much pain and fear and I know all of you have been so scared and concerned for JV as well."
"JV and I have always considered this community part of our family, so I want to let you know that personal information has recently been discovered that leads us to believe JV will not be coming back."
"I tell you this with incredible pain and sadness in my heart."
"At this time, JV officially remains missing according to the SFPD, but no foul play is suspected in his disappearance."
"We are incredibly appreciative for the SFPD's ongoing efforts in locating JV and they have asked us to keep the details to immediate family only."
"I know how painful this is for you to hear – please know that I have you in my thoughts."
Yi ended her post by promising to share more details when she was permitted to do so.
"Please forgive my silence during this time – my heart is utterly broken, and the pain feels unbearable."
"I will do my best to provide updates and I ask for you to please keep JV in your thoughts and prayers."
Fans of the couple were quick to share their love and support for Yi during this difficult time.

natashayi/Instagram

natashayi/Instagram

natashayi/Instagram

natashayi/Instagram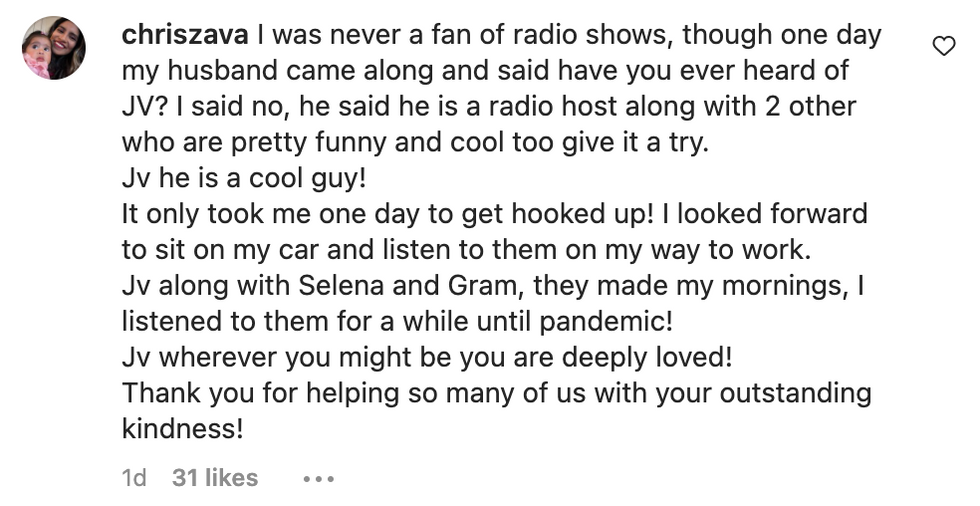 natashayi/Instagram

natashayi/Instagram

natashayi/Instagram

natashayi/Instagram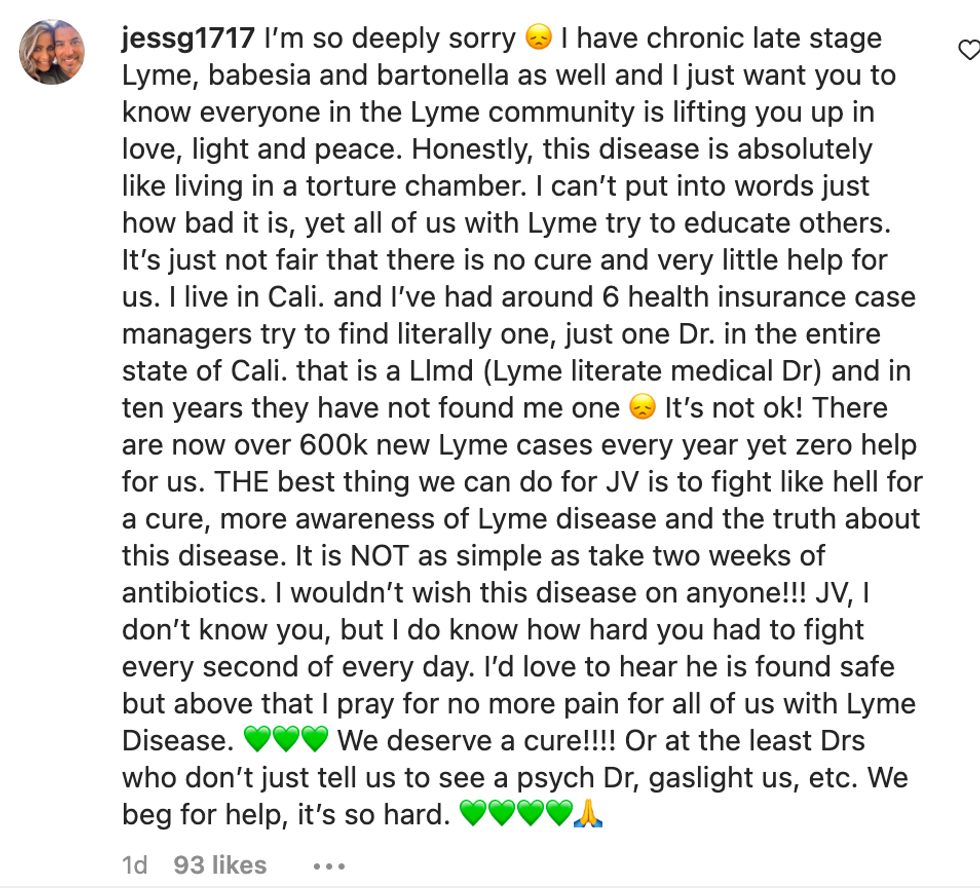 natashayi/Instagram

natashayi/Instagram
The San Francisco Police Department is encouraging anyone who might have information regarding Vandergrift's disappearance to contact the SFPD tip line by calling 514-575-4444 or texting TIP411.
***
If you or someone you know is struggling, you can contact the National Suicide Prevention Lifeline at 988.
To find help outside the United States, the International Association for Suicide Prevention has resources available at https://www.iasp.info/resources/Crisis_Centres/