The United Kingdom is experiencing an unprecedented heatwave. Emergency alerts are going out, and while there may be a reprieve with summer storms this weekend, next month isn't looking great either.
But how hot is it to people on the other side of the pond? One TikToker found out and wasn't impressed.
This led to a response by user imeyrick explaining their situation.
@imeyrick

#stitch with @rae_harmon leave us alone we're hot 🥵
The original video has been deleted, but saw a TikToker wondering how hot the heatwave in the UK is. They look up a temperature conversion of the 31°C to Fahrenheit and finds it's "only" 88°F.
Unimpressed with the number, they say:
"The British are pu**ies."
The other TikToker, imeyrick, stitched the video and responded with three reasons the heatwave is worse than it first appears.
This breaks down into three points:
1) Air conditioning is rare for most people in the UK
2) Their buildings are insulated
3) People are acclimated to the cooler weather
A number of comments drove these points home, pointing out how hot it really feels in the UK right now.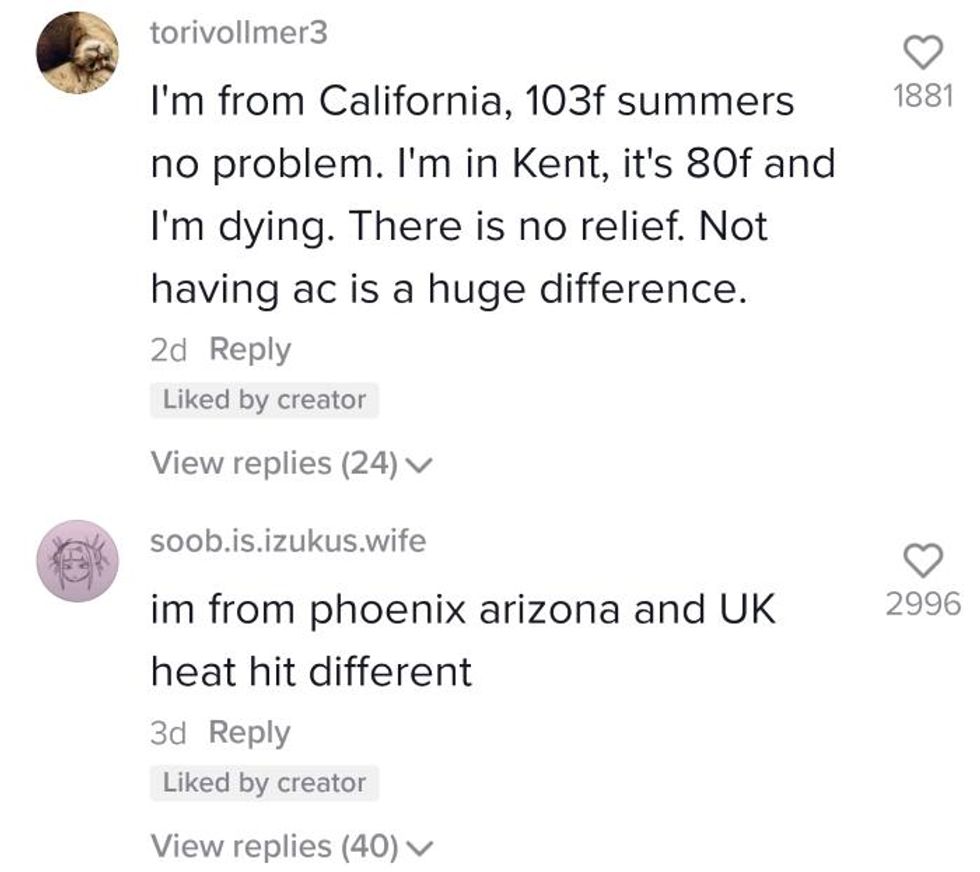 imeyrick / TikTok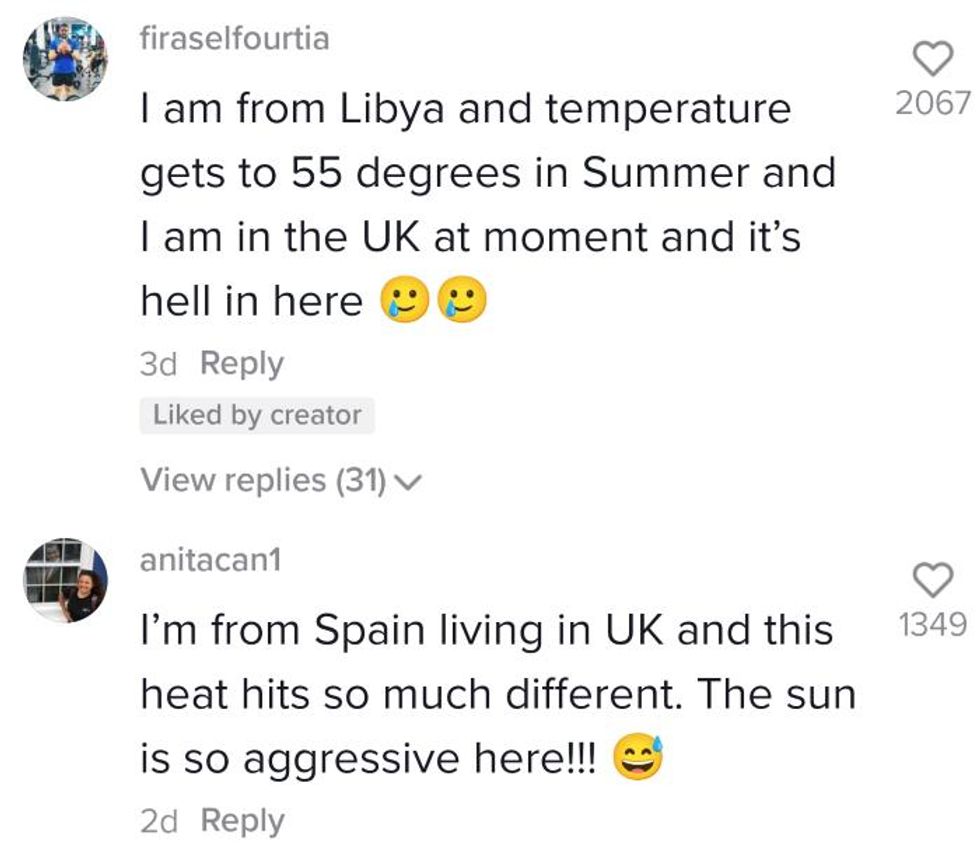 imeyrick / TikTok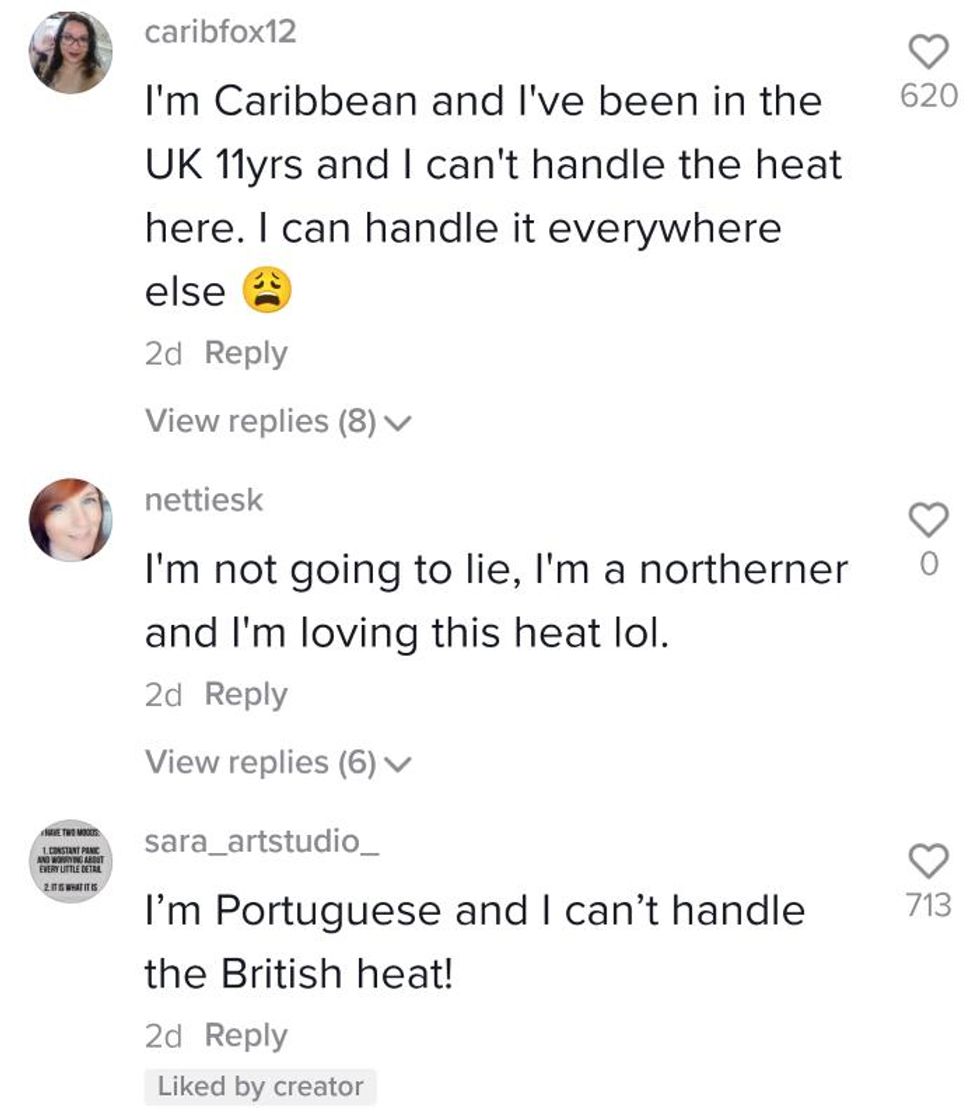 imeyrick / TikTok
However, not everyone was convinced, and some commenters clapped back against our British friends.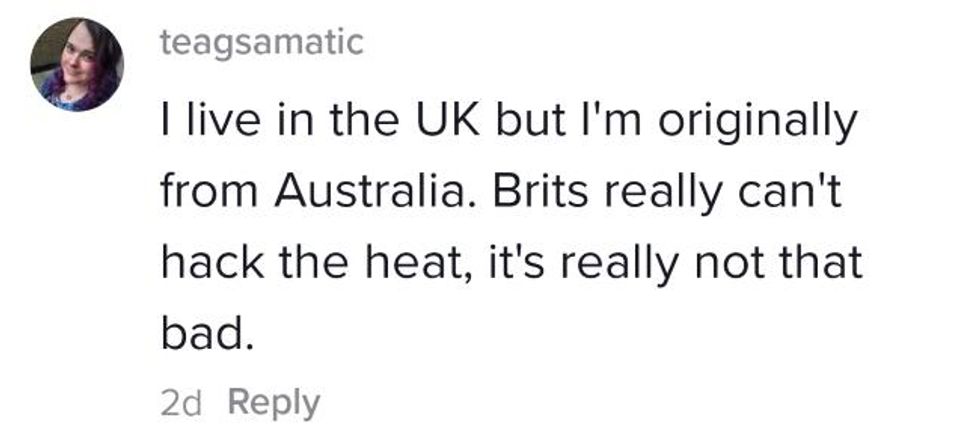 imeyrick / TikTok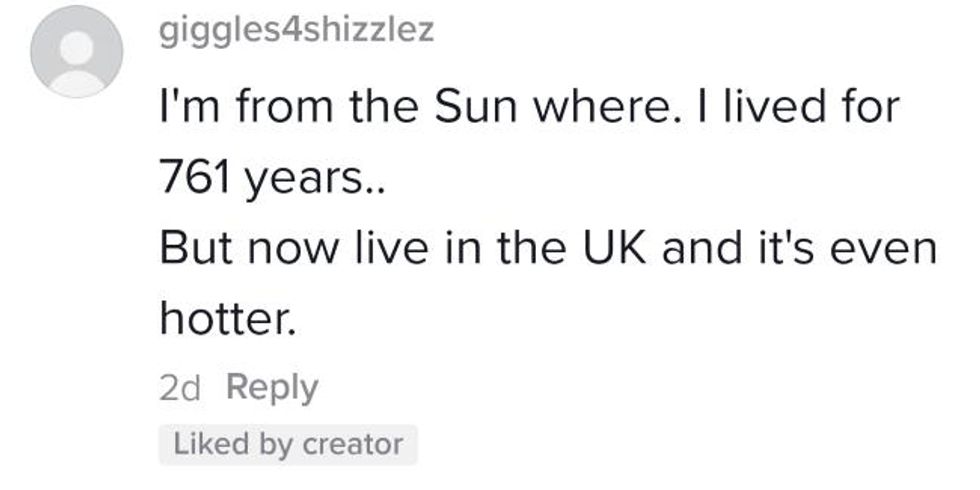 imeyrick / TikTok

imeyrick / TikTok
The comments raged on back and forth, from TikTok to other parts of the internet.

imeyrick / TikTok
As fun as it can be to make fun of each other for their weather, the effects of climate change are going to be making things worse for everyone.
Just last month, the Pacific Northwest, also known for their mild summers and lack of air conditioning, experienced an impossible heatwave. Seattle, Washington reached 108°F (42°C).
The heatwaves around the world are directly caused by our issues with climate change.
And it's only going to get worse from here.
The United Kingdom has it's own heat issues, just as the United States does. Both places can focus on the politicians that enabled greenhouse gas producers.
It's also a good idea to keep in mind the massive businesses that didn't care for their workers during these heatwaves, and consider whether or not you should give them money.