An UberEats driver blew away a customer when he left a poem and goodie bag with their order. To track down the driver for their kindness, the customer went to TikTok.
In the video footage from their doorbell camera, the driver placed a piece of tissue paper on the table just outside the door. He then placed the food on it along with a goodie bag.
The bag contained surgical face masks, candy, a hand written card, and a poem titled Footprints in the Sand.
The viral video was posted by Tracey Ramirez (@traceyhairstyles) and quickly reached 1.7 million views.
She captioned the video:
"#Helpmefindhim to thank him!"
"I want him to know his actions are appreciated."
"Tik Tok do your thing."
@traceyhairstyles

#Helpmefindhim to thank him! I want him to know his actions are appreciated 🥺 Tik Tok do your thing! #tiktokviral #dallastx
TikTok was amazed by this driver's work.

@missstrina/TikTok

@kryjoys/TikTok

@bronzybella/TikTok

@alonzo_lerone/TikTok


@txx.yadiraa/TikTok

@sameeramuntazir/TikTok

@asleepintherose/TikTok; @traceyhairstyles/TikTok

@jaelene74/TikTok
Ramirez attempted to find out who the man was to repay him somehow, but UberEats would not disclose his information.

She even asked if there was a way to adjust his tip only an hour after the meal was delivered but there wasn't a way to do so.
The only thing she knew was his name was Donald.
Ramirez suggested they give her contact information to the driver so he could reach out but the representative from UberEats was not able to do that.
@traceyhairstyles

Reply to @miss_meemers #Helpmefindhim #ubereats Dallas TX delivery driver made my night & deserves all the love 💖 we're still looking!

@user0389267296629668/TikTok

@kashdc/TikTok; @traceyhairstyles/TikTok

@neceybabyxo/TikTok

@queen1225bee/TikTok
After extensively searching, Ramirez finally got ahold of the driver.

His name is Donald Anthony Jackson and a GoFundMe has been created for him.
During their conversation, Jackson said:
"I am quite shocked that you did all of that!"
"I've been smiling all morning, like, 'Wow, for real?'"
They found him through a restaurant worker that recognized him, but he almost didn't take her order that day.
"I mean it was the strangest thing, I almost didn't take that order but I just did."
He also revealed he doesn't have any social media, so it was very difficult to track him down.
Jackson couldn't believe the video of him went viral.
Jackson continued:
"I would love to take credit for it, but that's all God."
"I try to be a God loving man, okay?"
"I've learned that men need to be God fearing men because when you fear somebody it's not like you're really scared of them."
"You fear them out of respect."
"With all that we've got going on, I'm just trying to let God use me to give people just a little bit of hope."
He said that he's trying to spread hope and the message of God through the Footprints in the Sand poem.
@traceyhairstyles

Reply to @shewolf1968a #helpmefindhim#ubereats#finddonald#kindacts#gofundme#tiktokdoyourthing
Some people shared what that poem means to them.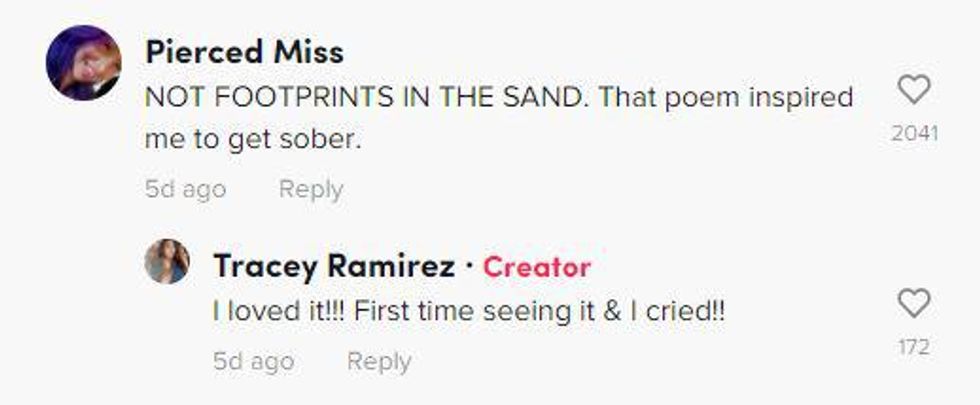 @piercedmiss/TikTok; @traceyhairstyles/TikTok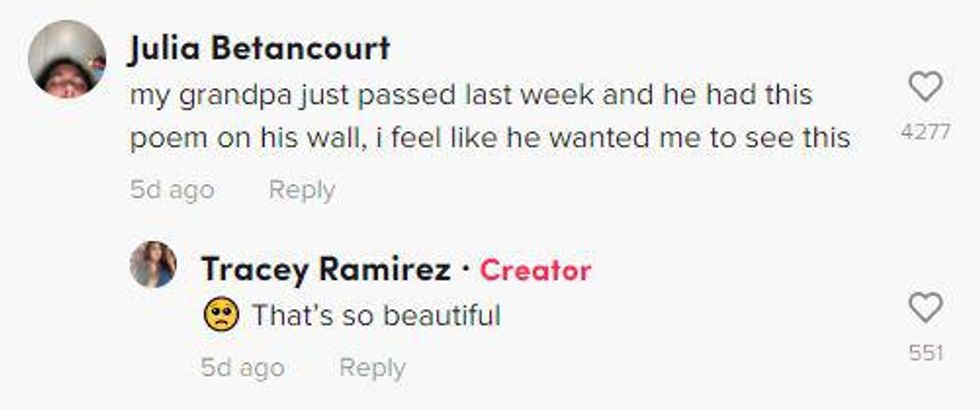 @applesjackssmackhoe/TikTok; @traceyhairstyles/TikTok
The GoFundMe has gone over the goal of $4,000 and continues to climb.

Ramirez said in her latest update Jackson has no idea he has a huge tip coming his way. They will be meeting on Friday so she can show him all the wonderful comments and the money raised.