Recently elected Republican Alabama Senator Tommy Tuberville is being mocked for his remarks on the creation of a bipartisan commission to further investigate the events of January 6 surrounding the Capitol insurrection.
Tuberville, who is one of former President Donald Trump's staunchest allies, told reporter Andrew Solender from Forbes he refused to support the bipartisan commission until the Senate made it "bipartisan."
Clearly Tuberville's understanding of the word "bipartisan" is a bit skewed, as the proposal for the bipartisan commission is to compose it of 50% Democrats and 50% Republicans.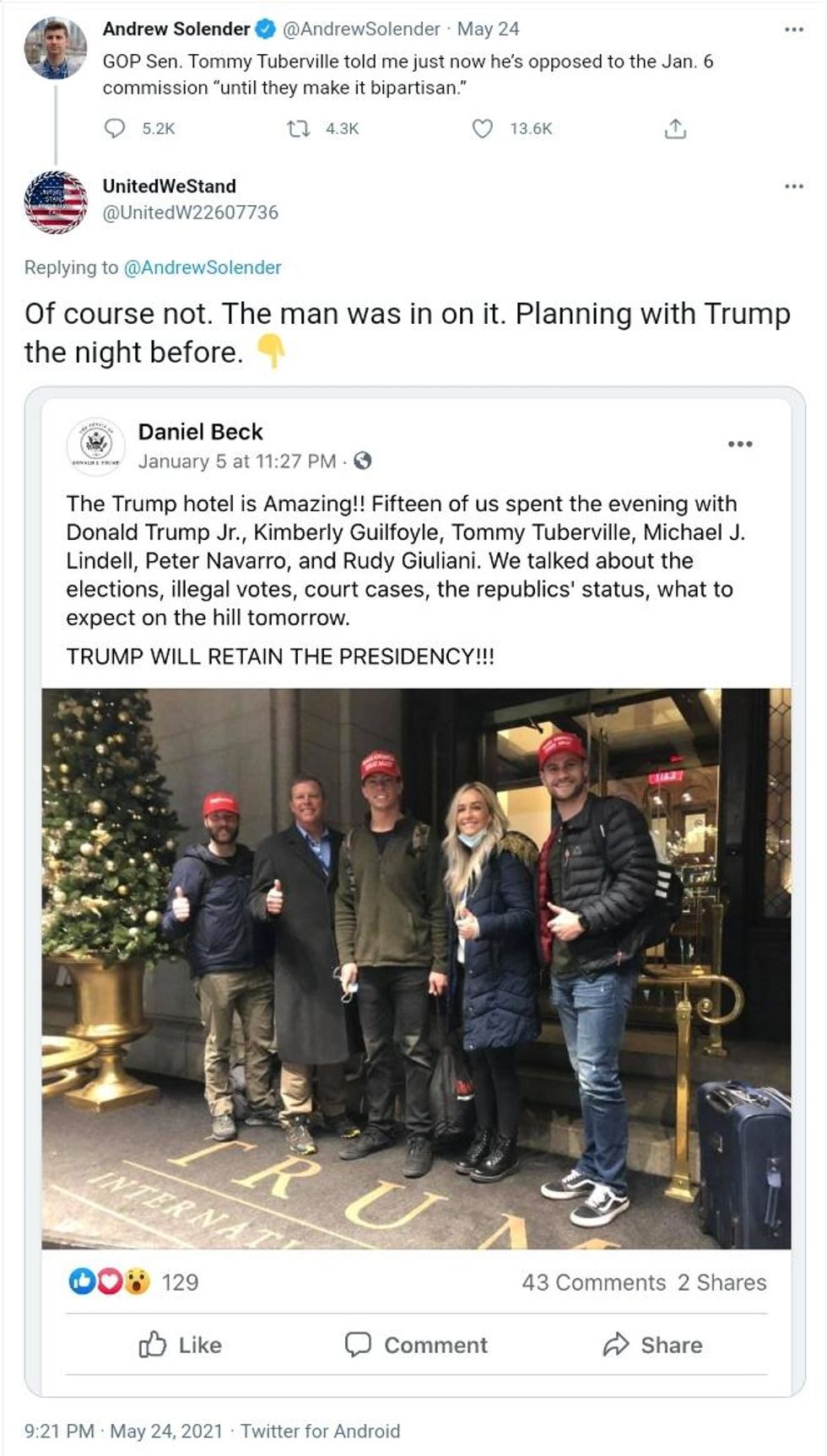 @UnitedW22607736/Twitter
The vote to create the commission already passed in the House, and with 35 Republican votes—even more than the number of Republicans who crossed the aisle and voted to impeach President Trump for his role in inciting the January 6 insurrection.
Tuberville's assertion makes even less sense in that context, as the bill passed in a more bipartisan fashion than pretty much any significant piece of legislation that has made it through the House of Representatives.
Tuberville was elected in 2020 against Democrat Doug Jones, who won the Senate seat in an upset election in 2017 against Justice Roy Moore, the Republican candidate who was accused of sexually assaulting and acting inappropriately with several women, including some who were minors at the time of their run-ins with Moore.
After that election, Republicans in Alabama primaried to send Moore home with Tuberville, a former football coach who had never held political office. Tuberville joined the seditionists when he voted to overturn the results of the election that put current President Joe Biden into office.
Tuberville's move is calculated, though it appears to be a simple exercise in misunderstanding of the word bipartisan.
Mitch McConnell, Senate Minority Leader for the Republican party, came out in opposition to the creation of the commission, despite bipartisan sponsorship from Senator Joe Manchin from West Virginia and Senator Lisa Murkowski from Alaska.
If the commission is not passed, the Senate may need to find another way to hold former President Trump and his other allies accountable for their actions.