Former Republican President Donald Trump was widely mocked online after he gave himself full credit for House Speaker Kevin McCarthy's election to the coveted position following 15 rounds of voting.
Writing on his troubled social media platform Truth Social, Trump claimed he "greatly helped McCarthy attain the position of Speaker of the House" and "did the Country a big favor!"
You can see Trump's post below.


@realDonaldTrump/Truth Social
After McCarthy was elected Speaker and issued a statement to "especially thank President Trump," Trump posted a video of McCarthy's statement and thanked him for the "great honor."
You can see Trump's post below.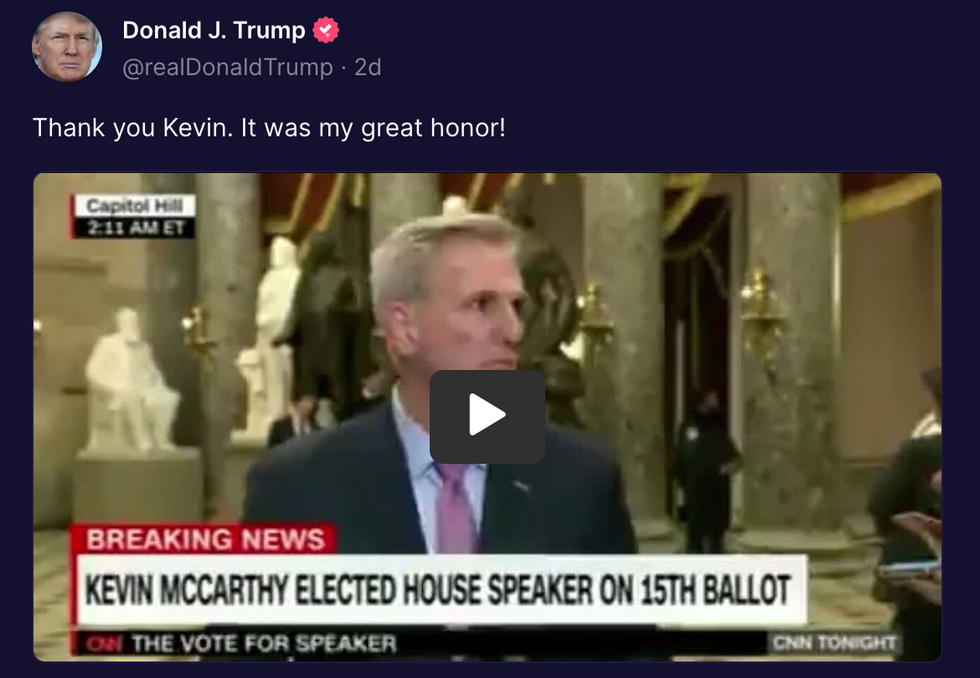 @realDonaldTrump/Truth Social
Trump had called on Republicans to support McCarthy's bid for the speakership amid what The New York Times referred to as a "right-wing rebellion" designed to block him from party leadership.
Trump tried and failed to swing votes for McCarthy whether through private calls with lawmakers or his public calls via Truth Social for Republicans to "CLOSE THE DEAL" or risk "embarrassing" themselves after securing control of the House of Representatives following November's midterm elections.
Trump's pleas proved so ineffective Florida Representative Matt Gaetz—one of the rebellion's ringleaders—issued a statement saying Trump's endorsement would not change his mind. Similarly, Colorado Representative Lauren Boebert also rejected Trump's pleas, saying Trump should direct McCarthy "to withdraw."
It was only after the fourteenth round of voting, in fact, that Gaetz took a call from Trump who urged him to clear a path for McCarthy. Trump himself at one point did appear to question whether his support for McCarthy was warranted, telling reporters he would "see what happens" after McCarthy had already lost three votes in the House.
Trump's claim exposed him to significant mockery online.

Although McCarthy ultimately won the speakership, he still faces opposition within his own party, particularly from the aforementioned Gaetz and Boebert.
It took four days of voting before many of the Republicans who had opposed McCarthy began voting for him or not voting at all following negotiations between rounds. On the fifteenth and final ballot, the six remaining Republican holdouts abstained from voting allowing McCarthy to receive 216 votes, or 50.5 percent of the votes cast for a named candidate, and be elected Speaker.
Trump took credit for the end of the stalemate in the House, particularly after Gaetz and Arizona Representative Andy Biggs took phone calls from him urging them not to continue to block McCarthy's bid.