A month after Trump appeared to agreed to a bipartisan effort to allow the "Dreamers" covered under the Deferred Action for Childhood Arrivals (DACA) Act to stay in the country, it would appear that no deal is in the works.
The Trump White House has continued to make hard-line immigration demands that Democrats and immigration activists have widely condemned. If any agreement is to be reached, it would depend heavily on whether or not Democrats are on board with a potential mid-December government shutdown. A spending agreement reached in September is currently only keeping the government operational until December 8.
---
Nancy Pelosi, the Democratic leader in the House, has said recently that "there is always in the background, what leverage do we have?" and criticized an immigration proposal from the White House over the weekend as a "non-starter." But Democrats might be willing to withhold support of a must-pass spending bill if it means reaching an immigration deal for the "Dreamers."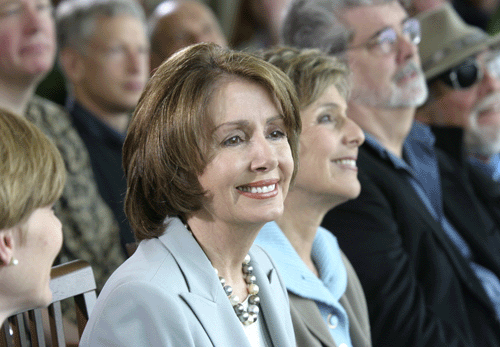 The new White House proposal includes a demand for a full wall across the southern U.S. border, 10,000 new immigration agents, tougher restrictions on legal immigration, a crackdown on Central Americans seeking asylum in the U.S., the end of federal grants for "sanctuary cities," and a stop to immigrants bringing extended family members to the country.
While Pelosi criticized the proposal on Monday as being "un-American," she still has faith that Trump plans on keeping his word. "I do believe the president when he says he wants to protect the dreamers," she said. "I do not think what his staff put forward is in furtherance of that. In fact, it's endangering them."
"There's nothing in it to negotiate because it does not have shared values of who we are as Americans," she stated. "As long as we understand that, let's go on with what we can agree on."
Pelosi is holding firm to protecting the "Dreamers," anticipating the issue to be resolved by Christmas at the latest.
Some on Twitter are on board with shutting the government down if necessary:
While others aren't so sure it's the best course of action:
Please SHARE this with your friends and family.
H/T: New York Times, Washington Post, Twitter
http://comicsands.com/politics/donald-trump/bob-corker-retirement-trump-twitter-republican/