After daily briefings, many feel it's clear President Donald Trump's priorities are intact.
First comes Donald Trump, then everything else comes second.
---
Petty comments, rants about rivals and whining about impeachment still dominate the President's remarks during a global public health crisis.

During Saturday's press briefing, Trump whinged about the unnamed whistleblower after firing Michael Atkinson, the intelligence community inspector general who followed proper rules, procedures and public law.
The reason? Atkinson followed proper rules, procedures and public law instead of the will of Trump.
The President said:
"That man is a disgrace to IGs. Let's go. Next. He's a total disgrace. He's not a Trump fan, I can tell you that."
"You know who the whistleblower is, and so do you, and so does everybody in this room, and so do I. Everybody knows."
"But they give this whistleblower a status that he doesn't deserve. He's a fake whistleblower. And frankly, somebody ought to sue his ass off."
Trump clearly is still preoccupied with being impeached for his actions.
The next question concerned New York Governor Andrew Cuomo and the state's desperate need for ventilators. The Chinese government is even stepping up to offer help.
Trump interrupted the question to say:
"Let me tell you what he didn't say. Two very good friends of mine brought him those whistleblowers...ventilators, right?"
You can see the moment here:
Trump's latest gaffe didn't go unnoticed.

People called out the President and questioned his mental stability as well as his fans' hypocrisy.
The President's behavior in briefings is not winning him fans outside of his already devoted followers.
Maybe it's time to step away from the podium and let qualified medical experts do all the talking.
Talk of the 25th amendment—which provides an avenue for removal of any President physically or mentally incapacitated—is also on the rise as a result of the President's performance.
If you agree, this shirt is available here.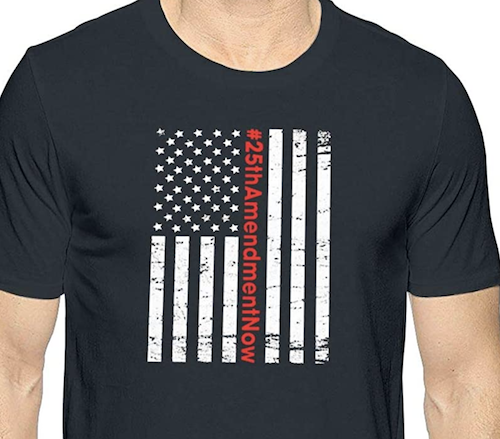 Amazon