People were stunned when a bizarre letter sent by President Donald Trump to Turkish President Recep Tayyip Erdoğan last week was released by the White House.
---
Trump was urging the Turkish President not to commit ethnic cleansing against the Kurds, whom U.S. Special Forces were protecting until Trump's abrupt military withdrawal, all but guaranteeing military aggression from Turkey against Kurds in Northern Syria.
The strange letter threatens Erdoğan with a reputation of being "the devil" and Trump promises to destroy the Turkish economy if a "good deal" is not made.
Read below.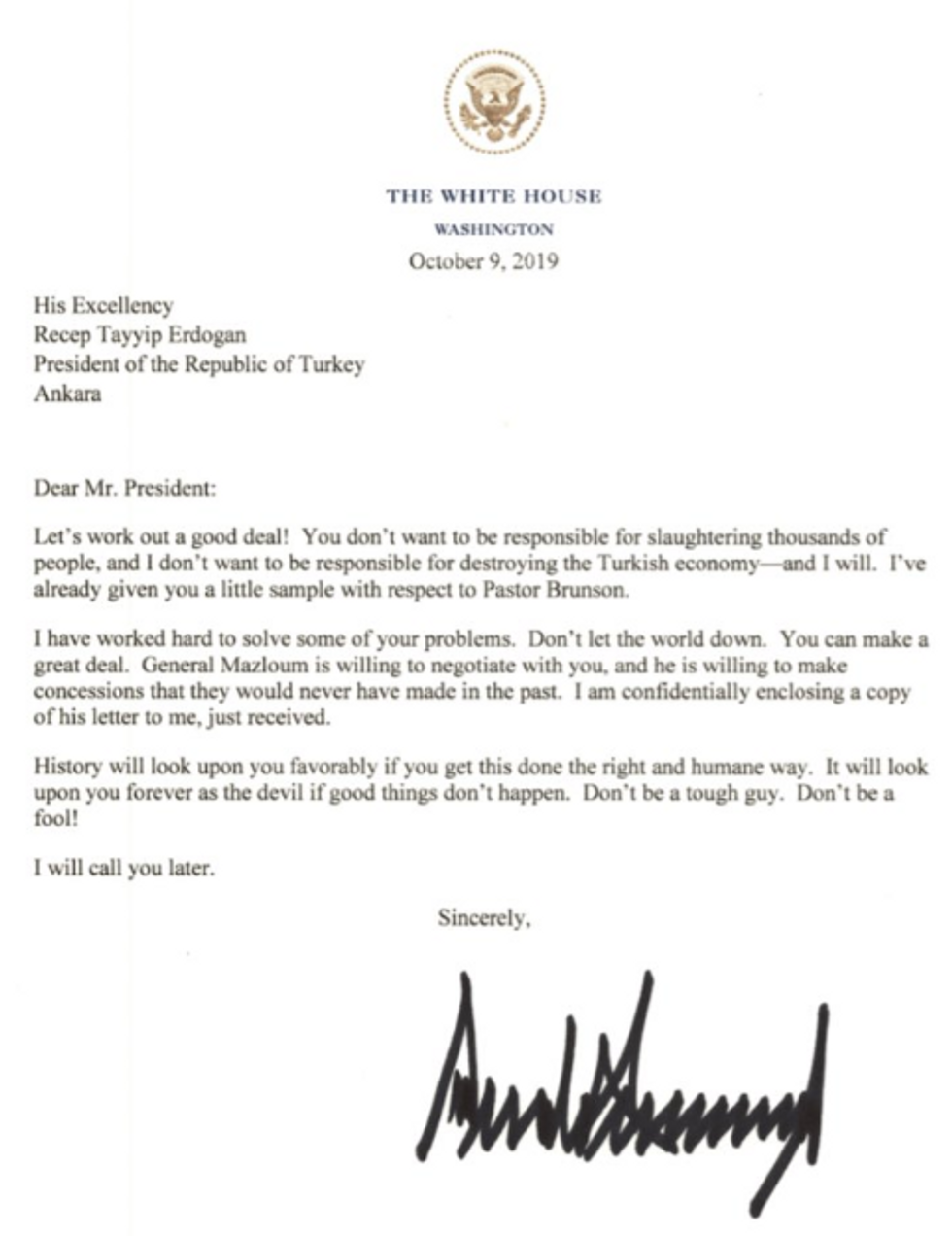 The White House
The stunning letter led many journalist to doubt its authenticity, and the sheer ridiculousness of it made Trump's words ripe for parody.
Comedian Anthony Atamanuik jumped at the chance.

Atamanuik's hilarious dramatic reading of the letter probably doesn't sound far from what must have been reality. He even pronounces the name of Turkey's capital, Ankara, as "Anakin."
His interpretation added some much-needed levity to the unsettling national security implications of the letter.
Atamanuik wasn't the only one to put forth a parody of the letter.
And we're sure to see another dramatic reading of it this weekend.
Yikes.
Anthony Atamanuik's book, American Tantrum: The Donald J. Trump Presidential Archives, is available here.
******
Have you listened to the first season of George Takei's podcast, 'Oh Myyy Pod!'?
In season one we explored the racially charged videos that have taken the internet by storm.
We're hard at work on season two so be sure to subscribe here so you don't miss it when it goes live.
Here's one of our favorite episodes from season one. Enjoy!