Funerals are an occasion for grieving attendees to pay their respects by letting down their guard, no matter how rigid you are. So when a perfectly-timed photo of Donald Trump's sensitive side at Billy Graham's funeral surfaced, we were touched. And so was Mike Pence's inner thigh.

The photo of Trump extending a reassuring pat on the vice president's leg left the Internet trying to make hands or tails of their physical interaction.
---
In the photo, Trump is seen reaching over his wife Melania and comforting Pence with a reassuring grip with Pence looking as comfortable as a student called into the principal's office. Though we'll never know his true reaction to the affectionate gesture, the Internet certainly had their share of theories.
Pence's stance against the LGBT community is a well-known fact, so it's no wonder people assumed how uncomfortable he must be with the unsolicited touch of a man's hand.
And "mother" in this context is referring to his wife, Karen.

When words come back and haunt them both.
Is he trying to win favor with the NFL now?

Notice how Melania looks relieved?

Trump was still handsy with the First Lady, but we can't tell who cringed the most between her and the vice president.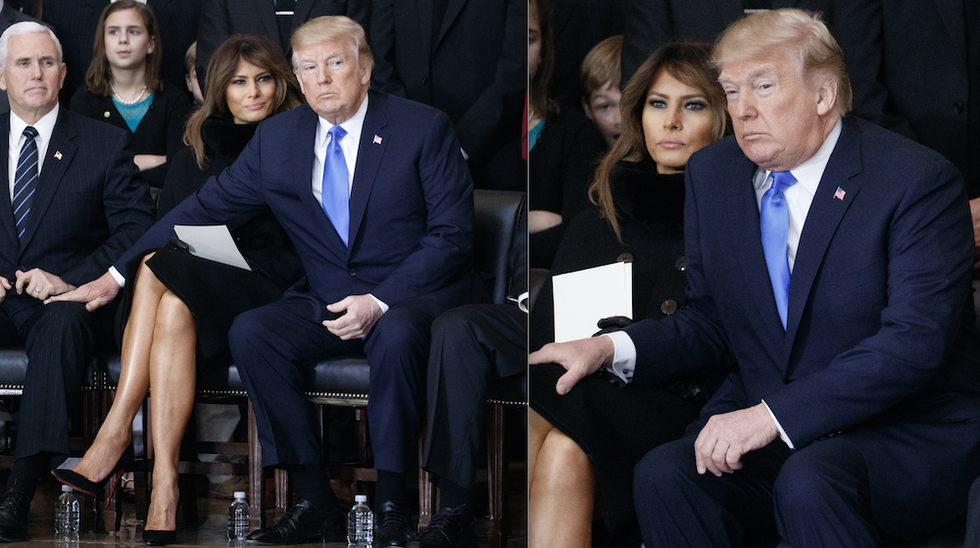 A comforting touch.(Shawn Thew-Pool/Getty Images)
The memorial service for the Graham, a prominent American evangelist, was held in the U.S. Capitol Rotunda on Wednesday. There is no doubt the late preacher left an indelible impression on America, as much as Trump left a hand print, as one of the most influential preachers of the 20th century.
Trump delivered his eulogy highlighting a key moment in the preacher's life.
In the spring of 1934, Billy Graham's father allowed a group of Charlotte businessmen to use a portion of the family's dairy farm to gather for a day of prayer. On that day, the men prayed for the city. They prayed that out of Charlotte the Lord would raise up someone to preach the Gospel to the ends of the Earth.We are here today more than 80 years later because that prayer was truly answered.
The president added to Graham's legacy, saying, "Here in this room, we are reminded that America is a nation sustained by prayer."
Graham died in his North Carolina home at the age of 99.