President Trump reversed his statement on his prior approval for a bipartisan Obamacare deal.
---
On Tuesday, Trump seemed to be on board with Senate Health Committee Chairman Lamar Alexander's 2-year fix to the plan by funding insurance subsidies called cost-sharing reduction payments.
The proposal followed Trump's announcement last week that he would eliminate remaining payments, which experts predicted would cause a spike in insurance premiums.
The measure would allow for the payments to continue in exchange for alleviating some of the restrictions on health care policy rules.
But then he said that he would "never support bailing out" insurance companies that benefited under the ACA.
Though Trump supported senator Lamar's measure by calling it "a short-term solution so that we don't have this very dangerous little period" for insurance companies, he backpedaled by Wednesday, telling reporters, "If something can happen, that's fine, but I won't do anything to enrich the insurance companies."
"While I commend the bipartisan work being done by Sens. Alexander and Murray — and I do commend it — I continue to believe Congress must find a solution to the ObamaCare mess instead of providing bailouts to insurance companies," Trump said during a speech at the conservative Heritage Foundation.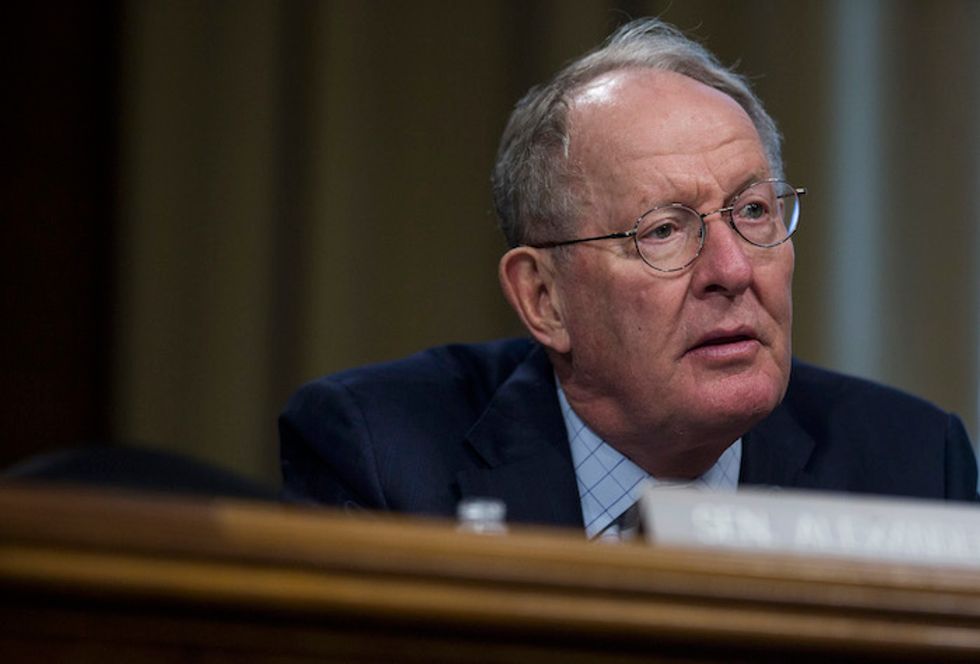 Lamar Alexander on Capitol Hill. (Zach Gibson/Getty Images)Conservatives are wanting to replace Obamacare entirely instead of settling for compromise, and the president's instability on decision-making is starting to grate on the Republicans.
Alexander recalled an earlier conversation with Trump touting the new plan. "He called me to say that number one, he wanted to be encouraging about the bipartisan agreement that Sen. Murray and I announced yesterday."
People are weary of Trump's flip-flopping on his stance on Obamacare.
An interesting observation.
This summons his train of thought perfectly.
Perhaps his mind is elsewhere.
The criticisms keep coming.
Minority Leader Chuck Schumer has had it with Trump's unreliable position on health care. Schumer believes the president didn't have a clue as to what was in the Obamacare to start. "This president keeps zigging and zagging. Our only hope is maybe tomorrow he'll be for this again," he said.
Please SHARE this with your friends and family.