Deflect, deflect, deflect seems to be the order of the day. When President Donald Trump downplayed his daughter Ivanka Trump's use of a private email account to do government business. Why does this sound so familiar? Oh yeah.
---
Donald Trump reverted to a couple of old standbys for deflecting and twisting a controversy surrounding his administration, drop Hillary Clinton's name numerous times and claim "fake news." There. Problem solved.
This time it is his daughter and senior adviser, Ivanka who is under investigation for violating federal law by using a personal email account to send government documents. Just before leaving for vacation, Trump came out and gave an incredibly weak excuse as to why his daughter's use of a private email server and Hillary Clinton's use of a private email server are so completely different.
He managed to keep a straight face as he told the press:
"She wasn't doing anything to hide her emails." There was no deleting like Hillary Clinton did. There was no server in the basement like Hillary Clinton had. You were talking about a whole different, you're talking about fake news."
President Trump: "Early on, and for a little period of time, Ivanka did some emails. They weren't classified like H… https://t.co/h5SSpVGHQ2

— The Hill (@The Hill)1542748560.0
See, it's totally different, because Hillary and fake news.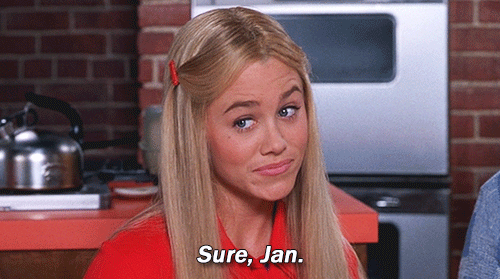 media.giphy.com
President Trump defends daughter Ivanka's personal email use, says she'd didn't delete her emails like Hillary Clin… https://t.co/omaxPWmdAq

— CBS News (@CBS News)1542747350.0
Just another day in Trump's White House.
@CBSNews Daddy has to defend daughter, who shouldn't be working in the WH or anywhere in his administration to start with.

— We need Single Payer Healthcare 💪🌸 (@We need Single Payer Healthcare 💪🌸)1542754608.0
@Brasilmagic @CBSNews To be fair, neither one of them are qualified for government jobs.

— 📎Reverend Chapman (@📎Reverend Chapman)1542758937.0
How many times can you fit Hillary into a sentence?

@CBSNews He mentions hillary clinton many times to distract people from the actual problem. He always does this. Pe… https://t.co/sEELep5Azt

— Jessica (@Jessica)1542754554.0
@CBSNews Talk about deflection.....Hillary hillary hillary

— Mark (@Mark)1542748287.0
@CBSNews Hypocrisy

— Juan Carlos González (@Juan Carlos González)1542747372.0
We'll just leave this here.
@CBSNews @MariBXBKgirl https://t.co/6ReM7XJMcc

— GINA🌊 (@GINA🌊)1542747767.0
Perhaps Ivanka Trump didn't know the rules.
@CBSNews Apparently @IvankaTrump was sleeping through the Hillary email scandal . Wow

— Kelly James (@Kelly James)1542747582.0
@KellyBall3 @CBSNews @IvankaTrump That's because they barely talked about it https://t.co/WZOLDJA5Ev

— Bal Fonseca (@Bal Fonseca)1542755195.0
Seriously, we'll just leave this here.
@CBSNews https://t.co/ER28TJxiwH

— Ashwshaw (@Ashwshaw)1542751657.0
There is no making sense of the hypocrisy.
@CBSNews Insanity at its finest

— erinn marie (@erinn marie)1542747430.0
@CBSNews Trump & the GOP are such Hypocrites! Trump shouts "Lock her Up" if it's Hillary but NOT Ivanka Trump. I'd… https://t.co/uvdXbFb14g

— 🌸🌺Jst~Bre🌺🌸 (@🌸🌺Jst~Bre🌺🌸)1542754862.0
@CBSNews I thought the criminal act was using the private email, not whether you deleted them or not. Nice try to s… https://t.co/21Mks7mYmB

— Rod Schutjer (@Rod Schutjer)1542759850.0
We'll wait for the reaction to this email.
@CBSNews https://t.co/t5w9EXDuP6

— MJ@BEStyle (@MJ@BEStyle)1542768064.0
Who will Trump supports want to lock up now?
H/T: The Hill, Washington Post