Transgender influencer Dylan Mulvaney shared a poignant video post on her socials featuring her singing "No One Is Alone" from Stephen Sondheim 1987 Broadway musical Into The Woods to remind anyone who has felt othered to remember there are always supportive allies.
Mulvaney is known for her social media presence and for her Days of Girlhood TikTok series in which she has chronicled her transition in the past year.

The star influencer has been a frequent target of transphobes and rightwingers who denigrate her online, especially after she became the brand ambassador of Bud Light and for partnering with Nike.
Her association with major labels and companies caused an uproar from whining conservatives–including rock musician Kid Rock, who shot Bud Light beer cans featuring Mulvaney's face in a ragey video.
The transphobic uproar was further amplified after Mulvaney shared photos of her wearing a Nike sports bra and women's leggings on her social media pages.

Right-wing news outlets slammed the movement of companies pushing for inclusivity and promoting the visibility of marginalized people.
Soon, articles misgendering Mulvaney and featuring Olympian Sharron Davies–who bashed Nike for partnering with trans personalities–circulated online and perpetuated the hate.
Even Republican former Olympian Caitlyn Jenner–who herself is transgender–joined the angry mob and expressed her "outrage" at Nike's "woke" marketing tactic.
Jenner bemoaned on Twitter:

"We can be inclusive but not at the expense of the mass majority of people, and have some decency while being inclusive. This is an outrage."
Mulvaney, however, refused to succumb to the vitriol and instead chose to elevate her pride thanks to all of her supporters.
Seeing how relevant Sondheim's moving anthem was to her situation, Mulvaney posted a clip of her powerful performance taken from the 365 Days Live! event in March.
The main theme in "You Are Not Alone" is about how individuals, even in the face of life's toughest challenges, are not facing them alone and remain loved.
It is sung in the musical's second act by the Baker, Cinderella, Little Red Riding Hood, and Jack–who all reassess after a significant sequence of events and become inspired to prioritize the wishes of the community above their own respective desires.

"It's hard to see the light now, just don't let it go," Mulvaney wrote in the caption of the video post.
"This song felt fitting for the week I've been having. All is well! Cheers"
Before singing, Mulvaney told the audience:

"Whether you're a parent or you're a child, or you're young, or you're old, or you're trans, or you're not, we're all just trying our best here aren't we?"

"The most important thing is that we have the people in our lives who support us and celebraet our uniqueness."

"And that could be a mental health professional or a teacher or a loved one so long as we don't feel alone."
Compassionate followers and LGBTQ+ allies expressed their admiration for Mulvaney's courageous outlook.

@dylanmulvaney/Instagram
@dylanmulvaney/Instagram
@dylanmulvaney/Instagram
@dylanmulvaney/Instagram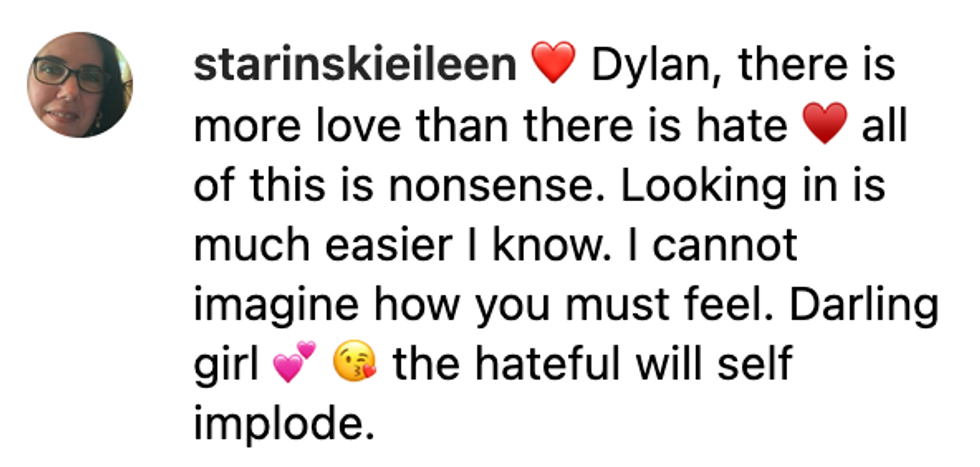 @dylanmulvaney/Instagram
@dylanmulvaney/Instagram

@dylanmulvaney/Instagram

@dylanmulvaney/Instagram
@dylanmulvaney/Instagram
@dylanmulvaney/Instagram
Nike responded to the conservative outrage leveled against Mulvaney and encouraged people to be "kind" and "inclusive" in a comment on an April 7 Instagram post that featured the Pegasus 40 running shoe.

It read:

"You are an essential component to the success of your community! We welcome comments that contribute to a positive and constructive discussion: Be kind [heart emoji] Be inclusive [heart emoji] Encourage each other [heart emoji]"
"Hate speech, bullying, or other behaviours that are not in the spirit of a diverse and inclusive community will be deleted."