A woman went viral on TikTok after eating 32 pieces of sushi during an all-you-can-eat binge and ending up in the hospital.
TikToker Danielle Shap (@danielleshap) shared two videos about the night out eating.
Shap first shared what she ate that night in a video with over 330 thousand views.
She started off with a bowl of miso soup followed by 4 pieces of gyoza dumplings, 2 jalapeno poppers, a Green Dragon roll, Snow roll, California roll, Wakame roll, edamame and a seaweed salad.
There even was a shot at the end of her putting a roll into a napkin to take home.
The first video was captioned:
"We were rolled out of the restaurant."
@danielleshap

We were rolled out of the restaurant #DisneyPlusVoices #sushi #fyp @amandaakingg
The commenters were not holding back with the jokes about what was to come.


@worldsokaitest/TikTok

@willowbash1/TikTok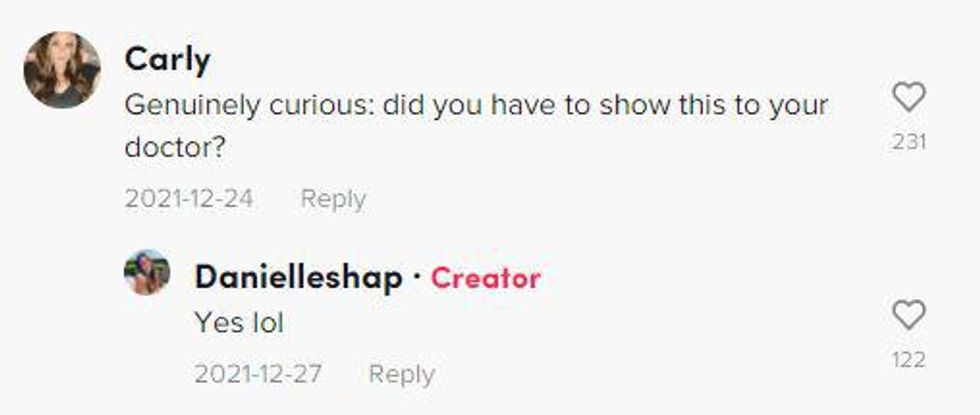 @carlyjpierce/TikTok; @danielleshap/TikTok
@jania.cc/TikTok
The next day, Shap went viral a second time for a 10 second video of her in the hospital because of all the sushi she ate.

The voiceover of the video said:
"Yep, that's me."
"You're probably wondering how I ended up in this situation."
It then showed video of her eating the 32 pieces of sushi from the previous video.
The video garnered 11.4 million views and 1.3 million likes.

Just like the captions said, the all you can eat sushi had definitely "gone wrong."
Turns out, Shap went to the hospital for Gastroesophageal Reflux disease, which is basically a bad case of acid reflux that affects the esophagus.
She told the Daily Mail:
"I am a huge fan of sushi."
"I like to eat it a couple times a month if I'm lucky."
"My best friend Amanda was in town for the weekend and she loves sushi as well so we were both looking forward to the all-you-can-eat sushi experience."
'The all you can eat sushi is about $50 a person so Amanda and I had to make sure we got our money's worth, which meant eating a lot."
"Our dinner was about two hours long because we were so stuffed we had to keep taking breaks."
She explained the two sat in Shap's car for about 30 minutes while they digested before going home. Shap suspects the rice expanded in her stomach which caused her belly to feel firm.
Shap continued:
"That night I went to sleep at my boyfriend's house and I had the worst stomach ache but didn't think much of it since I had a huge meal!"
"I am not a morning person so when I woke up around 6am the next day I knew something was wrong."
"My stomach and chest had intense pain and it was hard to take deep breaths."
Shap's boyfriend Sam and his grandmother became worried about the severity of her symptoms and brought her to the hospital. Luckily, Gastroesophageal Reflux disease is not known to be life-threatening.
However, sushi lovers were not ready to believe you could land in the hospital from 32 pieces.

@bryndickerson/TikTok

@thegoodieboyz/TikTok

@literally_kathy_bates/TikTok

@tanasunnyrose/TikTok

@chaoticneutral99/TikTok

@almostbreezy/TikTok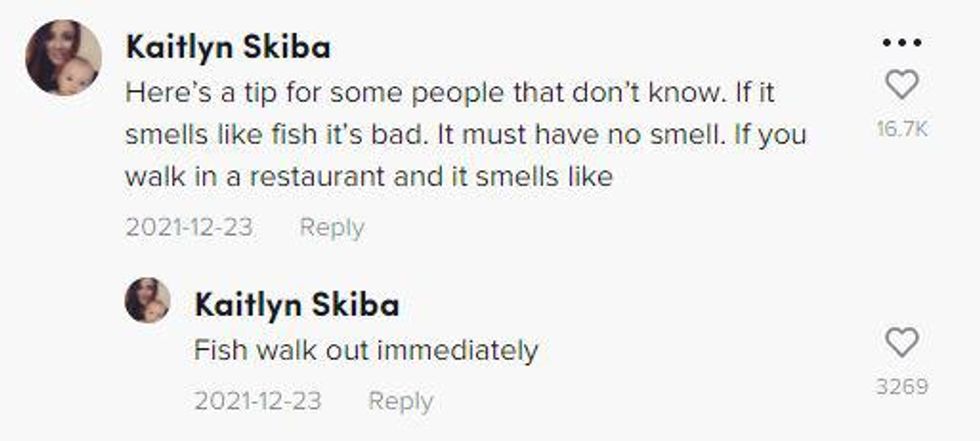 @kaitlynskiba/TikTok
Thankfully, it wasn't food poisoning.

Shap said the experience didn't ruin sushi for her and she will be having it again, but maybe not so much next time.